The NAPT on ESPN: Mercier and Selbst Ship It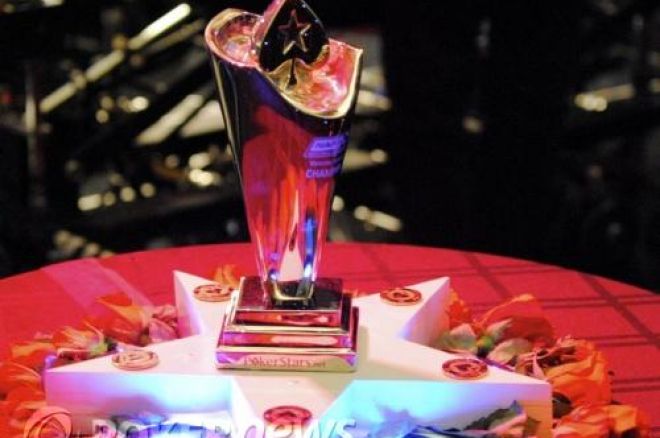 Was it really only four weeks ago when we were up in the woods of Connecticut, covering the North American Poker Tour Mohegan Sun? It was déjà vu all over again for us last night as ESPN broadcast the final tables of the $25,000 Bounty Shootout and the $5,000 Main Event in a two-hour block. Each final table got an hour of screen time, the sextet of Faraz Jaka, Jason Mercier, Matt Glantz, Sam Stein, Shawn Buchanan, and Luis Vazquez hitting the airwaves first with the conclusion of the winner-take-all bounty shootout.
Hour one: The NAPT Mohegan Sun $25,000 Bounty Shootout Final Table
Each player started with 150,000 in chips with the exception of Vazquez who started with 125,000. The reason? His first table was five-handed; the other five players defeated six-handed tables. Everyone at the final table was already in the money to varying degrees, depending on how many $5,000 bounties they had collected. Here's how they stacked up:
Shawn Buchanan - $80,000 ($60,000 for winning his first table + four bounties)
Faraz Jaka - $75,000 (three bounties)
Jason Mercier – $75,000 (three bounties)
Sam Stein - $75,000 (three bounties)
Matt Glatnz - $70,000 (two bounties)
Luis Vazquez - $70,000 ($50,000 for winning his first table + four bounties)
The Faraz Jaka fashion report: ESPN's Lon MacEachern called Jaka "sartorially splendid" (a turn of phrase we wish we'd have come up with), but we're not sure a purple silk paisley shirt and a burnt orange jacket qualify.
"I've been known to dress crazy. I wear really funny things. Sort of like my style of play," Jaka said of his taste in clothing.
Lucky shirt: Mercier donned the same black long-sleeved polo with white stripes that he wore when he won the European Poker Tour San Remo in 2008.
OMG how'd he fold that?: This was one that had us scratching our heads during the live final table, and well, now we finally know what Jaka had! Matt Glantz opened for 3,000 with
, Faraz Jaka reraised to 8,000 with
, and Vazquez flat-called the three-bet with
. Glantz folded and they went heads-up to the flop. It came down
, Jaka hitting top pair while Vazquez made middle pair. Both players checked. Vazquez made trips on the turn when the
fell and led out for 13,000. Jaka called and they went to the river which fell the
. Vazquez made a 19,000 value bet only to have Jaka come over the top with a raise to 81,000. Vazquez was completely befuddled and fearing the worst, he folded, showing his trip jacks. Jaka showed the
, leaving Vazquez flabbergasted.
"It wasn't a bluff. He had the jack-three of clubs" Jason Mercier said, half-joking, half-serious.
Stein can bluff too: Faraz Jaka opened
for 3,700, and feeling like Jaka was weak, Sam Stein decided to make a move, three-betting his
. Jaka called and they saw a
flop, Jaka hitting top pair and Stein hitting absolutely nothing. Stein checked, Jaka bet 15,000, and Stein flat-called. The turn brought the
and Stein checked his bottom pair. Jaka bet 38,000 and Stein shoved all-in. Jaka couldn't find it within himself to call the additional 53,100 and he folded, Stein wresting away the pot in a bold act of larceny.
Laydown of the night: Matt Glantz's "spidey sense" was in overdrive on this hand in which he made a huge fold and his instincts turned out to be right on the money. Sam Stein made a pre-flop raise with
and Glantz called with
. Both players hit the
flop in a big way, Stein with middle pair and a flush draw, Glantz with top and bottom pair. Glantz checked, Stein bet 5,300, and Glantz raised to 17,300. Stein made the call and they went to the turn, which fell the
. Still leading with aces up, Glantz made it 28,600 to go and Stein called. Stein luck-boxed the river, the
landing to make him trips. Glantz checked and Stein bet 57,800.
"That's sick. Obviously," Glantz said, knowing exactly what just happened. He mucked his aces up and was 100 percent correct.
Introducing, the ESPN HUD!: Heads-up displays aren't just for online grinders anymore. On this broadcast, ESPN started some serious stat-tracking, sharing information like the players' VPIP (the percentage of hands where they voluntarily put money in the pot), aggression factor, and percentage of hands won. Through 68 hands Jaka had a VPIP of 38 percent, Mercier 30, Buchanan 28, Glantz 26 and Stein 23.
How'd they bust?: Luis Vazquez got the last of his chips in the middle on a
flop holding
, but Faraz Jaka had him out-kicked with
. Vazquez did not improve and was the first player eliminated from the final table. With Vazquez's bounty, Jaka tied Buchanan for the lead in the bounty race in which the winner would receive a free $25,000 entry into the next NAPT Bounty Shootout.
Buchanan flopped top two pair on a
board and check-raised Jason Mercier's 7,600 bet to 20,000, only to be met with a shove. Buchanan called, and although the turn was a safe card, the
, Mercier rivered a flush with the
and KO'd Buchanan in fifth place.
Matt Glantz five-bet shoved with pocket tens and ran into Mercier's two black queens, ending his run in fourth. Glantz's $5k chip increased Mercier's bounty count to five.
Jaka went out in third after he three-bet shoved preflop with
and earned a call from Mercier with
. Mercier hit his kicker on the
flop, and although the
on the turn gave Jaka a flush draw, meaning he could win with king or club, the river was
, leaving Mercier heads-up with Stein. Jaka takes home $80,000 while Mercier won his sixth bounty and locked up the bounty race.
RiverStars times two: Sam Stein had worked his way out to a two-to-one chip lead when this hand set their stacks nearly even. All the money went in before the flop, Mercier limping in on the button, then shoving over the top of Stein's 21,000 raise. Stein called, tabling
to Mercier's
. Stein hit top pair on the
flop, but Mercier picked up a gutshot straight draw. You know what's coming. While the turn was a blank, the
, Mercier hit his gutterball on the river. Stein jumped back from the table as if he'd been electrocuted when he saw the
.
Later on, Mercier opened for 14,500 with
. Stein reraised to 41,500 with
and Mercier moved all-in.
"This could be it," Stein said. "Oh, I call."
"We're pretty much flipping for it," Mercier said as he turned over his hand.
Stein hit top pair on the
flop. Mercier again picked up a straight draw on the turn when the
fell. Once again, Stein was one card away from the win, but the
spiked on the end, another golden river card for Mercier.
"You're not human, bro. That's so sick," was all Stein could manage.
Left with only four big blinds and no other options, Stein committed them with the
and was up against Mercier's
. The board ran out
and Mercier clinched victory, relegating Sam Stein to yet another second-place finish. For the win, Mercier earned a grand total of $475,000.
Hour two: The NAPT Mohegan Sun $5,000 Main Event Final Table
The second hour of NAPT coverage took us to the final table of the $5,000 Mohegan Sun Main Event, where eight players remained. Here's how they stacked up at the top of the hour:
Mike Beasley (4,985,000)
Vanessa Selbst (4,545,000)
Michael Woods (2,950,000)
Alistair Melville (2,940,000)
Cliff "JohnnyBax" Josephy (1,940,000)
Derek Raymond (1,545,000)
Jonathan "FatalError" Aguiar (1,535,000)
Scott Seiver (1,125,000)
Talkin' bout my generation: Half of the final table (Vanessa Selbst, Derek Raymond, Jonathan Aguiar, and Scott Seiver) were in their twenties while the other half (Mike Beasley, Michael Woods, Alistair Melville, and Cliff Josephy) were over forty.
Not quite a "FatalError": Jonathan Aguiar found a great spot for a squeeze play, moving all-in for 1.1 million after Mike Beasley raised to 125,000 and Michael Woods three-bet. Beasley folded but Woods called, turning up
. Aguiar needed to win a race with his
, but couldn't get there, exiting in eighth place.
Busto Bax: Although he played spectacularly to get there, Cliff "JohnnyBax" Jospehy couldn't get anything going at the final table and was eliminated in seventh place when his
failed to improve against Derek Raymond's
.
We "heart" Vanessa's railbirds: With signs like "Will you go to prom with me Vanessa?" how could you not?
Semi-bluffin' Selbst: This was a good one. Alistair Melville opened for 275,000 with
and Selbst called with
. After Selbst checked the
flop, Melville bet 375,000, and Selbst moved all-in with her straight and flush draws. Melville wasn't exactly looking at a great board for his pocket tens and got away from them, conceding the pot to Selbst as her railbirds went wild.
Flip well, run better: After Melville limped in with
and Selbst limped behind him with pocket sixes, Derek Raymond made it 395,000 to go with
. Melville folded and Selbst shoved.
"You should know, I'm running extremely well. So even if you're ahead when you call, you're probably going to lose," Selbst said.
Raymond, however, made the call. "How does he call that? I have ace-queen there so much of the time," Selbst commented.
"I put him on exactly ace-queen," Seiver said by way of consolation as he did a drumroll on the table.
Selbst's sixes held up on the
board, sending Raymond home in sixth place.
Let's check in with the ESPN HUD: After 75 hands, Selbst had a VPIP of 36 percent, Woods' was 28 percent, Beasley's 26 percent, and Seiver's was 21 percent, making him the tightest player left at the table.
From worst to fourth: Scott Seiver came into the final table as the shortest stack, but still came away with a fourth-place finish. Ultimately he took his pocket fours up against Michael Woods'
, only to watch his opponent flop an ace. There wasn't a miracle in the deck this time for Seiver who earned $190,000 for his efforts.
"I've been on an incredible hot streak recently," Seiver told ESPN in his exit interview. "I feel like everything I've been playing, I've been getting either first or fourth. So I knew if one more person busted I was a lock to get first, because I don't get second or third, but this was good enough."
Selbst's set sinks Woods: Woods raised to 310,000 from the button holding
and Selbst flat-called with pocket eights in the small blind. The
flop hit both players, Selbst flopping middle set while Woods made top pair and a straight draw. Selbst checked, Woods bet 700,000 and Selbst raised to 1.8 million. Woods moved all-in and Selbst insta-called. The
on the turn was no help for Woods, and neither was the
on the river. Woods' elimination left Selbst heads-up with Mike Beasley.
Fun fact: This was the second time Vanessa Selbst has played a strip club owner heads-up for a major title. She won her WSOP bracelet in 2008 after defeating (an extremely intoxicated) Jamie Pickering, who owns a number of such establishments in his native Australia.
Under pressure: Selbst limped in with
and Beasley raised to 450,000 from the big blind with
. Selbst asked her opponent for a count and after he replied that he had "2 million and change," she made the call. The flop was
, Selbst hitting a pair of kings. Beasley missed entirely, but still led out for 1 million, about half his remaining stack. Selbst moved all-in and Beasley rubbed his face in frustration, not liking the situation one bit. After bowing his head in thought for a moment, he let his hand go.
The final hand: Holding
, Selbst raised to 200,000. Beasley shoved with
and Selbst made the call. The flop came down
.
"I've never even had a sweat. Let me have a sweat. Put a jack out there," pleaded Beasley.
This, however, was Vanessa Selbst's tournament. The turn was the
, the river was the
, and Vanessa Selbst took down the NAPT Mohegan Sun title, earning a career-high tournament score of $750,000. That should pay for her Yale Law School tuition and then some.
ESPN's coverage of the NAPT continues next Monday night at 10 p.m. EDT, featuring footage from the 2010 PokerStars Caribbean Adventure. Set your DVRs!
Are you following us on Twitter yet? Well, why not?