PokerStars.net NAPT Mohegan Sun Day 4: Déjà Vu All Over Again for Selbst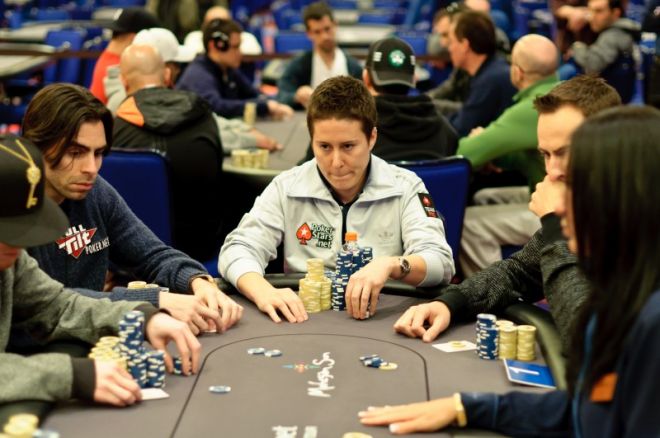 Day 4 came and went in about eight hours at the PokerStars.net NAPT Mohegan Sun. During that time, the 24 survivors who returned to the felt were reduced to just eight, and Vanessa Selbst continued to mount her charge toward an astounding repeat victory in the tournament's second iteration.
Selbst's Day 4 began much as her Day 3 had ended – with her dragging down pots. Eric Froehlich was the first victim of her monster stack, relegated to the rail within a few minutes of the start of play. On a
flop, Froehlich and his
check-called a bet of 33,000 from the preflop raiser. He picked up a draw when the
landed on fourth street and check-raised from 66,000 all-in for 320,000 total. Selbst couldn't have called any quicker with her set of deuces, and the river
was a blank to seal Froehlich's elimination as the second casualty of the day. By the time the first hour had ticked off the clock, Selbst was approaching 2 million with more than twice as many chips her nearest challenger.
With 15 players left, Selbst struck again, and this time it was Ara Melikian who she claimed as the next unlucky soul. Melikian can't be faulted for three-bet shoving on Selbst with
, but the Team PokerStars Pro quickly matched his bet with the dominating
, and the
board kept her kickers in front. Melikian was out in 14th place, and Selbst vaulted up to 2.47 million with well over 20 percent of the chips in play. Things cooled off for Selbst over the final few levels, but her bag is still stuffed with 2.249 million chips, good enough for the second spot overall. It's an eerie parallel to her victory last year in which she relinquished the lead late on Day 4 before running over the final table to take the trophy.
Sebst wasn't the only one working on Tuesday, though. Dan Shak had himself a fine day on the felt, doing some dirty work and claiming a couple of eliminations of his own. The first to fall was one of the amateurs left in the field, Jonathan Schroer. The schoolmaster from North Carolina played patient poker for three days and got his last 21 big blinds into the middle with his
racing against Shak's
. The board ran out blank, though, coming
to start Shak off on the right foot. A while later, Shak took the rest of Nenad Medic's chips in a lucky out-draw. The table had folded around to the blinds when Shak shoved with
and Medic woke up with the
next door — good enough to call it off. Shak flopped lucky, though, and the
board was all she wrote for the former bracelet winner. Medic's elimination moved Shak into the top three with 1.35 million chips, and he continued to increase for the rest of the day, bagging up 1.571 million chips before rushing over to the adjacent room to join the second flight of the $10,000 Bounty Shootout.
While some notables were picking up pots left and right, a few others had a tougher go of it on Day 4. Chris Tryba and his
were no match for Jacobo Fernandez's
, and Tryba only lasted for one level before succumbing in 21st place. Adam Geyer began the day in the top five with 803,000 chips, but his bid to make the final table was cut short within two levels, as well. It was another battle of the blinds that saw Geyer get his final chips in with his
dominated by the
of David Stefanski. The
board was no help to Geyer, forced to settle for a $12,000 consolation prize. With 21 players left, Taylor von Kriegenbergh dodged elimination when his
cracked Aaron Overton's
. Von Kriegenbergh couldn't make his second chance stick, though, surviving until 18th place when his
and the rest of his chips fell to Philippe Plouffe's
.
After that knockout, though, the rest of Plouffe's day was a bit of a mixed bag. Just a few minutes later, he fell back from 600,000 under 200,000 after tangling up with Stefanski. On a
board, Plouffe bet and called a raise on the turn. He called another 2/3-pot bet on the river, and Stefanski's
was good enough to cripple his opponent down to just 189,000. He doubled up to 554,000 shortly thereafter, though, when his
got there against Joseph Gibbons'
in a tournament-saving pot.
Plouffe held onto those chips for a couple hours until they all ended up in the stack of Steve O'Dwyer. It was O'Dwyer who opened the pot to 44,000 in position, and Tyler Kenney flatted in the middle. Plouffe squeezed in a reraise from the big blind, shoving his last 475,000 chips into the middle. O'Dwyer tanked before making the call for about 80 percent of his chips, turning up
. He was right. Plouffe could only show
, and the
board rewarded O'Dwyer for that call with the knockout. That pushed him over the million-chip mark for the first time in the event, a milestone that seemed impossible two days earlier. During the last level of Day 2, O'Dwyer had just one-third of his starting stack but turned those 10,000 chips into 110,000 by night's end. On Day 3, an early chip charge vaulted O'Dwyer's stack up into the realms of respectability, and he began this Day 4 with an above-average stack of 507,000. That was quickly whittled down to just 300,000, but O'Dwyer mounted another comeback, and it wasn't long before he was up to 1.2 million and challenging for second place. O'Dwyer bagged up 1.032 million chips at the end of the day.
It looked for a while like nobody would catch Selbst, but Tyler Kenney rode a second-half surge to take control of the top spot. He began the penultimate day in the middle of the pack with just shy of a half million chips, and he sat still for the first few rounds of the day before forming his attack on the leaders. During Level 22, Kenney won a big pot off Stefanski to crest the million-chip mark, and soon thereafter, he preflop five-bet his way past the two-million mark. A minute later, he and Selbst tangled up in a pot that pulled the two of them very close in chips, and she doubled up Aaron Overton a few minutes later to complete the changing of power. It was Kenney all alone at the top, and he continued to bolster his stack for the remainder of the night, bagging up an impressive 3.021 million at night's end to set the pace for the sprint to the finish.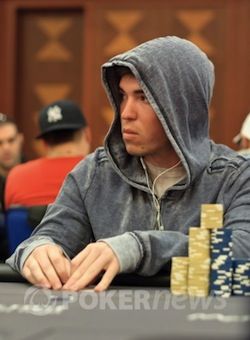 Here's how the final eight players will be laid out when the final table begins at 1200 EDT (1600 GMT) on Wednesday.
| Seat | Player | Chips |
| --- | --- | --- |
| 1 | Joe Tehan | 1,238,000 |
| 2 | Thomas Hoglund Jr. | 541,000 |
| 3 | Dan Shak | 1,571,000 |
| 4 | Vincent Rubianes | 1,711,000 |
| 5 | Steve O'Dwyer | 1,032,000 |
| 6 | Tyler Kenney | 3,021,000 |
| 7 | Aaron Overton | 373,000 |
| 8 | Vanessa Selbst | 2,249,000 |
Between now and then, you should follow us on Twitter and become our fan on Facebook to keep up with bits of poker news all the world around!