Federated Sports + Gaming's Annie Duke and Jeffrey Pollack Discuss Poker League Lineup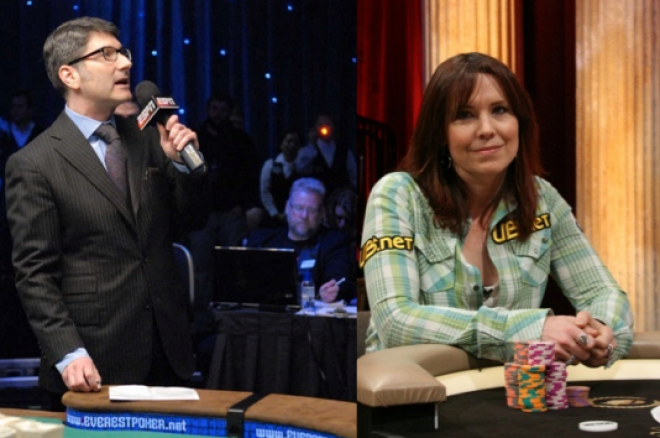 On Tuesday, May 3, 2011, the Federated Sports + Gaming's professional poker league announced the lineup for its inaugural season. Two hundred and eighteen players qualified for membership in the 2011-2012 league, and the announcement indicated that the highly anticipated FS+G league, headed by Jeffrey Pollack and commissioned by Annie Duke, was not adversely affected by the events of online poker's infamous Black Friday.
PokerNews recently sat down with both Pollack and Duke to talk about the FS+G poker league including the inaugural lineup, the qualification criteria, and the implications of Black Friday.
Did the events of online poker's Black Friday cast any doubt as to whether or not the FS+G league would come to fruition?
Pollack: No, Annie and I have both been in the poker community for a while, and the first thing I want to say is that we're very empathetic to how players have been affected, how the poker media has been affected, that is sort of the starting point. Beyond that, our business model hasn't changed and our launch plans haven't changed as a result of anything that happened on Black Friday.
How did you go about creating the qualification criteria? Can you tell us a little bit about that process?
Duke: Sure. Once we knew what we wanted to do, I started thinking about what would make one of the best live tournament poker players in the world and started working on figuring out what those pieces would be. I really landed on some combination of consistency over time with 'what have you done for me lately.' We started working within those parameters and then I used a lot of people to gut-check, trusted people from the community; in fact, somebody from PokerNews was one of my helpers, and some other people from the press. Also, some players with whom I'm in very close contact with to gut-checking the idea of what that would look like.
What we came up with is lifetime earnings and the idea of capping the single largest win, which was very well received; major titles; and then looking at what you've done in the last three years in terms of both of earnings and the number of times you've cashed, so we capturing both ideas within the criteria. From there, we were looking for about 25 five-year card holders, about 50 three-year card holders, and then looking to fill out the rest of the list with two-year card holders.
What led you to seek out that distribution in cards?
Duke: Basically, we really wanted to have some measure of being able to acknowledge the players who have achieved extraordinary success in the game. So, we really wanted to have a pretty narrow view of what those five-year card holders were going to look like. We knew that we wanted a smaller percentage of the league to be five-year cardholders, ditto for three-year card holders. We wanted to make sure the majority of the league was two-year cardholders and those players will have to prove themselves over the course of those two years.
When we're looking at five-year cardholders, one of the reasons we wanted to limit the view on that was because we're asking someone to be consistent over five years, because they have an exemption for those five years. That means we don't review their card in terms of performance in live tournament poker for five years. So, in order to qualify somebody for that level card, we wanted to make sure that these players had showed consistency and a level of success over a period of time. Frankly, there just aren't that many people like that in poker, so we were really looking for the top tier there.
How did you go about compiling the list of 218 players?
Duke: We were looking for about 200 players, and as we were looking at those criteria we had a choice as we were setting the base on lifetime earnings. In order to get exactly 200 players, we would have had to set lifetime earnings at $1.314 or something like that, so we just decided that we really wanted to shoot at round numbers. We had a choice between either shooting at a higher round number that would qualify fewer than 200 players or shooting at a slightly lower round number, the $1.25 million, that was going to qualify slightly more than 200 players. We chose to have more widely open arms than more narrowly open arms there.
Pollack: As to the general number, we believe keeping the field size relatively tight is better for showcasing the skills and the talents of these players. It's also going to enable us to provide the type of service levels that we want to the members, both in the events and at the Palms, and frankly through our television coverage.
Were there any players who satisfied the criteria who did not make the list?
Duke: No.
According to the lineup, Annie has a "2 Year A" card. Does this mean she will have the opportunity to play?
Duke: No. I am declining my card. The only reason my name is published on that list is that we really want everything to be transparent, so if someone went over and looked at our data source, which is the Hendon Mob, they would be able to see that I qualified, so there is no reason for me not to publish my name. But I certainly won't be playing.
Pollack: Again, that doesn't mean Annie is giving up playing poker entirely. She is still going to play in the World Series of Poker, she still plays other events, but as Commissioner, it wouldn't be appropriate for her to play in her own events.
Will players be added to this initial list if they perform at this year's WSOP?
Duke: Absolutely. We have another qualification round going on August 1. Just to give an idea of what's going to happen in the future, in upcoming years the new additions to the league will be done on August 1. The reason we ran a preliminary qualification round, which is what we consider this, is that in the first year of the league we have to administrate 217 people into the league, which is quite the load in terms of getting everybody their information, getting their schedule, getting their bios, so on and so forth.
We knew everybody on this list would qualify on August 1, so we published this list early so we could start contacting players and get them processed. Obviously, in future years the number of new players coming into the league is going to be smaller so we won't have that issue.
Will it also be possible for players currently on the list to improve their card if they satisfy such criteria at the WSOP?
Duke: Yes, absolutely. If a player performs at the World Series in a way that qualifies them for a higher card, they will be given the higher card.
Will there be any satellites for the Pro-Am events, whether it is at the Palms or online?
Duke: We're currently working with the Palms to create a satellite program for those. We're very interested in having a very robust satellite program for those events. We're really thinking about the way the PGA works where, for example, people can qualify into the U.S. Open through smaller tournaments all around the country going to regional qualifiers, and so on and so forth. So we would love to see lots of satellite programs into the Pro-Ams.
What has been the initial reaction to the lineup via Twitter and Facebook, namely some of the bigger names who're absent from the list, such as Phil Laak who is just $59,449 shy of meeting 2-Year Card Category B criteria?
Duke: From our perspective, the qualification criteria are the qualification criteria. Players either qualify or they don't. What we love about this criteria, for somebody like Phil Laak for example, is that he can look at these qualification criteria and know exactly what he needs to do by August 1 in order to qualify. We feel we are bringing something very unique to poker in that people now know exactly what they need to do in order to get into the league.
I actually had a personal discussion with Phil Laak and we went through exactly what he needed to do. From his perspective, he was happy to know that there were very objective criteria that he now knew he had to meet, and I think that is something very positive we are bringing to the game.
Pollack: The response on Twitter has been pretty factual at this point. People are digesting what we put out. If you take a look at the TwoPlusTwo Forum, which tends to be a good barometer on how the hardcore poker community thinks, it seems relatively positive. This, as you know, on TwoPlusTwo is not always the case as they tend to be very examining.
Duke: I will confess that one of my colleagues here was reading me the comments on TwoPlusTwo, and I think one of the things they're noticing is sort of the inverse of what was previously mentioned about some big names not qualifying, that being quite a few names that the public are not familiar with have qualified. I have to admit, quite a few names that I'm not personally familiar with qualified, and I think that speaks to the objectivity of the qualification criteria.
One of the things that Jeffrey and I have had very extensive discussions about is that we feel that if someone qualifies for the league, they're clearly one of the best live tournament players in the world and we should know who they are; the public should know who they are; and more than just the hardcore poker fans should know who they are. We're very excited that this is going to give them a platform to create awareness for themselves among the general public.
When can the poker world expect an announcement regarding the league's name and TV deal?
Pollack: Well certainly between now and August [laughs]. So, within the next 90 days. We'll announce our TV deal, probably, before we announce our name, and I'd say that'll be in the next few weeks. We'll have a couple of other announcements along the way, as well.
Is there anything else you'd like to add?
Duke: The only other thing that I would personally like to add is that this is a very exciting day for me, to be able to announce this roster. This has been an incredible journey I have taken with Jeffrey and our other partners, and to really see it become a concrete reality is just incredibly exciting to me!
For more on the Federated Sports + Gaming professional poker league, including a look at the qualification criteria and the full lineup, be sure to check out our Federated Sports + Gaming Announce Inaugural Professional Poker League Roster article.
As always, you can find PokerNews on Twitter and Facebook to have all your poker news delivered straight to your favorite social media.