Annie Duke Discusses New Professional Poker League Part 2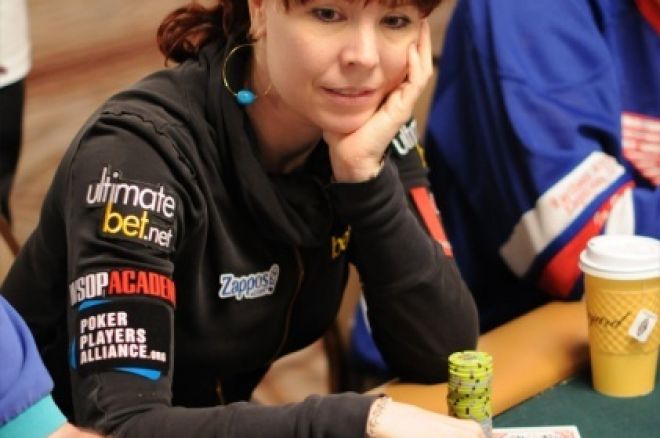 News broke Tuesday that Federated Sports and Gaming and the Palms Casino Resort had launched a joint venture to create a new professional poker league. Also involved in the project were former World Series of Poker Commissioner Jeffrey Pollack, chairman and co-founder of FS+G, and poker professional Annie Duke, who would be the commissioner of the new league. Wednesday, we brought you Part 1 of our interview with Duke regarding the announcement. Here's what else she had to say.
Are you afraid this new league may just be viewed as another venue competing against the likes of the WSOP, NAPT, etc.?
We expect to coexist peacefully with them. There is absolutely a place for both. The world where 8,000 people plunk down $10,000 to play an event and everyone has a chance at a huge prize pool, I think is a valuable piece of the poker world. I love it, I support it, and I'll continue to play in it, our pros are going to continue to play in it, and I think it's an amazing spectacle that fans love. But I think that fans also really love to see the players that they know, the players that have become stars and are the top talents in the game, competing against each other. I believe there is absolutely room for both to coexist.
When will the scoring system take effect? In other words, when will players begin earning points?
The first round of qualifications will be announced sometime around the beginning of March, followed by a secondary round in July. That is a very important time with the WSOP, and we don't want to exclude all the events that are happening at that time. People can expect over the next six weeks or so to get a look at what the qualification criteria are. When you get a card, there is also going to be maintenance criteria that are associated with that card, in performance and other things, so people will be able to get a look at that actually pretty quickly, and they're also going to be able to see who the initial list of cardholders is in March, which is really coming up quickly.
Given the fact that you're trying to make the new league on par with the PGA, will participants be expected to abide by certain rules and professional codes of conduct? Will it be possible for someone to lose a membership if he or she becomes involved in a situation that negatively affects that game of poker? In other words, could players face consequences in the league based upon their behavior and conduct?
The short answer is yes, but we're going to be announcing those kinds of things over the next couple months. The answer is, in every single way, we believe this is a way to professionalize the game and obviously whenever you do that, the things you're talking go along with that and I think it's really important. We want to raise the level of poker and the way the public views poker. That's not to say that people can't be colorful, we love colorful, but we'll be making more announcements on that as we move ahead.
Have you had the chance to talk to others in the poker community about this venture, such as your brother, Howard Lederer, or your good friend Erik Seidel? If so, what is the general consensus in regards to starting a new poker league?
Yeah, obviously I've got a lot of close confidants that I was doing a lot of gut-checking with as we were developing what this was going to look like over the past few months. We've really gotten an amazing response from the people I've talked about it with. I think this is something the pros have been looking for and have been talking about for quite awhile. Now, of course, since we've announced, I've had the chance to do some more gut-checking and have been able to talk to a broader range of people, and the response has been incredibly positive from the people I've talked to. Which is really nice and very gratifying since I'm really passionate about this, and Jeffrey is really passionate about this, so knowing that the response from the players has been so positive is really amazing.
Is this new league anything like the Professional Poker Tour (PPT) that occurred back in 2004-2005? What are some of the similarities and differences?
Obviously there are some differences in the details, but I think a lot of it has to do with timing and the business plan. I'm not sure people are aware that the main reason the PPT failed was because of a shareholder's decision. It had to do with where they wanted to put their resources in that company, which was originally built around a specific business model which the PPT was sort of added to that model. So the PPT really wasn't the main focus of that business and the reason it went away was not so much that the league wasn't successful and that the players didn't want to play, it was more just the decision of the shareholders in where they wanted to put their resources.
I also think, personally, as a pro at the time, that there were a lot of exemptions given. I certainly think that we're treating that differently in terms of the level of success that you'll have to reach, but I think even more importantly, and I think this is really the most important thing, there are two things that really distinguish what we are doing from the PPT. Number one is the timing. The PPT was very early in the poker game where players were still in the brand building business and when the public was still becoming aware of who the great players really were. Now, we're six years later, and I think in a very different situation where we have created incredible stars in this game. I think there is a major difference in terms of what the poker landscape looks like, and I think it's a better time to try and create that kind of league.
The other thing is, this leadership team that has been put together is so amazing in terms of the breadth of their knowledge, from poker-specific knowledge to general media, television, Internet, and marketing is really incredible. In addition to Jeffrey Pollack, we've got Michael Brodsky, David Goldberg and Jeffrey Grosman. . . they understand a lot about the gaming world and, more importantly, they come from other broad businesses . . . I think It's just a leadership team that is really well suited for this endeavor.
How will your role as commissioner impact your poker game? Obviously you won't be playing as much, but will we still see you at the bigger events such as the NBC National Heads-Up Championship and the WSOP?
Well, first of all, I have to go and defend my title at the NBC National Heads-Up Championship. There is no question I'm going to be there. I'm also committed to playing in the Shooting Star tournament at Bay 101. I love that tournament and go to that every year, and I'm also planning on playing a pretty full slate of tournaments at the WSOP.
That being said, getting this league off the ground and making sure it's done right is my main priority. If that impacts my playing time, so be it. Poker is still going to be there when I'm done, and I can still play part time now, so that certainly seems to be a fair trade.
Did this new opportunity to serve as commissioner have any influence on your decision to part ways with UB?
I sort of felt, on my side, my relationship with UB was winding down. The reason I stayed with UB through the difficult times they had in the scandal was that I felt like I wanted to stay and do what I could to try and make sure that the players were refunded and the hand histories were given out. I felt like the new management came in and had really good intentions and I didn't want to leave the brand and make people think that for some reason I didn't trust the people who were in charge. I just felt a deep obligation, honestly, to the community to try to stick around as that situation was being resolved. I tried to work hard to get as much done from that side as I could and really let people know that I thought it was absolutely a management you could trust.
But, you know, that situation I feel has been resolved as much as it could possibly get resolved at this point, and I really wanted to be in a situation where I had a bigger voice in the business. So I had really started to think about parting ways and trying to wind down my relationship with them actually prior to this situation presenting itself to me. That being said, this opportunity probably sped that process up for me because I realized that I really wanted to focus full time [on this new league]. For that reason I really needed to be a little bit quicker about winding down my relationship with UB. So, I guess my answer is that it is somewhat related but I think that I would have been leaving UB anyway.
And finally, any word on an official name for this new league?
There is and we will be announcing that within the next month. The league is not going to be called the Federated Sports and Gaming League [laughs]. That would be a mouthful. We're going to be having a lot of announcements over the coming months. There's going to be a lot of news coming from us. I will tell you that we're very excited about the name, and hopefully the community will be as excited as we are when they hear it.
If you want to be the first to know about all the news from the poker world, be sure to follow us on Twitter and like us on Facebook.