Annie Duke Discusses New Professional Poker League Part 1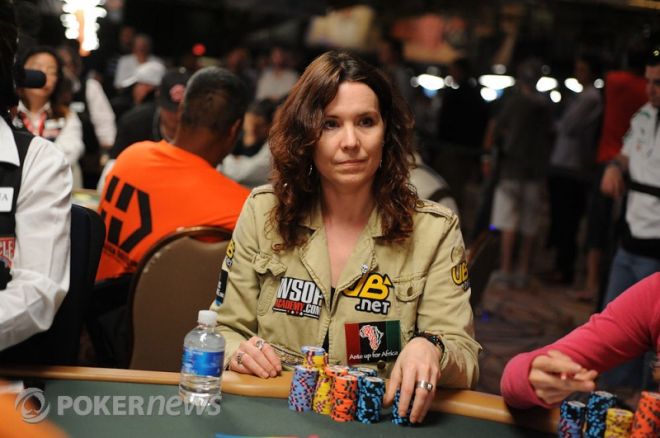 On Tuesday, news broke that Federated Sports and Gaming and the Palms Casino Resort, Las Vegas, had launched a joint venture to create a new professional poker league. Also involved in the project were former World Series of Poker Commissioner Jeffrey Pollack, chairman and co-founder of FS+G, and poker professional Annie Duke, who would be commissioner of the new league. PokerNews had the chance to sit down with Duke and learn more about this new professional poker league.
How did the idea for a new professional poker league come into being and how did you become involved?
Well, I think I'm certainly not the first person to consider this kind of idea. This is something the has been batted around in some form or another for a long time. I've known Jeffery [Pollack] for a really long time; obviously I was on the Player's Committee that he formed at the World Series of Poker. We had batted around, sort of hypothetically, that wouldn't it be great to have something that was like the PGA of poker. Then, when he left the WSOP, I think he was really trying to decide whether he wanted to stay in the poker world or not. He obviously has a much broader sports background, having come from NASCAR and the NBA, and I think as he did some soul searching he decided there was still more he wanted to do in poker. This [league] was something we had talked about for awhile and at that point it became clear that perhaps this was something we could execute for real.
Jeffrey Pollack was the former commissioner of the World Series of Poker and credited with helping make the game more mainstream. It sounds like you're excited to be working with him. Is that a fair statement?
Absolutely. At the WSOP I was a huge Jeffrey Pollack fan. I think he did so many things right when he came in as commissioner. For example, the first thing he did was call the top players and meet with them to get their input. He formed the Player's Advisory Council , which was really about helping the players and trying to get the World Series right, from the structure, schedule, format, and amenities. I think there were great strides at the WSOP in creating a great player experience, and I think that that is his legacy there. More so than that, he is just a great business person. He really understands the sports and marketing well, so I really think he is just the total package. I couldn't think of anyone better to execute this idea with. Well, maybe my brother [Howard Lederer], because he's my brother [laughs].
What sort of role will Pollack have in the new league?
He's chairman of the company and I think he's sort of looking to take on a new role. I know that he wants to be a little more in the background. This is a broader media company that we've formed where poker is really the first initiative of what we're doing. So he'll be working in the background much more on the business side, in the sponsorship side, and creating that part of the business. I think he's looking forward to taking on that role.
As the former commissioner of the WSOP, have you gotten the chance to pick Pollack's brain a little bit about what it takes to be a commissioner?
Oh, are you kidding, I'm still picking his brain. I'll pick anybody's brain that's available to me. I certainly don't pretend to have all the answers. This is absolutely a new role for me and obviously it is a venture we're sort of inventing as we go along. Not only would I want the advice of the people who have already been there, but also the players and really get great advice on what they're looking for and want from this league. You know this is really supposed to be pro-centric and I expect they'll have a big voice in how this goes.
How did the Palms come to be the home for the new league?
Nobody understands how to treat a celebrity better than the Palms. George Maloof is incredibly savvy in terms of television, celebrity, and building a brand, and the reason I think Palms make an ideal founding partner for us is that it's a business really looking to grow its poker brand. I think that makes a great partnership with us in terms of give and take. I think Palms is going to make a great home for us because it really understand how to treat our players. At the same time, I think we're a great addition to the business there because Palms is really looking to grow itsd poker business. I can't think of a better partner for us.
Will all the league's five tentatively scheduled events be held at the Palms?
Yes. There are four regular season events culminating in a fifth, a league championship event. All five of those are scheduled at the Palms. We've chosen a spot that is sort of noncompetitive with the rest of the market. So, the first season is 100% at the Palms in Las Vegas.
Will this new Professional Poker League be filmed for television? If so, has any deal been worked with a network to air the broadcasts?
Yeah, we're going to be announcing our television partner in the coming months. We're also going to be announcing our television producer. We have some fantastic partners, and you'll be hearing news of that shortly.
In addition to giving out two-, three-, or five-year league memberships, your league will also award lifetime memberships to those who have "unparalleled success in poker." Can you tell us any players that'll be awarded one of these memberships?
There will be a handful of lifetime memberships for people who have achieved the highest level of excellence in poker. What I will say about the lifetime memberships is that the people you would probably imagine would qualify for the lifetime memberships are probably the people who are qualifying. If you know the criteria are going to be things like lifetime earnings, the number of titles that you have, and a variety of criteria like that, you can probably take a pretty good guess at who might be getting those lifetime cards. But it's very few people — its ten or less.
Some leagues have offered sponsor exemptions and celebrity exemptions. Is this something we could see in the new league?
This league is very much about the pro and it's very pro-centric, so we're really trying to preserve the fact that its data driven qualifications for the league. That being said, we are going to be having PRO-AM events that will be qualifying events for an individual tournaments that will have nine exemption cards with it. This is very much like what the PGA does, or even Wimbledon, where you can sort of get in on a wildcard basis. You have to play your way in to do it, so it's not like if you don't have a card you can never play in the league. You're just going to have to do it through this other system and qualify, but even then the number of qualifications is going to be low because this is really a league where the pro is absolutely the rule and not the exception.
What sort of tournaments will be involved in the scoring process? For instance, will a player's performance in the World Series of Poker, NAPT events, EPT events, and WPT tournaments be taken into account?
Absolutely, they're extremely important in our consideration. For example, when you talk about that one of the qualification criteria is how many major titles someone has won, clearly you've just named where the major titles in general are coming from. Obviously there are some other events but you just got the bulk of them right there. Not only that, in order to maintain a card in good standing in our league, you have to be participating in those great poker brands. You have to continue to perform and you have to continue to be relevant in the game. You're not going to be able to do that playing only the four events that we're doing, so those who qualify will have to continue to be active participants in the brands that you've mentioned.
Want more? Come back for Part 2 of this on Thursday and if you want to be the first to know about all the news from the poker world, be sure to follow us on Twitter and like us on Facebook.