World Series of Poker Daily Summary for June 18th, 2008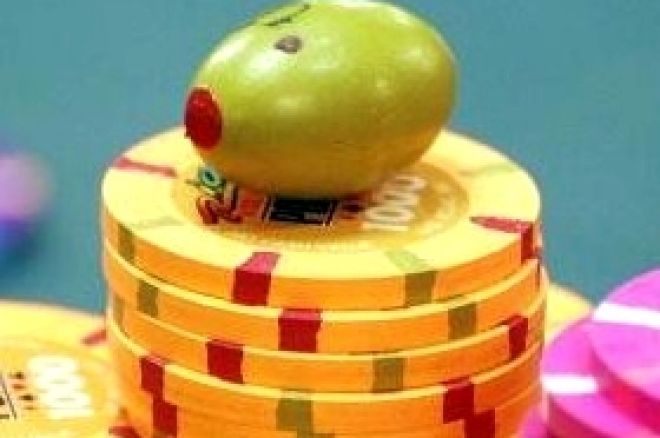 A bracelet for a major online star and a marathon final-table bubble were the stories of the day from the World Series of Poker. The major online star was Italy's Dario Minieri, who after teasing WSOP audiences in 2006 and 2007 finally broke through for his first bracelet win. That victory came in Event #31, $2,500 No-Limit Hold'em Six-Handed. And though Minieri had a big chip lead and the inside track to gold when the day began, it didn't turn out to be the proverbial walk in the park.
Minieri had fallen behind eventual runner-up Seth Fischer, and got the last of his chips in well behind with 4-3 suited to Fischer's monster, pocket kings. The kings failed to hold, as Minieri hit runner-runner fours on the turn and river for trips (though he had also flopped a flush draw). From there Minieri quickly put away the win, collecting the $528,418 first prize, while Fischer had to settle for $330,519 for second.
A Day 2 in excess of 16 hours was in store for players in Event #33, $5,000 World Championship Seven-Card Stud Hi/Low, at least for those players who survived the brunt of the attrition. Down to nine, and needing one more elimination to set the final, short stack after short stack managed to scoop a pot while all in and surge back into contention. Surprisingly enough, it was Howard Lederer who pulled the final-table short straw; Lederer had been the leader only an hour or so earlier, but took several big hits to his stack after bricking out on late streets. Sebastian Rutherberg claimed many of Lederer's chips and will lead the way to the final,accompanied by Annie Duke, Chris Ferguson, Marcel Luske and others.
A far larger field initially started the chase in Event #32, $1,500 No-Limit Hold'em, which also determined its final lineup on the day. The "name recognition" factor so prevalent in many final tables this year didn't happen to the same extent in this one, which wil instead feature nine relatively unknown (but still talented) players looking to make their WSOP-branded mark. Jose Luis Velador will have the lead entering today's final, ahead of Joseph Georges, Utsab Saha, Jae Chung and five others.
Two events began play on Wednesday as well. It was time for another round of rebuy madness at the crack of noon when Event #34, $1,500 Pot-Limit Omaha, got underway, and the wildness quickly ensured: the players managed to contribute an average of more than four rebuys per player to the total prize purse. When the smoke cleared at the end of the night, 48 of the original 320 players still had chips, with the 45-player money bubble the first order of today's business. Frank Vizza holds the Day 1 lead, ahead of Daniel Makowsky and Kyle Kloeckner.
The late-starting event was Event #35, $1,500 Seven Card Stud, which saw a field of 381 trimmed to 71 after the opening session's eight levels of play. The overnight lead here went to German player Leonardo Ebeling, with veteran American pros Greg Pappas and Al Barbieri the closest chasers. Chad Brown, Katja Thater, Chip Jett, and LA Lakers owner Jerry Buss are among those who have survived into Day 2 action.
Two more events begin today. Kicking off at noon was Event #36, $1,500 No-Limit Hold'em, which has drawn another massive field to the Rio Convention Center. 5pm brings the start of the day's second new event (#37), the coveted World Championship Omaha Hi-Low Split-8 or Better.