2011 World Series of Poker Day 15: Grospellier, Somerville, and Hays Win Bracelets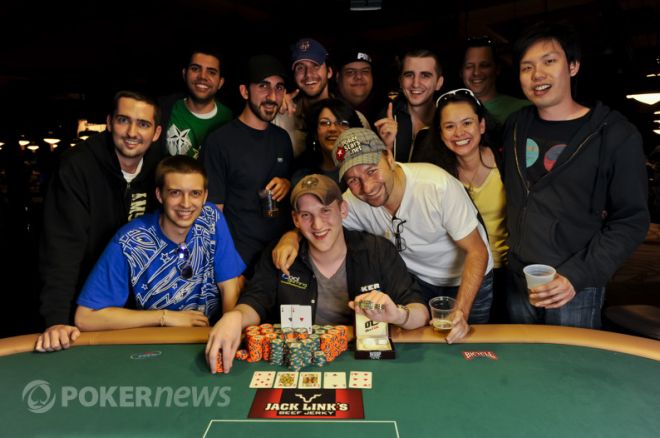 Three WSOP bracelets were awarded on Day 15 of the 2011 World Series of Poker. In addition, the Year of the Woman at the 2011 WSOP continues as another woman made a final table. The money bubble was burst in the $2,500 Eight-Game Mix and a final table reached in the $1,500 Pot-Limit Omaha. Finally, the $5,000 No-Limit Hold'em Shootout and the $1,500 Stud 8 or Better began play.
Event #18: $1,500 No-Limit Hold'em
Six players returned on Tuesday to play to the bracelet in the $1,500 No-Limit Hold'em Event. Foster Hays led the way with 3.6 million and Jeffrey Lavelle was his closest challenger holding 2.13 million.
It took less than an hour to reach heads-up play. Foster Hays faced Casey Kelton heads-up and started the match with over a 3:1 chip lead. Kelton doubled up twice to take the chip lead, and it seemed that momentum had shifted into his favor; however, a pair of failed bluff attempts came back later to haunt him.
The first failed bluff saw Kelton raise to 1.2 million with the board showing
. Hays called and when the
fell on the river and Kelton fired 1.2 million. Hays called and showed
for middle pair and Kelton mucked. A few hands later, Kelton fired a 500,000 bet at the river on a
board. Hays called with just
— and it was actually good. Kelton was bluffing with
.
While aggression is the key to winning poker, speed also kills. Kelton found that out the hard way on the final hand. After three-betting to 1.5 million preflop, the two players saw a
flop. Kelton bet 1.5 million and Hays raised to 3.6 million. Kelton then moved all-in and Hays made the call. Hays was ahead with
for top pair while Kelton held
. The turn
left Kelton needing an ace to survive, and the river
gave Hays the title.
Foster Hays won the $1,500 No-Limit Hold'em bracelet and $735,400 in prize money.
For more on Hays' nearly wire-to-wire Day 4 victory, read our live reporting pages.
Event #20: $1,000 No-Limit Holdem
Day 3 of the $1,000 No-Limit Hold'em Event started with 27 players all looking to take the bracelet. It took less than three levels to reach the final table of this event with Alexander Martin starting the final table as the chip leader. Jason Somerville started the day as chip leader and entered the final table third in chips. The 2011 WSOP really is shaping up to be Year of the Woman as Diana Allen became the fourth woman to make a WSOP final table this year and the second in as many days. She began the final table fifth in chips.
Allen played strong and even challenged for the chip lead in the early going but could only manage a seventh-place finish. Alex Martin could not manage much better and finished in fifth after starting the final table as chip leader. On the other hand, Jason Somerville managed to work his way to the chip lead and faced Yashar Darian heads-up for the bracelet. Somerville led with 5.2 million to 4.25 million to start the match.
Heads-up play lasted exactly one hand as Darian and Somerville got into a raising war. Darian decided to shove with his
and ran into the bad news of pocket aces from Somerville. The flop fell
to give Somerville a sweat. However, the
on the turn and
on the river failed the to help Darian and Somerville became the champion.
Jason Somerville finally broke through and took his first WSOP bracelet. He also pocketed $493,091.
For all the action on how Jason Somerville took down the bracelet, read our blog on the event.
Event #21: $10,000 Seven-Card Stud Championship
Day 3 of the $10,000 Seven-Card Stud Championship started with 12 players trying to take down this prestigious title. The final table was quickly reached with John Hennigan and Steven Landfish holding a massive lead over the rest of the final table. However, they were facing a stiff lineup that included Bertrand "ElkY" Grospellier, Chad Brown, Alexander Kostritsyn, Maxwell Troy, and Chris Tryba.
Hennigan was unable to build on his momentum going into the final table and finished fourth in the event. Steve Landfish and Bertrand Grospellier were the two who faced off for the bracelet, with Landfish leading 2.26 million to 1.52 million. Landfish proceeded to grind Grospellier down to just 250,000 to take a 14:1 chip lead.
Grospellier must have taken some lessons during Eugene Katchalov's $1,500 Stud win earlier this season as he began the latest "epic comeback" at this year's WSOP. ElkY slowly built his stack back up to even the match and eventually take the chip lead. He then ground Landfish down to where he only had about 300,000 left in his stack.
Landfish could not pull off his own comeback. He was all-in with a three flush against jack-high for Grospellier. Landfish picked up a flush draw on fourth street and a pair of fours on fifth while Grospellier picked up a pair of fives on fourth. Landfish could not manage any further improvement on his hand, but Grospellier caught running sixes on fifth through seventh street to give him a full house and his first bracelet.
Bertrand "ElkY" Grospellier won his first WSOP bracelet and $331,639. His bracelet win completed poker's Triple Crown for Grospellier, making him the second player to achieve this feat this Series.
To find out how the final table was reached and more, read our live coverage blog.
Event #22: $1,500 Pot-Limit Omaha
Just 117 players returned on Tuesday to play to the final table of the $1,500 Pot-Limit Omaha Event. With everyone already in the money, it was time to chip up or go home. Michael Binger and Nick Binger were both deep in this event, but both failed to reach the final table. Nick went out in 32nd and Michael hit the rail in 30th. Ryan Welch was looking to play for his second bracelet in this event but fell short of the final, as well, falling in 14th place.
The final table was reached in this event and Juha Vilkki will start the day with 1.23 million in chips, nearly twice the stack of second-place Rafe Kibrit with 667,000. Action will resume at 1430 PDT (2130 GMT) on Wednesday.
Follow all of the final table action in our live reporting blog.
Event #23: $2,500 Eight-Game Mix
Day 2 of the $2,500 Eight-Game Mix began with 210 players looking to break past the money and work toward the final table. Bruno Benveniste was on the verge of his first WSOP cash but instead got to taste a bubble sandwich. During an Omaha 8 round, he was all-in on a
flop and called by Shaun Deeb, Nikolay Evdakov and Mayu Roca. The turn brought the
and river the
. Deeb only managed to win half of the pot with
. That was because Evdakov showed
to tie for low and Uribe showed
for high. Benveniste showed his cards the muck and headed out on the bubble.
Ten levels were played before the final table was reached, meaning 25 players will return on Wednesday to play to the bracelet. John Racener leads the field with 363,600 with Eric Buchman, John Monnette, John Juanda, and Ylon Schwartz all in the top 10.
For a complete rundown of how the players reached this point, read the live coverage of the event.
Event #24: $5,000 No-Limit Hold'em Shootout
The $5,000 No-Limit Hold'em Shootout Event kicked off on Tuesday and drew a stellar crowd of 387 players. Poker's elite showed up for this one, and the result was a strong group of players taking down their first round table and advancing to Round 2. Among the players winning their tables were James Akenhead, JP Kelly, Tom Marchese, Justin Bonomo, Alan Goehring, Erik Seidel, Gavin Smith, Maxim Lykov, and Adam Junglen.
Only 40 players remain in this event, all in the money. They will return on Wednesday and play down to the final table of 10.
Who advanced to Round 2? Read our live coverage and find out.
Event #25: $1,500 Stud 8 or Better
Day 1 of the $1,500 Stud 8 or Better Event started with 606 — 38 fewer than in 2010. This is the third straight stud event to see shrinkage over 2010, and the only variant with consistent shrinkage thus far at the 2011 WSOP. The field was stacked with both pro players and Stud 8 specialists that included Chad Brown, David Williams, David Steicke, Allen Kessler, Huck Seed, Ted Forrest, Bill Chen, Brett Jungblut, Bill Munley, Men Nguyen, Alex Kravchenko, Mike Sexton, ESPN announcer Norman Chad, and 2010 Stud 8 World Champion Frank Kassela.
Cyndy Violette and Hevan Novick both finished tied for the chip lead at the end of Day 1 with 43,400 in chips. Karina Jett, Kristy Gazes, Tom Dwan, and Norman Chad are all in the top 10 in chips.
Find out more about who advanced to Day 2 by reading our blog on the event.
On Tap
Bracelets will be awarded on Wednesday in the $1,500 Pot-Limit Omaha and $2,500 Eight-Game Mix. Round 2 of the $5,000 No-Limit Hold'em Shootout will determine the final table while the $1,500 Stud 8 or Better will play to the money and begin its march to the final table. Two new events will kick off, as well, with the $2,500 No-Limit Hold'em - Six Handed commencing at 1200 PDT (1900 GMT), followed by the $10,000 Limit Hold'em Championship at 1700 PDT (0000 GMT).
Podcast
On Tuesday, the PokerNews Podcast crew discussed action from Day 2 of the $10,000 Stud Championship, the final table of the $2,500 Limit Hold'em Six Max Event, and all the other events taking place currently at the Rio. They were later joined by Brandon Adams who talked a little Full Tilt Poker, Neuropeptide Y, and his tennis match with Patrik Antonius.
The PokerNews Podcast is fat free and low in sugar. Listen here for more.
Video of the Day
Erik Seidel has been on a legendary tear this year. Sarah Grant got the chance to catch up with Seiborg prior to the start of the $5,000 No-Limit Hold'em Shootout on Monday. She spoke with him about the popularity of shootouts and how he handles the long grind of the WSOP.
Follow Pokernews online on Twitter and Facebook.