2011 World Series of Poker: Team Mercier is Doing Work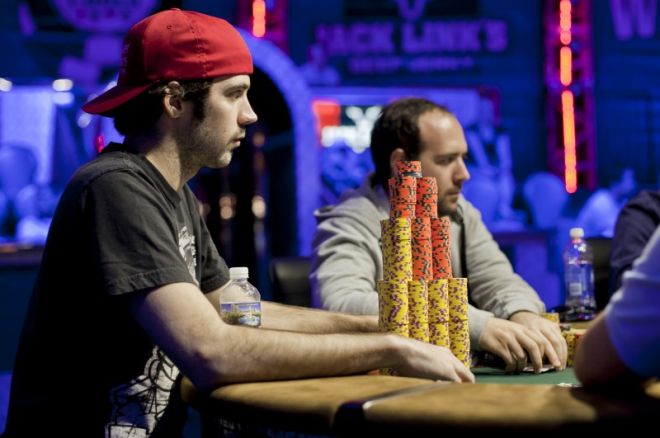 During Thursday's World Series of Poker bracelet ceremony, there was a kid standing stage left wearing basketball shorts, a fresh pair of black Air Jordans, a lime green t-shirt with the words "Future Billionaire" on it, and a black baseball hat turned backwards. He stood fairly emotionless, until WSOP Vice President and Tournament Director Jack Effel pronounced his name, Jason Mercier, incorrectly. He gave a laugh as he walked forward, shook Effel's hand and accepted his second bracelet in three years.
A few minutes later, during the playing of the "Star Spangled Banner," Mercier initially forgot to take his hat off.
"Jay!" his friend Dan O'Brien hissed from the crowd, pretending to take an imaginary hat off his head.
Mercier quickly obliged, removing his hat with one hand while patting down his uncombed hair with the other.
"I knew he'd take heat for it if he accidentally kept it on," O'Brien later told me.
O'Brien is not only good friends with Mercier, he's one of his three main horses alongside Allen Bari and Brent Hanks. I like to call the four "Team Mercier," a term used by Bari on his Twitter account, but with so much success on the Circuit you would think that Mercier has more horses, right?
"It's mainly us," Bari explained. "Jay has some of Phildo's (Phil Collins) online action, but that's about it."
Perhaps keeping it small was a great idea - Mercier and his three ponies have crushed thus far at the WSOP.
Jason Mercier

| Event | Place | Prize |
| --- | --- | --- |
| Event #9: $1,500 2-7 Draw Lowball | 7th | $10,524 |
| Event #11: $10,000 Omaha Hi-Low Split-8 or Better Championship | 27th | $16,329 |
| Event #21: $10,000 Seven Card Stud Championship | 14th | $24,043 |
| Event #35: $5,000 Pot-Limit Omaha / Six Handed | 1st | $619,575 |
Allen Bari

| Event | Place | Prize |
| --- | --- | --- |
| Event #4: $5,000 No-Limit Hold'em | 1st | $874,116 |
| Event #17: $1,500 H.O.R.S.E. | 78th | $3,146 |
| Event #26: $2,500 No-Limit Hold'em / Six Handed | 83rd | $6,207 |
Dan O'Brien

| Event | Place | Prize |
| --- | --- | --- |
| Event #13: $1,500 No-Limit Hold'em Shootout | 83rd | $4,998 |
| Event #24: $5,000 No-Limit Hold'em Shootout | 29th | $13,368 |
| Event #26: $2,500 No-Limit Hold'em / Six Handed | 4th | $179,162 |
| Event #32: $1,500 No-Limit Hold'em | 84th | $5,459 |
Brent Hanks

| Event | Place | Prize |
| --- | --- | --- |
| Event #13: $1,500 No-Limit Hold'em Shootout | 79th | $4,998 |
| Event #23: $2,500 Eight-Game Mix | 4th | $78,774 |
| Event #28: $1,500 No-Limit Hold'em | 247th | $2,733 |
| Event #32: $1,500 No-Limit Hold'em | 101st | $4,199 |
In total, the four players have made five final tables, won two bracelets, and banked over $1.8 million. Mercier, who shipped one of the two bracelets, will see the majority of that money, and when he's not deep, he's constantly sweating his three horses. During the final table of Event #4, Mercier was not only watching Bari, though, he was being somewhat critical from the rail.
"Hey!" Bari shouted from his seat after Mercier suggested he play more aggressive. "Let Secretariat run his race."
Mercier discontinued his coaching for the time being, but as soon as play ended for the evening, he had friend and fellow Team PokerStars Pro Vanessa Selbst to talk to Bari about applying more pressure with his huge stack.
"He won't listen to me," Mercier chuckled.
The next day, Bari finished the job, eventually defeating Maria Ho heads up for the bracelet and the cash.
During Hanks' final table run in Event #23, Mercier was sweating him during the last level of play on Day 2. While Mercier was watching, Hanks capped a limit hold'em hand on the turn with the board reading
. On the river (
), Hanks fired one more bet, his opponent called, and to Mercier's great surprise, Hanks opened up
for just two pair. His opponent mucked, and Hanks shipped a massive pot to make him one of the chip leaders.
"When did the kid get so sick!" Hanks joked after the hand.
"I could've sworn he had nines-full," Mercier commented.
But he wasn't complaining, he trusted Hanks to make the right decision – and he did. Unfortunately, Hanks was unable to make hands at the final table, and exited in fourth place.
O'Brien was the next horse to make a final table, finishing fourth in Event #26. He got his money in good with
against Oleksii Kovalchu's
on a flop of
. Kovalchu spiked on a diamond on the turn, though, sending O'Brien to the rail.
When asked who's going to have the next deep run, O'Brien said it's going to be him.
"I've got to win one of these," he said with conviction.
Whether it's O'Brien, Bari, Hanks, or Mercier himself, there is surely a strong possibility that we see another member of Team Mercier at yet another WSOP final table. And, since the projections show that the field size is going to be much smaller, I am going to call my shot and say we see at least one member at the $50,000 Poker Players Championship final table. Bari finished 12th in the event last year, Mercier is clearly a mixed-games monster, and if Hanks and O'Brien happen to get put in, there is no doubt in my mind that they can parlay their recent success into a deep run.
However, while the four can do no wrong at the moment, Bari is desperate for a name change.
"Forget Team Mercier," Bari told me with a grin. "It's all about Team Bari."
Whatever the name, these four are making their mark on the 2011 WSOP, and Mercier is making a lot of dough in the process.
For frequent updates on everything poker, follow PokerNews on Facebook and Twitter.