Reactions to the WSOP's Ten-Level Rule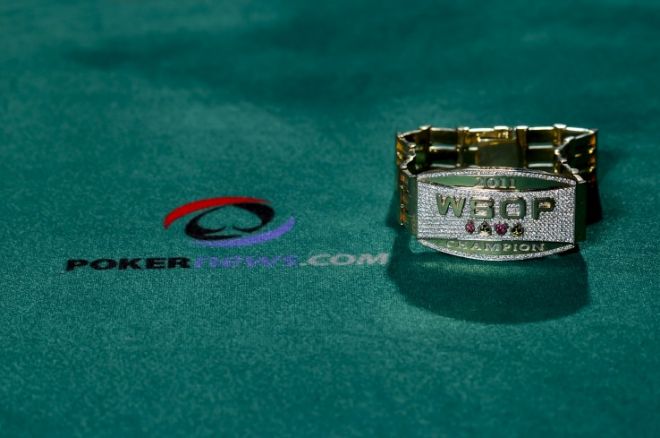 One of the new rules at the 2011 World Series of Poker is the ten-level rule. This year, no event will play longer than ten levels of play on a given day. In theory, that sounds like a great idea, right? But through the first handful of events at the WSOP, this rule has caused some controversy.
As the official live reporting team of the 2011 WSOP, PokerNews did its best to plan accordingly for events that had the potential of extending an extra day due to this new rule. What wasn't expected is how the players would react, and many of them are not happy. PokerNews reached out to a few players at the Series, including three bracelet winners, to find out their thoughts on the new rule.
Allen Bari was the first player we talked to. Bari won Event #4: $5,000 No-Limit Hold'em for nearly $875,000 and was directly affected by the ten-level rule during his run. On Day 3, the field began with 42 players. When the field was cut down to a final table of ten, the players relocated to the secondary feature table, expecting to lose one more player and then call it quits for the night with the official final table of nine set. However, the players were informed that this wouldn't be the case and they would play until ten levels were completed for the day or a winner was crowned.
Despite all the players agreeing to stop play for the night, the tournament staff did not allow it. WSOP Tournament Director Jack Effel even stepped in and told the players that they would play the full ten levels or to a winner, despite their cries. Many of the players voiced their opinions to the staff that was present, sarcastically saying comments along the lines of "Thanks for the great service," and "Glad the WSOP is taking care of what the players want first." Ricky Fohrenbach, who placed sixth in the event and was one of the players who made the final table, announced that he wouldn't be tipping.
With the ruling in place, the tournament went on and eventually stopped for the night with four players left. That was around 3:30 a.m. PDT. The players then had to return the following day at 2:30 p.m. PDT to finish things out. What the players really wanted to do was either stop when they got down to the final nine — a few hours earlier — or play the event all the way to the end. PokerNews caught up with the eventual champion Bari to see how he felt about the new hard-stop rule in place this year.
"I think it's stupid. Momentum is huge in tournaments and if you take a day off to go to sleep it completely changes the momentum. Then everyone has time to adjust to what's been going on and they even have time to talk to someone, whereas you would only have 15-20 minutes to talk on break. We should've just stopped at nine. It should be based upon what point of the tournament you're at. We were playing for a million dollars; it was 2:30 a.m. We had to stop. The night before they were all folding to me, the next day they were all jamming on me. It could've cost me money — luckily it didn't."
Bari's close friend and WSOP gold bracelet winner Jason Mercier was also asked about the rule.
"The ten-level rule is pretty dumb; it ruins the flow of the tournament. Any time you get down to under nine players, you should let the tournament finish. Either stop it at nine and finish the next day, or let them play it out — even if they go to six in the morning. I think they should leave it up to the players; if everyone agrees to keep playing or everyone agrees to stop then they should do that. When tournament directors are going against what players want, they're not going to have everyone happy with the situation and they may even end up seeing people tip less."
Maria Ho was involved in Bari's event, as well. She eventually went on to finish in second place to Bari. Like Bari, Ho had to stop play early in the morning and return four-handed the following day. On the PokerNews Podcast, Ho weighed in with her thoughts.
"The break gave people more time to evaluate their situation. When you play from 42 players to four, your game and your frame of mind completely changes. I wanted to stop at nine. I needed the mental recuperation, but also I wanted my friends there to support me. It's a WSOP final table — it's kind of a big deal. You want to have a break, and rally the troops. I didn't feel like I was at the final table of a WSOP event — and it completely changed the next day when we walked onto the main stage.
Ho brings up a very valid point about the prestige of a WSOP final table. The WSOP is the greatest tournament series in the world. Making an event's final table is nothing to bat an eye at. When you make a WSOP final table, you almost immediately get on the phone, on Twitter, on Facebook and let your friends and family know you've made it. Often, players will fly out their families for the following day, and their friends will all come in for support hoping to rail their mate to victory. When an event gets down to the final table and then begins to play straight through, the aura of being at a WSOP final table is lost.
Now, one may say that if a player makes it to Day 3, family and friends should come out to watch anyway, in case the event finishes. When an event makes it to Day 3 with 42 players left, as the case with Ho's event, everyone knows a winner won't be crowned. There's just way too much poker to be played and things could end well before the final table with the turn of a card. Final tables are special. They're rare. WSOP final tables even more so.
Bari's final table wasn't the only one that has been affected this year already. Sean Getzwiller, who won Event #8: $1,000 No-Limit Hold'em, had to return for his final day with just two other players to defeat; Sadan Turker and Jon Turner. Getzwiller really didn't understand why they made the players play through a few extra hours when they could have stopped when they hit nine players or even six. Here's what he had to say.
"I was actually pleading to stop. We were six-handed and it was two in the morning and they wanted us to go another couple hours. I didn't really make a lot of sense. I don't understand why we played down to three people to come here the next day."
A third event that was forced to return for an extra day was Event #11: $10,000 Omaha Hi-Low Split-8 or Better Championship. George Lind III, Viacheslav Zhukov and Steve Billirakis were forced to stop play three-handed and return the next day to finish things out.
Given these testimonies, it's pretty clear the players aren't happy with the way to new ten-level rule is being implemented. PokerNews wanted to see whether Effel had any response or reaction to how the players felt. Here's what he had to say on the topic.
"Not that players don't know what's right for them, it's just sometimes players get three-handed and think the tournament will end an hour later — and that's not the case a lot of the times. In the $1K, they returned with three players. The first player busted in five hands and the other two played heads up for five and a half hours. Had they continued the night before, they would've played until 9 a.m. This is all about keeping everything scheduled, organized, and keeping everybody fresh. If you're playing for a lot of money, there's no reason you need to play a 19-hour final table. That's why people don't work for more than eight hours — you start becoming rum-dumb, you're no longer able to function properly. We want to keep our players — our athletes — feeling good and feeling energized."
"We don't want guys falling over, having heart attacks, having strokes, being exhausted, getting sick. We don't want our staff to undergo those types of things either. We have a disclaimer you know, it says this tournament could go on beyond scheduled play.
From there, Effel mentioned there was one alternative he wouldn't want to explore.
"The alternative to this is to butcher the structure, which is something nobody wants because they want as much play as possible. When I did the math, it looked like there were 16 or 17 events that might go that extra day."
But that may not be the only alternative to think of. Why not take every event and schedule it for an extra day from the get-go? Make all three-day events (where the problem seems to be the most prominent) four days long. If you take a look at the other prominent poker tours around the world, the European Poker Tour, the Asian Pacific Poker Tour and the World Poker Tour, all their events last four days or longer, with each day being shorter. Many of the EPT and APPT events have single days that don't last in the early hours of the following morning either. Spreading out an event to four days may be the answer here. It would keep each day shorter, which would keep players fresher and healthier, which seems to be what Effel is getting at. Much of this was outlined back in a PokerNews article in September 2010.
It's going to be interesting to see how this plays out for the rest of the 2011 WSOP and whether any changes will be made. As it stands right now, the rule stands and no changes have been put in place. This is the WSOP and it should be about the players above all else. Even a minor adjustment whereby the players are able to vote on whether to continue through final tables or stop at a given point would be much better than making them disgruntled by given them no option whatsoever.
Be sure to stay tuned to PokerNews for the next several weeks for all of our ongoing coverage of the 2011 World Series of Poker. We've got live reporting going on around the clock, but that doesn't mean you shouldn't be following us on Twitter as well for all of your up-to-the-minute poker news.