Breaking News: Full Tilt Poker License Suspended by AGCC (Updated 6/30 4:15 p.m. PDT)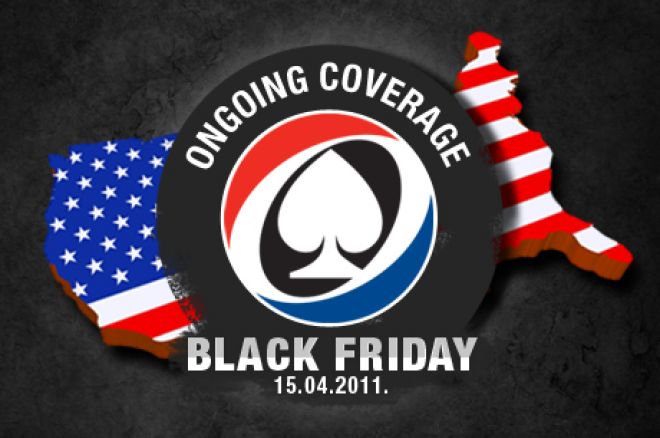 Early Wednesday morning, the poker world learned that the Alderney Gambling Control Commission (AGCC) suspended the license of Full Tilt Poker and ordered the site to suspend all operations. According to preliminary reports, games on Full Tilt worldwide came to a sudden halt.
The AGCC released the following statement on the matter:
"Alderney Gambling Control Commission (AGCC) has today issued Hearing Notices under Regulation 46 of its Regulations to Vantage Ltd, Oxalic Ltd, Filco Ltd and Orinic Ltd, collectively trading as FULL TILT POKER.
In addition, AGCC has issued Suspension Notices under Regulation 47 to the above named companies requiring them to suspend all operations with immediate effect.
The decision to suspend these licenses follows a special investigation prompted by the indictments unsealed by U.S. Attorney General's Office in the Southern District of New York on April 15, 2011, during which grounds were found to indicate that these licensees and their business associates were operating contrary to Alderney legislation. The nature of the findings necessitated the taking of immediate action in the public interest.
The venue and date for the hearing will be announced in due course.
Issued by:
André Wilsenach (Executive Director)
Alderney Gambling Control Commission
Alderney,
Channel Islands
Date issued: 29th June 2011"
In a separate statement, the AGCC added:
"The above-named companies must, until the Suspension Notices are cancelled or the Commissioners of AGCC have reached a determination at the conclusion of the hearing convened in accordance with Regulation 46 of the Alderney eGambling Regulations, 2009 cease to exercise their eGambling licenses, which means that these licensees must from today cease to:
Register new customers;
Accept deposits from existing customers;
Allow existing customers to withdraw funds that are held in their accounts; and
Permit customers to participate in any form of poker game play or gambling transaction.
The Alderney Gambling Control Commission will hear the matters contained in the Hearing Notices at a Regulatory Hearing which will commence at 10:00 a.m. on Tuesday 26th July, 2011 at the Victoria Park Plaza Hotel, 239 Vauxhall Bridge Road, London SW1V 1EQ. In the event that there is a change to these details this notice will be amended."
André Wilsenach, Executive Director of the AGCC, went on to say: "The decision to suspend the eGambling license was in the public interest and, because of the seriousness and urgency of the matter, it required that immediate action be taken ahead of the regulatory hearing."
For those who may recall, the aforementioned investigation is the same as was alluded to in an earlier statement by the AGCC. For more on the AGCC back story, be sure to revisit PokerNews' interview with Michael Ellen, director of licensing and strategy for the AGCC.
So far, no word from Full Tilt other that a banner on FullTiltPoker.com stating: "Scheduled Maintenance In Progress - The system is currently down for maintenance. Please check back soon!"
8:13 a.m. PDT: Here is an email newsletter from Moneybookers that PokerNews received Wednesday:
As a Moneybookers customer, you already know you are the most important part of our business. We always make sure you receive the safest service.
For this reason we have stopped accepting deposits made to Full Tilt Poker.
There are extraordinary circumstances behind this situation which are beyond our control. We will not comment on these, just take appropriate action that protects our customers. We have requested that the Moneybookers logo be removed from Full Tilt Poker, but cannot do any more to make sure it is not displayed. Moneybookers is no longer available from Full Tilt Poker, and you will receive an error message if you attempt to use our service there.
9:13 a.m. PDT: Isle of Man Gaming Commission issues statement:
The Isle of Man Gambling Supervision Commission wishes to make it clear that the licensing status of PokerStars in the Isle of Man remains unchanged following today's statement from the Gambling Control Commission in Alderney. Alderney is a separate jurisdiction from the Isle of Man and the operation in question is separate from PokerStars.
PokerStars continues to demonstrate compliance with its license conditions in the Isle of Man. PokerStars continues to offer withdrawals to any players who wish to withdraw their funds, including players in the USA to whom PokerStars does not currently offer real-money gaming.
9:20 a.m. PDT: PokerStars issued press release regarding player funds and its operations:
In light of today's news that Alderney Gambling Control Commission has suspended Full Tilt Poker's license, PokerStars wishes to assure our customers that their funds are completely safe and that our operations are completely unaffected. The Isle of Man Gaming Commission today reaffirmed that PokerStars' worldwide licensing is intact and that our operations are in full compliance with all of its requirements. PokerStars' online operations continue as normal and all funds in players' accounts are safe and available for withdrawal as usual with no delays.
PokerStars also remains in full compliance with our licenses in other jurisdictions where we are regulated, including France, Italy and Estonia.
As provided under our licensing, PokerStars has always maintained the integrity and security of our players' funds, by keeping all such funds in segregated bank accounts, always available for immediate withdrawal.
Since the actions of US Department of Justice in April, we have returned more than $120 million to US players and continue to act upon requests as they are received. Players outside the US have not been affected and all cash-outs have been processed without delays. Further, PokerStars entered into an agreement with the Department of Justice which expressly confirmed the company's ability to operate outside the US.
We will continue to operate as a responsible corporate citizen and are committed to serving the needs of our customers in complete compliance with our regulatory requirements.
3:00 p.m. PDT: Kahnawake Gaming Commission says Full Tilt holds Secondary CPA; issued following press release:
Since July, 2010, Kolyma Corporation A.V.V. ("Kolyma"), carrying on business as Full Tilt Poker, has held a Secondary Client Provider Authorization, issued by the Kahnawake Gaming Commission (the "KGC").
The KGC issues a Secondary CPA only in cases where an operator holds a valid license issued by a primary jurisdiction and has its head office and focus of operations in that primary jurisdiction.
The KGC is aware that the Alderney Gambling Control Commission ("AGCC"), has recently issued Suspension Notices against several companies collectively operating as Full Tilt Poker.
In view of these recent actions, the KGC is reviewing all available information to determine whether the Secondary CPA presently held by Kolyma will be continued. A further announcement will be made shortly.
4:15 p.m. PDT: Full Tilt to keep French license, but must restore the .Fr site "without delay":
According to igamingfrance.com, and a translation from Google, the Regulatory Authority of Online Games in France, also known as ARJEL, is allowing Full Tilt Poker to keep their French license; however, they must restore service to French players "without delay."
Jean-Francois Vilotte, president of the ARJEL, said: "We have given notice and Full Tilt Poker have ordered to find technical solutions to continue to serve the French players who need to access the site."
Since the license of Full Tilt Poker was suspended by the Alderney Gambling Control Commission, both the .com and .fr site have been inaccessible to users. However, ARJEL does not yet recognize the current suspension of the AGCC as valid, presumably why they're still allowing Full Tilt to retain its French license.
While Vilotte did not set a date for restarting Full Tilt in France, he did state that French authorities expect the site up "without delay," and if not,"[Full Tilt] must take the consequences".
This is a breaking story and PokerNews will be sure to bring you all the developments as they happen.
For more on this story and others, be sure to follow us on Twitter and like us on Facebook.
Executive Editor US, PokerNews Podcast co-host & 2013 WSOP Bracelet Winner.