Five Thoughts About the First Week of the 2011 WSOP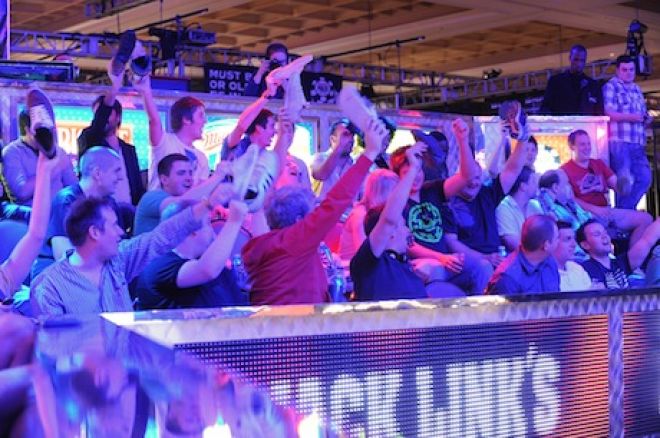 The first week of the 2011 World Series of Poker is in the books, and already some great stories are coming from the Rio. Englishman Jake Cody captured the Triple Crown (WPT, EPT and WSOP wins) with his victory in the $25,000 Heads-Up World Championship. Eugene Katchalov won a bracelet in the $1,500 Seven Card Stud event after making three final tables last year without recording a win. Allen Bari shipped the $5,000 No Limit Hold'em event for the biggest first place prize so far: $874,116.
Oh yeah, and some guy named Phil Ivey is missing in action.
Here are my five thoughts regarding the first week of the 2011 WSOP.
1. American railbirds only have one song
…and it's "USA! USA! USA!"
When Jake Cody was heads-up with Yevgeniy Timoshenko in the final round of Event #2, the Brits took over. There was no Paul Revere to warn the American railbirds either, instead they were blindsided by songs about "taking your shoes off for John Eames" and "walking in a Cody wonderland." By far the best chant of the night was, "Hands up if you can play online," during which all the British railbirds extended their arms as high as possible to rub it in the Americans' faces.
Some media members hate these loud rails – which is mental – to steal a phrase from our friends across the Atlantic. In general, poker is pretty damn boring, but these crazy rails actually make it fun and exciting. We should get amped when people are heads up for a bracelet, we shouldn't want to go home and fall asleep. I love loud rails, and if the Brits are going to be the only ones causing a ruckus, then God Save the Queen.
2. There is no quit in Eugene Katchalov
When entering heads-up play with Alessio Isaia, Katchalov turned to him and wished him "good luck" despite being at a 7-1 chip disadvantage. Quitting was never an option for Katchalov, instead he roared back to take the chip lead in under an hour and sealed the deal in less than two. The Ukrainian native made three final tables last year, but failed to finish better than third and told us on the PokerNews Podcast that this one was all about the bracelet.
Watching his comeback in-person was incredible – he was neither fazed nor flustered at any point during the final table. He remained calm and confident, and thanks to a little help from the deck, booked one of the most remarkable comebacks of all time and his first WSOP gold bracelet.
3. Allen Bari speaks the truth
There's a difference between cockiness and confidence – and Bari is one confident SOB. After winning Event #4, he told our Kristy Arnett "This bracelet means nothing except that now all the people that hate me can't talk s#!t."
He later told me "I was expecting one bracelet [this year]. Seriously. I thought that if I didn't win a bracelet it would be a joke."
In Bari's opinion, the bracelet doesn't validate him – he was already a great player. He's happy as long as other players respect him at the table. While some may think Bari's attitude is brash and confrontational, I for one respect his bluntness. Too many people say what they're supposed to rather than what they want – and it gets to be a bit bland after a while.
4. The Big One is going to be awesome
Guy Laliberte, One Drop, and the WSOP are teaming up to bring a $1 million buy-in tournament to the 2012 WSOP named "The Big One." Roughly eleven percent of the prize pool will go directly to One Drop – a nonprofit organization that focuses on providing fresh water to developing nations around the world – and if the event draws at least 22 players, then it will be a bracelet event. Ty Stewart, Vice President of Caesars Interactive Entertainment, was on the PokerNews Podcast, and he sounded very confident that the field would eclipse the set benchmark. He also sounded very excited to team up with Laliberte, whose name is synonymous with success, and looks forward to seeing big names like Andy Beal walk through the halls of the Rio.
Other players, including Vanessa Selbst, are afraid this tournament will further devalue the WSOP bracelet and further inflate the tournament circuit as a whole. Normally I might agree with Selbst, but this tournament could potentially raise tens of millions of dollars for a worthwhile cause and provide us with some electrifying play. Likewise, introducing Beal, Laliberte, and other super-wealthy businessmen to the WSOP will only help the game grow as a whole.
Plus, the degen inside me can't wait to see these players battle for what could be the biggest first-place prize in the history of poker.
5. There is life after Phil Ivey
On the first day of the 2011 WSOP, Phil Ivey announced (via Facebook) that he would not be playing any events because Full Tilt Poker hasn't paid any of its players. The news shook the poker world for a little over 24 hours, but as the dust settles I can safely say that life goes on without Mr. Ivey. True, he is an icon, and his presence can be anywhere he goes, but at the end of the day, the WSOP is bigger than he is – and it always will be.
Right now, we can't be certain as to whether or not Ivey's self-proclaimed "boycott" is a valiant effort to represent the people, or a selfish act to escape repercussions. Only time will tell. For now, I suggest we sit back and enjoy the next two months here in Las Vegas. This is the greatest time of the year, and it would be a shame to let Ivey's absence overshadow that.
If you love poker and the WSOP, you need to follow PokerNews on Facebook and Twitter.