The Nightly Turbo: Online Poker Traffic, Qualifying for the Epic Poker League, and More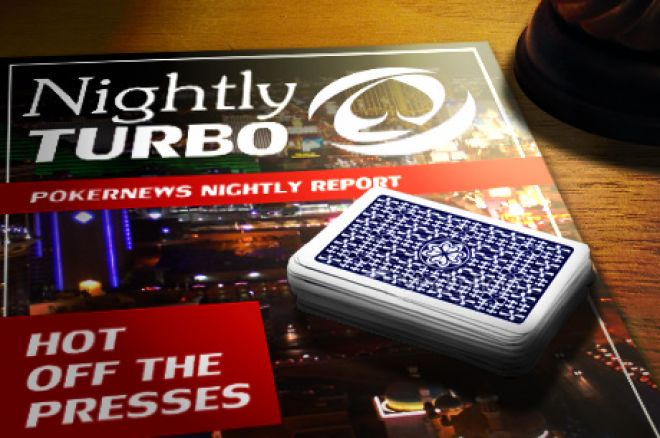 If you're looking for the top poker news stories of the day, look no further. In tonight's Turbo, we'll give you the latest online poker traffic report, tell you who is close to getting the elusive Epic Poker League card, and more.
In Case You Missed It
There was a lot going on on Monday at the 2011 World Series of Poker, so we kind of understand if you missed anything. Kind of. Luckily for you, we're pretty nice and have conjured up this sweet recap of Day 28 at the WSOP.
Yes, there are numerous PSAs on reading, and don't get us wrong, we want you to read - it's why we write, but sometimes looking is more fun. Check out this photo blog from the first four weeks of the 2011 World Series of Poker.
How's the Traffic?
Another week has gone by, so you can bet we're going to bring you another online poker traffic report thanks to PokerScout. According to PokerScout, online poker traffic fell 1.1 percent last week and seven of the top 10 sites booked losses in traffic last week. One site did not decrease in traffic is Full Tilt Poker. The site gained 9 percent last week.
It's been close to three months since Black Friday, and thanks to the minds and machines at PokerScout, we can bring you the change in traffic since that fateful day in April. Since Black Friday, the Cereus Network has seen the biggest drop in traffic, falling 95 percent. Full Tilt Poker is next with a 48 percent decrease and PokerStars traffic declined by 35 percent.
For the last four weeks, the top four sites, (1) PokerStars, (2) Full Tilt Poker, (3) PartyPoker, and (4) iPoker have all held their positions in the top four.
While Black Friday wreaked havoc in the U.S., PokerScout's ACES indicator shows that the worldwide online poker market has only seen a decrease by 12 percent in the last year. The Merge Gaming Network, 888poker, and Bodog have seen year-over-year increases in traffic by 111 percent, 90 percent, and 34 percent respectively.
If you want to know more about the latest online poker traffic numbers, head on over to PokerScout.com.
How Close Are You?
There are plenty of players focused on their cashes at the 2011 World Series of Poker hoping they can earn their Epic Poker League card. Players have until August 1 to qualify and thanks to Andrew Feldman at ESPN, we can tell you who is close to qualifying. Well, a handful of names anyway. His table is pretty good, so you'll probably want to check that out.
Recently qualified players include Will Failla, J.J. Liu, Andy Frankenberger, Max Lykov, Mike Sexton, and Benny Spindler, all who have earned two-year cards. Jake Cody recently earned his three-year card.
The qualification criteria can be found at FederatedInc.com.
Sammy Farha, Prahlad Friedman, Kenny Tran, and Jonathan Duhamel are all one cash away from qualifying. Not only do you need cashes to qualify, but you need to reach the money criteria, as well. Paul Wasicka is $3,149 away from earning his two-year A card. Kevin MacPhee is $2,803 away from earning his two-year B card.
Like we said, the table Feldman has constructed is a great way to see who has how much to go, so head on over to ESPN.com and check it out.
All In and Dash
Dining and dashing isn't cool, and neither is going all-in and dashing. TwoPlusTwo poster "dhlrPdls" recounted a situation where this happened to him. He was playing HKD500/HKD1,000 at Wynn Macau, and after some bets and three bets, a player ("BigFish") moved all-in and "dhlrPdls" snap-called with aces. The pot was around HKD344,000.
"The BigFish looked scared then tried to take back his chips and pretend that it was a joke. Then the fish mucked his hand and picked up his chips and tried to walk away. Eventually security and the floor staff came over and told the fish that he had to pay. The fish then tried to retrieve his cards from the muck and showed ace-ten but the floor declared the hand dead," he wrote in the post.
Long story (tl;dr) short, "dhlrPdls" didn't get his full HKD344,000 back. He ended up getting HKD200,000. Allegedly, the casino really didn't do much to help "dhlrPdls" get the full pot.
While this is the first time we've heard of an all-in and dash, other TwoPlusTwo members have posted similar stories in response to this post.
Read all about it at TwoPlusTwo.com.
PAMorama Towers?
Pamela Anderson sued Laurence Hallier, the developer of the company that built Panorama Towers in Las Vegas, and now, according to TMZ, Hallier is countersuing the blonde bombshell. Anderson is being countersued for $22.5 million because she allegedly failed to appear at events to help promote the condominiums. Yes, we know $22.5 million is a lot for failing to appear at events, but apparently it amounts to the loss from the unsold units that would have been sold if Anderson made the appearances.
Why are we telling you about this? Because Panorama Towers is essentially like a dorm for poker players and everyone likes Baywatch beauties of course.
Read more at TMZ.com.
Devilish Tunes
While our dream would be to be serenaded by Michael Bublé, Harry Connick Jr., or even Frank Sinatra (yes, we know that can't happen), we'll take what we can get. And what we got was Dave "Devilfish" Ulliott. We have to admit, we were pleasantly surprised.
Follow us on Twitter for up-to-the-minute news.