The Weekly Turbo: World Series of Poker Stats, Howard Lederer Sighting, and More

Elaine Chaivarlis
It's hard for us to keep up with everything that's going on so we can't expect you to. In case you missed any of the Nightly Turbos this week, this is your chance to get caught up. So what did you miss? The World Series of Poker was awesome enough to send us some stats for the 2011 WSOP. On top of that, we have a Howard Lederer encounter for you. Keep reading to learn all about it.
More Stats
On Monday, we brought you a few stats from the 2011 World Series of Poker. Luckily for you stats lovers out there, we're here with a few more. We'd like to thank the awesome communications director of the WSOP, Seth Palansky for these stats.
The average age of entrants through Event #29 is 36.17
The average age of winners through Event #29 is 28.82
74 countries have entered
946 of 29,421 entrants have been female (or 3.2 percent)
Tom Dwan has entered the most events - 26
Allen Bari has won the most money - $883,469
If you want more stats, like a bracelet breakdown by country or the Player of the Year leaderboard, head on over to WSOP.com.
Lederer Sighting
Since the events of Black Friday, the whereabouts of Howard Lederer were probably only known to a handful of people. We certainly didn't know where he was and we definitely haven't seen him at the Rio all World Series of Poker long. At long last, we have a Lederer sighting.
Marco Valerio from QuadJacks found out where Lederer was having dinner and decided to mosey on over there. When Lederer was headed out to his car, Valerio introduced himself and then tossed out some questions regarding Full Tilt Poker and the repayment of player funds.
Want to know what he said? Check out the video below.
Poland Bans Online Poker
We're not fluent in Polish, in fact, we don't know any Polish at all, so we'd like to thank Google Translate for getting us through this article, even though it was still difficult to understand.
According to Webhosting.pl, online poker is now illegal in Poland after President Bronislaw Komorowski signed an act on games of chance. The types of games that are banned are called "hard gambling" games, or games the legislature feels are addictive or pose the possibility of cheating.
Poker is one of the games that falls under this ban, unless it is in tournament format. The court has ruled that "poker is a gambling game, based on a random element (a hand of cards)" and "it's a game, leading to addiction, because of direct participation in it and follow its course in the decision."

For more on the fate of online poker in Poland, head on over to Webhosting.pl. (Yes, it's the translated version. You're welcome.)
Spidey Sense a Little Off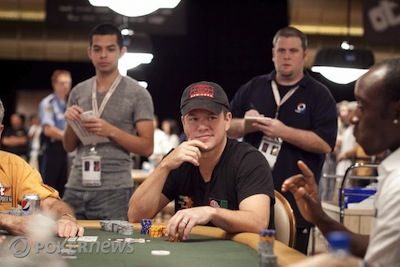 Is it a surprise to us that Tobey Maguire, Ben Affleck, Matt Damon, and Leonardo DiCaprio frequently played high-stakes home games in the Hollywood Hills? Nah. Not really. What is surprising, though, is that Tobey Maguire, and a handful of others are being sued by trustees in a bankruptcy case that involves Brad Ruderman.
Ruderman is in jail for running a Ponzi scheme in which he lost $25 million in investor money. According to an FBI investigation $5.2 million of the money he lost was lost in the high-stakes poker games. The trustees are suing to recover the winnings from the poker game.
Poker player Dan Bilzerian is also being sued and allegedly told Star magazine: "I'm not paying a single cent.... If a casino gets taken and then lawyers come after them, the establishment isn't going to then go after one of its players to cover their lost. Are you kidding me? I'm not paying s**t."
We say allegedly because Bilzerian tweeted that he was misquoted, and we're not sure which quotes were taken out of context.
Read more about the lawsuit at RadarOnline.com.
Playtech Enters U.S.
In 2006, the UIGEA forced European-based gaming software development company Playtech out of the U.S. According to the Financial Times, after five years, Playtech is coming back in hopes of positioning itself to enter the online gaming market if it is legalized in the U.S.
Playtech, its partner Scientific Gaming, and the California Online Poker Association have signed a licensing agreement that will provide "play for free" poker games to COPA members. The California Online Poker Association is a group of Indian tribal governments and card rooms that are licensed to provide land-based poker in California.
Investec analyst James Hollins said, "We see California as the key state in terms of poker liquidity and COPA a highly attractive licensee within it. Playtech is therefore very well placed for potential US poker legislation, in our view."
According to Mor Weizer, Playtech's CEO "the license is expected to become one of its top five revenue generators as and when online poker becomes regulated in California."
Find out more at FinancialTimes.com.
Olá Brazil!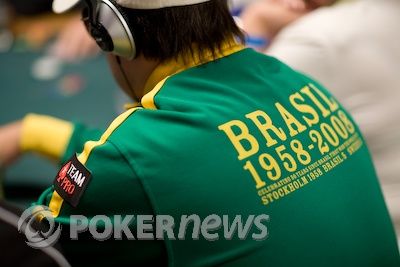 This morning, we opened our inbox and found a press release from PokerStars announcing that it was the sponsor of the newly created Brazil Poker Tour.
"The creation of the BPT is a natural step for developing poker in Brazil. The number of poker players grows every day and we see increased participation of Brazilians in tournaments across the world. Therefore Brazil is the natural choice to become the first country in the region with an exclusive poker circuit. We expect players from neighbouring countries and all over the world to participate," said LAPT president David Carrion.
The first BPT stop kicks off on July 21 in São Paulo, and features a R$2,300 buy-in. According to the BPT website, there is only one other stop scheduled — Florianópolis — from October 6 through 10.
"It's very important to receive a new countrywide tournament like the BPT. It helps poker to grow as a sport and to bring more players each time. With the proposed buy-in, the quality of players also increases and it will be more challenging," said Team PokerStars Pro Brazil's André Akkari.
Want to know more about the BPT? Head on over to the PokerStars Blog.
Be sure to follow us on Twitter for up-to-the-minute news.