Rep. Joe Barton Introduces Online Poker Act of 2011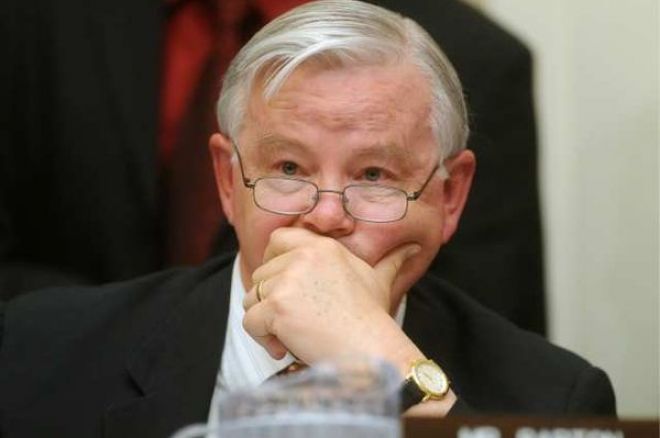 Rep. Joe Barton (R-Tex.) introduced the much-anticipated HR 2366, the Online Poker Act of 2011, in the U.S. House of Representatives on Friday.
The bill begins with the significant momentum of having 11 original co-sponsors from across party lines. The co-sponsors are Shelley Berkley (D-Nev.), John Campbell (R-Calif.), Steve Cohen (D-Tenn.), John Conyers (D-Mich.), Barney Frank (D-Mass.), Michael Grimm (R-NY), Mike Honda (D-Calif.), Peter King (R-NY), Ron Paul (R-Tex.), Ed Perlmutter (D-Col.) and Linda Sanchez (D-Calif.).
The official statement regarding the bill's introduction can be read on Rep. Barton's website. The bill will begin in the House Energy and Commerce Committee, for which Barton is a former chairman. The current chairman is Fred Upton (R-Mich.).
Barton is scheduled to make the "shuffle up and deal" announcement at the World Series of Poker on Saturday.
"Poker is an all-American game, and it's a game that requires strategy and skill," Barton said in the statement. "Millions of Americans play poker online. ... We want to have an iron-clad system to make sure that those who play for money are playing in an honest, fair system where they can reap the benefits of their winnings. To put it simply, this bill is about having the personal freedom to play a skill-based game you enjoy without fear of breaking the law."
Campbell and Frank, who have introduced their own online gambling bill, gave their approval to Barton's bill, as well.
"I don't happen to gamble myself, but freedom is not about legislating what I like to do and making illegal what I don't," Campbell said in the press release. "Freedom is about allowing responsible Americans to do what they happen to enjoy."
The bill would set up an Office of Internet Poker Oversight in the Commerce Department. This new office would oversee state agencies that would issue licenses.
Other key details of the bill include:
States are automatically opted in unless they opt out. Opt outs can be made by the state governor. States may have their own intrastate online poker only if the state passes a law establishing such practices before the federal law is enacted.
For at least the first two years, the only companies able to obtain a license will be large and experienced casinos, race tracks and card rooms located in the U.S. The field may be expanded by the Commerce Secretary after two years.
Prohibits all other forms of Internet gambling that is not already legal under current laws.
Credit cards are not allowed for deposit.
The minimum age requirement is set at 21.
Criminal penalties will be established for cheating and the use of bots, which would include a ban from play, fines and up to three years in prison.
Requires that all sites must locate remote gaming equipment in the U.S.
If a license is revoked, sites must return funds to players within 30 days.
Clarifies the UIGEA by requiring the Treasury Department to publish a list of unlawful Internet gambling sites so that banks know what transactions to block.
"The bill reverses years of unclear policy and restores the freedoms of adults to enjoy the great game of poker from the comfort of their own home, with their own money over their own Internet connection," said former Senator Al D'Amato, chairman of the Poker Players Alliance. "Congressman Barton is recognized as one of the most skilled poker players in Congress. He is passionate about the game and he is passionate about freedom. We are confident his poker skills will translate well to the political game needed to push his legislation this year."
There is a satisfying section of the bill for all poker players that declares: "Poker is distinct from the class of games of chance traditionally defined as gambling in that, players compete against each other, and not the person or entity hosting the game (sometimes called 'the house'), and that over any significant interval, the outcome of a poker game is predominantly determined by the skill of the participants."
In an interview with the Associated Press, Barton gave reason for optimism that his bill could move this year.
"This may be the year that the stars align — I hope so," Barton told the Associated Press. "... We're going to try to get a bill on the President's desk in this Congress."
PPA executive director John Pappas said that, more so than any other poker-related bill ever introduced, the language of the Barton bill is a draft of what could eventually become law.
"We will certainly do all we can to get co-sponsors, a (committee) hearing and a markup, and we want to do it this summer," Pappas said.
Read the entire bill.
Be sure to follow us on Twitter for up-to-the-minute news.