2011 World Series of Poker Day 43: Lamb and Saul Battle for Supremacy on Day 2b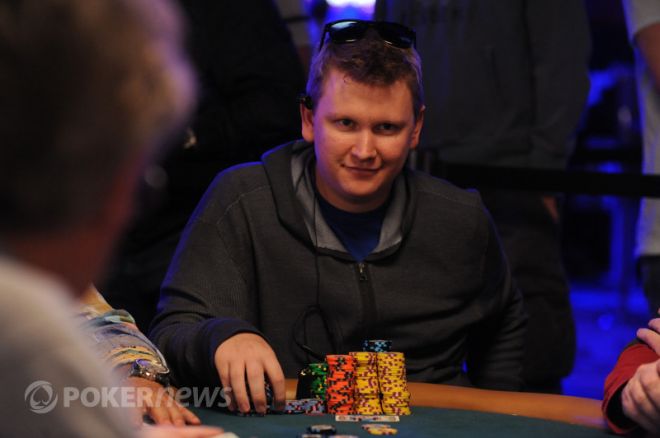 Day 2b of the 2011 World Series of Poker Main Event kicked off with 2,490 survivors from Days 1b and 1d looking to survive yet another grueling day of poker in the hopes of building enough chips to first make the money and begin their march to the richest final table in all of poker.
Kevin Saul and Ryan D'Angelo both had monster days on the felt. Saul started with 130,000 while D'Angelo started around 133,000. Saul held the chip lead for a portion of the day after moving up to 495,000 in chips. He yo-yoed a bit before a huge pot made him one of the only players to finish over 500,000 for the day.
The pot was over 22,000 on a flop of
. Saul bet 13,300 and his opponent called to see the
fall on the turn. Action was checked around and the
hit the river. Saul bet out 35,000 and his opponent quickly called and showed
for queens-up. Saul tabled
for kings-up and moved up to 550,000. Saul finished the day with 542,200, good for second place on the leaderboard.
Ryan D'Angelo spent most of his day battling Jean-Robert Bellande and had to settle with slowly building his stack against other players. That was until a huge 180,000 pot sent his stack soaring. A player was all-in against both Bellande and D'Angelo and the two stayed in through a board of
. With the pot at 180,000, the all-in player showed
for second pair and a missed flush draw. Bellande showed pocket nines and D'Angelo showed
for a pair of tens with a better kicker. This pot moved D'Angelo up to 440,000 and by the end of the day, he finished with 462,300. D'Angleo finished third in chips when the final hand of the day was dealt.
Ben Lamb's epic run at the 2011 WSOP continued on Day 2b of the Main Event. He started as the chip leader at 188,925 and for the first few hours barely did much better than tread water. However, after the dinner break he started going on another tear that ultimately resulted in him regaining the chip lead to finish the day. He first won a race with pocket sixes against another opponent's
to move up to 365,000 in chips. A bit later he put two opponents all-in on a flop of
. Lamb held
for two pair and was actually behind the small blind who had flopped a flush with
. The big blind turned over
for bottom pair and the nut-flush draw. The turn brought the
to give Lamb a full house. The big blind could still double-up if an ace hit the river and the small blind was looking for the seven of diamonds for a straight flush to win. The river brought the
, and Lamb moved up to 415,000. From that point, Lamb skyrocketed and was the first player in the 2011 WSOP to break through and stay above 500,000 in chips. He finished the day with 551,600.
Other big names had strong showings during Day 2b. Patrik Antonius started the day with 89,000 and more than quadrupled his chips over the course of the day to finish in seventh with 361,000. Sam Simon more than tripled his stack through Day 2b and finished with 317,900. Sam Stein more than doubled his stack to finish with 262,600. Joseph Cheong is looking to work his way to his second straight Main Event final table, finishing the day healthy in chips with 229,100. Justin Bonomo, Jeff Madsen, David Oppenheim, Paul Volpe, and Will Failla all finished over 200,000 and will be players to contend with when the fields combine on Thursday.
On Tap
After two flights of Day 2 action, 1,866 players remain. Those players will combine and return on Thursday to battle in Day 3 action. Wednesday is the scheduled day off for the Main Event. Ben Lamb will return as the overall chip leader as players play four levels and begin to close in on the money bubble.
Podcast
The PokerNews Podcast crew was back on Tuesday to talk more about the Main Event. They also discussed Paul Pierce's video interview, Kristy Arnett's "Halloween dress," and more. Annie Duke joined the crew via Skype at first to talk the Epic Poker League and decided that she liked it so much that she would join them in-studio for the second half of the podcast.
Find out what Duke had to say by checking out the podcast archives.
Video of the Day
Jamie Gold won the 2006 WSOP Main Event, the largest in WSOP history. Gold was still alive on Day 2b and Kristy Arnett caught up with him to ask how things were going and whether he wants to retain his record as champion of the largest Main Event ever. His answer may surprise you.
For constant updates throughout the Main Event follow PokerNews on Facebook and Twitter.