42nd Street: The Curtain Falls on a Summer of High-Stakes, High-Volume Drama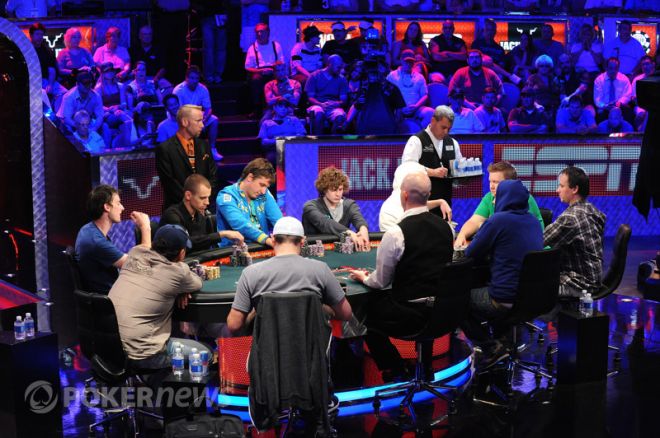 It's hard to believe it's been almost two months since the lights came up on poker's biggest stage. The 42nd annual World Series of Poker lived up to the reputation of its Broadway cousin, 42nd Street, and brought the drama. It brought the noise. Heck, even the occasional funk. Now the curtain has fallen on the first post-Black Friday WSOP, the reviews are in, and the Thunderdome is dark until November. Far more poker fans attended than expected, and an even wider audience tuned in to almost-live Main Event coverage on ESPN. It was a summer we won't forget, but also one we won't truly understand until fallout from the online upheaval settles. We know for sure, however, that the 2011 World Series produced some stars and some story lines that aren't going away anytime soon.
True Characters
Phil Ivey tried to steal the show by not showing up, but his lack of presence got old after awhile. Phil Hellmuth burst onto the scene as a relative unknown making it big. Well, ok, so he's not an unknown, but he's certainly has been quiet on the results front prior to this year's WSOP. Hellmuth scored three second places (and likely a fourth second place in the Player of the Year race), including a second in the key $50,000 Players' Championship. That ought to earn him respect outside of his own mind. Shark Brian Rast stormed the stage, taking home two bracelets. Jake Cody picked up the $25,000 Heads Up Championship win and a triple crown. Andy Frankenberger added a WSOP bracelet to his amazing year and his WPT Player of the Year title. Eugene Katchalov, Jason Mercier, John Juanda, and Bertrand "ElKY" Grospellier all added hardware to their trophy cases. And then there was Ben Lamb…
Breaking News: Benba Isn't Real
Ben "Benba" Lamb's World Series run is so crushingly dominant, it's almost like he's a figment of the imagination, a character we dreamed up out of a need to quash Hellmuth's POY run. Lamb just always had chips. Didn't matter what event. He started his reign of terror with a second-place finish in the $3,000 PLO event, but Benba smartly saved his real run good for a few days later, when he took home the gold in the $10,000 PLO Championship. Three days later he was back to the deep finishes with a final-two-tables appearance in the $10,000 no-limit hold'em six-max Championship. Still not done. Lamb made the final table of the $50,000 Poker Players' Championship just for kicks (and $200k to bring his insane WSOP prelim haul to $1.33 million). All of that put Benba in second place behind Hellmuth for Player of the Year. And this really, really isn't Lamb's year to play supporting actor. So he took raking in the Main Event chips, ending Day 1b and Day 2b as chip leader. He dropped chips and picked them up again a few times during the Main Event, but always gained more than he lost. The best part of the Benba story is that we get to enjoy it for another few months. He carries his crazy run into the November Nine fifth in chips.
Readymade Soundtrack
The WSOP musical got a bonus when Phil "USCphildo" Collins decided to bring his A game to the Main Event. The composers can go take a lunch break since Collins, a 26-year old who recently moved to Las Vegas with his bride, kindly comes to the final table with an extensive catalogue of catchy tunes. While the jokes about him sharing a name with a musical great will get old long before November, at least the music won't.
Can You Feel the Love Tonight?
See, the Collins tunes are already coming in handy. Hardcore poker fans had tons to sweat on the live broadcasts of the latter days of the Main Event, but the casual fans got a treat in the form of a made-for-musical-television love on the felt storyline. David "DocSands" Sands and his girlfriend of six years, Erika Moutinho, both made it to day seven of the Main Event. That's insane. Start with nearly 7,000 people, and they were both in with 30 left. They magically spent lots of time seated next to each other on the feature table, exchanged kisses, shared secrets about hands, and made poker look a hell of a lot romantic, not to mention more attractive, than it ever has before. Sands finished in 30th place, and Moutinho followed him to the rail in 29th, giving them each a $242,636 score and a major clout boost. Pre-Black Friday, they'd probably have million dollar deals already. But we aren't worried. We know we'll see them again. A story like theirs is just too good for poker to waste.
WORLD Series of Poker
This year the November Nine puts the world in World Series. There are always international faces at the final table, but this year, they outnumber the Americans. That gives ESPN a real challenge to make them marketable in the U.S. by November, but we're confident they can do it. The chip leader, Martin Staszko, is a pro from the Czech Republic. Eoghan O'Dea, son of famous player Donnacha O'Dea, is second in the counts. Bet you're surprised to hear Mr. O'Dea is from Ireland. Badih Bounahra is from Lebanon but now lives in Belize. How's that for international? Pius Heinz will be flying in from Germany for the final table, and Anton Maklievskyi will represent the Ukraine, a country that already grabbed a huge four bracelets this summer. That leaves young British pro Sam Holden to round out the international cast. They'll join Americans Ben Lamb, Phil Collins, and Matt Giannetti in November to try to keep the Main Event bracelet out of the United States. Until November, we'll have an international soundtrack playing in our heads as we wait for the conclusion of the latest edition of the world's highest stakes musical.
Follow us on Twitter for up-to-the-minute news, and also become our fan on Facebook.