The Nightly Turbo: Full Tilt Poker News, Women in Poker Hall of Fame and More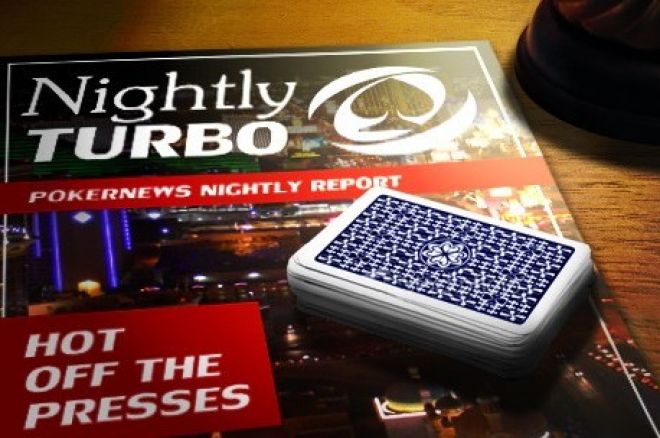 Another week is in the books and that means we here at PokerNews will likely spend the weekend feverishly keeping our eyes peeled for as much beer poker news as we can stomach. Until Monday, you can engross yourself in the latest news on Full Tilt Poker's pending purchase, the nominees for the Women in Poker Hall of Fame, the latest episode of ESPN's Inside Deal and more.
In Case You Missed It
Viktor "Isildur1" Blom was back at it on the virtual felt. See whether he was a winner or a loser in this week's edition of the Online Railbird Report.
We introduced you to half of the November Nine yesterday here. We couldn't leave you hanging today could we? Check out video interviews with the rest of the group here; however, our cameras were not allowed inside the Spearmint Rhino, so yea, no Eoghan O'Dea vid.
The Global Poker Index is back with its first weekly update. Find out who's making moves in the right direction, and who is sliding by checking out our GPI update.
Full Tilt Poker Investors Eye UK and Irish Assets Only
Negotiations are ongoing between Full Tilt Poker representatives and unknown investors to purchase Full Tilt Poker. As reported on PokerNews on June 29, Full Tilt's licenses were suspended, and have remained that way. It appears, however, that the investors are only interested in purchasing the online poker sites U.K. and Irish assets.
According to EGR's unknown source, "The purchase includes the family of companies in the UK and Ireland [including marketing and technology company Pocket Kings in Dublin] as well as the Alderney licences."
Lawyers from Jeffrey Green Russell, a London-based firm will be representing FTP in next week's hearing for its license and in the possible sale. PokerNews will be on hand to give you ongoing coverage of the situation.
Get Your Votes in for the Women in Poker Hall of Fame
The 2011 Women in Poker Hall of Fame elections have begun, and you have until July 30 to cast your vote. Yes, we know, not much time so get to it. Inductions began in 2008 when The Hall was founded to honor women who have made significant contributions to the poker world. The 2011 nominees include Phyllis Caro, Nani Dollison, Kristy Gazes, Margie Heintz, and JJ Liu. This year's inductees will join an elite group of women including Jennifer Harman, Kathy Liebert, and Linda Johnson.
Along with honoring women in poker, the WiPHOF contributes to organizations that benefit society, as well, and has partnered with Poker Gives, a charity to provide financial support to mainstream organizations from the support of the poker community. You should probably partner with them too, and donate to avoid the bad juju.
The 2011 Induction Ceremony and Celebration will take place on September 2 at the Golden Nugget Casino Grand Ballroom in downtown Las Vegas.
To learn more about the Women in Poker Hall of Fame, cast your vote, and purchase tickets to the ceremony check out their website at WomenOfPokerHallOfFame.
Inside the November Nine with the ESPN's Inside Deal
The latest edition of ESPN's Inside Deal was just released, and Jon Anik and Bernard Lee take a closer look at the 2011 WSOP November Nine.
The two spotlight Ben Lamb's impressive run during the 2011 series, go over the early favorites going into November discuss David Sands and Erika Mouhinto, the "last couple standing," although they don't discuss whether or not the ol' "what's yours is mine, and what's mine is mine" plays for Mouhinto with their newfound earnings.
An Outsider's Look at the WSOP: Part 2
In Wednesday's edition of The Nightly Turbo, we introduced you to Colson Whitehead and his blog on how he made it to the 2011 World Series of Poker. In part 2, he talks about how he attacked his training mentally, physically, and existentially.
He goes into detail about how Helen Ellis helped him prepare for the Main Event, and he does it in 3,500 words. Yeah, we know that's a lot of reading for your ADD brain, but give it a go and you won't be disappointed. Or maybe you will.
Check out the full article at GrantLand.com.
WAG Diaries
Lynn Gilmartin caught up withErika Mounhinto and David Sands for the latest edition of the WAG Diaries.
Speaking of following on Twitter, you should follow us for up-to-the-minute news.