The Online Railbird Report: Ben Sulsky and Viktor Blom Tangle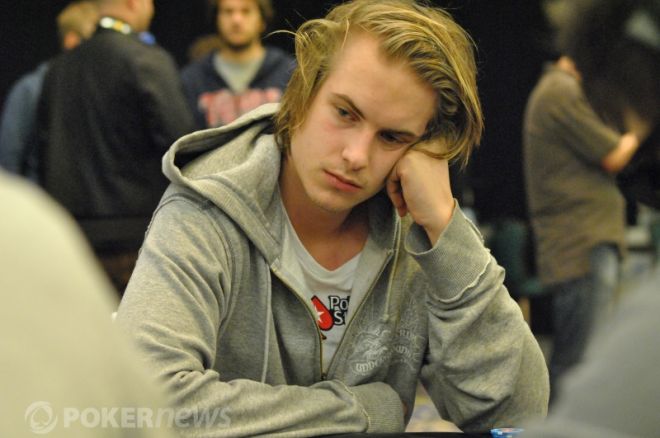 The online high-stakes cash games this week at PokerStars saw six-figure swings for the regulars. Andreas "Skjervøy" Torbergsen, Alexey "LuckyGump" Makarov, and Ben "Sauce1234" Sulsky were all in the black for more than $100,000, while Rui "PepperoniF" Cao and Viktor "Isildur1" Blom dipped into the red.
Biggest Pots of the Week
As of early Friday morning, four pots crossed $80,000 this past week, each involving Ben "Sauce123" Sulsky and Viktor "Isildur1" Blom. A $50/$100 pot-limit Omaha session on Thursday was when most of the action took place, with Blom getting the better of Sulsky during this session.
The biggest pot started with the standard button raise from Sulsky to $300 and the standard big blind three-bet to $900 from Blom. Sulsky re-raised to $2,700 but quickly saw Blom five-bet to $8,100. A call from Sulsky delivered a
flop. Blom bet the pot, $16,200, and Sulsky shoved for his remaining amount on the table — $43,697.50.
Blom called with
for top pair and a straight draw, while Sulsky held
for bottom pair with a flush draw and straight draw. The latter, however, would do Sulsky no good as Blom would make the better straight if a jack hit the board. It didn't matter, though, because the
turn gave Blom trips and the
river filled him up, earning the swede the $103,595 pot.
Blom took down the second biggest pot, as well. The preflop action was the same as the first hand with the only difference being the players' positions. When the flop came down
, Sulsky bet $8,800. Blom raised the pot, leading to Sulsky calling all in for about $39,644 with
for top set. He needed the board to pair, however, as Blom held
for a straight. The
turn and
river were no help to Sulsky, giving the $95,489 pot to Blom.
Sulsky did break through and took down the third biggest pot of the week. Blom opened the action with a $300 raise on the button and then called Sulsky's $900 three-bet. A
flop appeared, leading to a $1,300 bet from Sulsky. Blom potted it to $5,700, Sulsky called, and the
hit the turn. Check-raise all-in was Sulsky's next move, getting Blom to call all-in for just more than $37,000.
Blom showed
for two pair and a broadway draw but desperately needed to find that straight upon seeing Sulsky's
for top set. The river was the
, locking up the $87,736 pot for Sulsky.
They Play Hold'em, Too?
The two also played a session at $50/$100 no-limit hold'em where Sulsky took down the biggest pot. Blom kicked off the action with a raise to $300 on the button. Sulsky made it $1,444 to go from the big blind, and Blom called to see the flop come down
.
It was the same amount for Sulsky on the flop as he bet $1,444. Blom, though, popped it to $4,250. A call from Sulsky led to the
on the turn which he checked. A bet of $7,650 came from Blom, once again receiving a call from Sulsky. The
river was checked by Sulsky and bet strong by Blom, in the form of an all-in bet for $29,906.50. Sulsky called and was happy to see Blom's
, second best his his own
.
Andreas "Skjervøy" Torbergsen had the best week of the bunch, though, booking a profit of more than $400,000. He got the better of Viktor Blom and did so in $50/$100 pot-limit Omaha. Blom opened on the button to $300. Torbergsen three-bet to $900 from the big blind and Blom called, landing a
flop to the board. Torbergsen bet $1,000, but found himself faced with a Blom raise to $4,799.50. Unfazed, Torbergsen called and checked the
turn. Blom bet the pot, nearly $11,400. Shoving was Torbergsen's next move, having Blom's stack covered. With about $10,600 behind, Blom called all-in.
Blom:
– second and third pair (fourth pair, too)
Torbergsen:
– top two pair
The
fell on the river pairing each of Blom's cards, but he could not beat Torbergsen's queens up and watched the $55,391 head the opposite way.
Who's Up? Who's Down?
Week's biggest winners (7/15-7/21): Andreas "Skjervøy" Torbergsen (+$411,884), Alexey "LuckyGump" Makarov (+$241,453), Ben "Sauce123" Sulsky ($226,012), Volanthn (+$106,345)
Week's biggest losers: Rui "poker
" Cao (-$278,6-9), le kork (-$173,301), Viktor "Isildur1" Blom (-$149,298), NA$DAq (-$141,854)
Year-to-date winners: *Gus Hansen (+$3,941,000), *Daniel "jungleman12" Cates (+$1,952,000), *Alexey "NoPasaran" Makarov (+$1,875,348), Gavin "gavz101" Cochrane (+$1,861,000), Rui "PepperoniF" Cao (+$1,357,000), *Matt Hawrilenko (+$1,440,000), *bixiu (+$1,406,000), *Phil Ivey (+$1,336,000)
Year-to-date losers: *Tom "durrrr" Dwan (-$2,474,000), *Eugene "fishosaurusREX" Yanayt (-$1,399,000), *kagome kagome (-$1,377,000), *cadillac1944 (-$1,336,000), *Esvedra (-$1,182,000), *UarePileous (-$837,000)
Biggest weekly winners/losers all on PokerStars
*Reflects Full Tilt Poker profit/loss
*data obtained from HighStakesDB.com
Stay up to date on all the latest news by following us on Twitter and liking us on Facebook.