Online Railbird Report: Blom Wins $519,000; Takes on Sahamies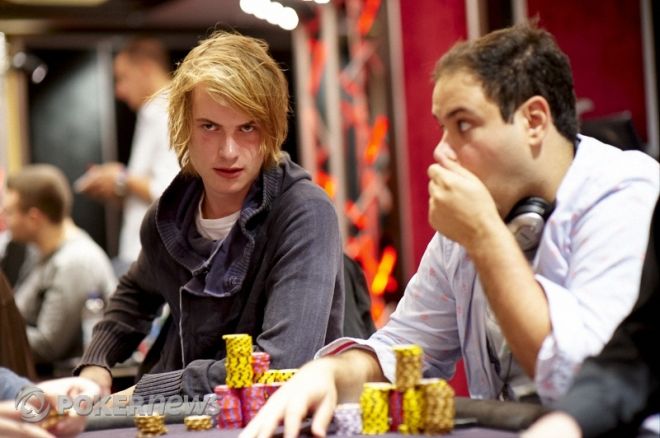 The action at the online high-stakes tables has been sparse in the past couple of weeks; so much so that we've decided to include the past two weeks' worth of action in this edition of the Online Railbird Report. Given the developments with Full Tilt Poker during that time, namely its license suspension and halt to operations, it will come as no surprise that the action was found on PokerStars.
With so many pros and online superstars busy at the World Series of Poker, it seems the burden of fueling the high-stakes games has fallen to Viktor "Islidur1" Blom who has been playing ring games in addition to the SuperStar Showdown. All his hard work seems to have paid off; the Swede emerged as the biggest winner over the past two weeks, earning $519,737 in 11 sessions comprised of 11,298 hands.
On the other hand, Terje "Terken89" Augdal ended up being the biggest loser over the past couple of weeks, having lost $155,622 over 1,729 hands in just eight sessions. Here is a little more in-depth look at some of the aforementioned online action.
Isildur1 vs. Ilari FIN
With so many players at the 2011 WSOP, Blom has shouldered the burden of keeping the high-stakes games alive. On Monday, Blom did his part when he squared off against Ilari "Ilari FIN" Sahamies in a heads-up match at the $50/100 pot-limit Omaha tables on PokerStars.
The largest pot of the 632-hand match began when Sahamies ($166,400.39) raised to $300 on the button and Blom ($107,405.89) exercised his option in the big blind by three-betting to $900. Sahamies refused to back down and four-bet to $2,700, which Blom called. When the flop fell
, Blom checked, Sahamies fired out $5,399.50, and Blom check-raised to $21,598. Sahamies didn't take long to make it $70,193.50, Blom moved all-in for $103,705.89, and Fin called the additional $34,512.40.
Sahamies:

Blom:
Sahamies had flopped top and bottom pair with a flush draw, but he still needed to improve to beat the top two pair of Blom. The
turn changed nothing, and neither did the
river. Blom's two pair held and he took down the $214,811 pot.
Did Sahamies Have the Best Hand?
In another hand between the two, Blom ($106,345.05) was on the button and raised to $300. Sahamies ($35,549.50) pushed back to the tune of $900 from the big blind, Blom called, and the flop fell
. Sahamies proceeded to check-call a bet of $1,799.50 from Blom, leading to the
turn.
Again Sahamies check-called a bet, this time $5,398.50, and that was followed by another check from the Finn when the
fell on the river. Blom kept the pressure on with a $16,195.50 bet, but this time Sahamies pushed all-in for $27,451.50 total. It was another $11,000 or so for Blom to call, but he chose to fold his hand. Not only did Sahamies win the $48,587 pot, but he showed the
instead of mucking. Whether or not it was the best hand, we'll never know.
When the match finally came to an end, Blom had booked a win of $223,000. Meanwhile, Sahamies went on to finish as the fifth biggest loser over the past two weeks, dropping $92,730 in 3,601 hands spread over 55 sessions.
Blom Defeats Augdal in the PokerStars SuperStar Showdown
On Sunday, July 3, 2011, Blom squared off in his ninth SuperStar Showdown match, this time facing Terje "Terken89" Augdal. It took Blom just 1,566, out of an originally scheduled 2,500, to take all of Augdal's $150,000 buy-in. That brought Blom's record (not including the 1/10th promotional Showdowns) to 7-2. Here is a look at a couple of hands from the latest match.
Augdal Stays Alive: In one hand, according to the PokerStars Blog, Blom ($101,200) was on the button and raised to $300, which was met with a three-bet to $900 from Augdal ($8,300). Blom made the call and followed it up with a call of $1,800 on the
flop. The
turn saw Augdal bet out $5,400, leaving him $200 behind. Blom made the call.
Augdal committed his last $200 on the
river and showed
for aces and threes with a king kicker. As it turned out, it was good against Blom, who missed a draw with
and held the inferior aces and threes with a queen kicker.
River Delivers Blom's Salvation: Thanks to the PokerStars Blog, we can bring you this hand where Augdal ($11,000) min-raised to $200 on the button only to have Blom ($47,860) make it $600. After a call, a flop of
fell and Blom check-called a bet of $500. Both players proceeded to check the
turn, which was followed by the
on the river.
At this point, Blom led out for $2,400, Augdal raised to $5,900, Blom reraised to $19,900, and Augdal called off for $9,900 total, showing
. Augdal had turned a flush, but it was no good against the
rivered full house of Blom, who raked in the $22,000 pot.
SuperStar Showdown Results*
| Date | Opponent | Profit/Loss | Record |
| --- | --- | --- | --- |
| Dec. 19, 2010 | Isaac "philivey2694" Haxton | -$41,701 | 0-1 |
| Jan. 2, 2011 | Antanas "Tony G" Guoga | +$44,280 | 1-1 |
| Jan. 30, 2011 | Daniel "w00ki3z" Cates | +$51,196 | 2-1 |
| Feb. 13, 2011 | Eugene "MyRabbiFoo" Katchalov | +$111,750 | 3-1 |
| March 20, 2011 | Daniel "KidPoker" Negreanu | +$150,000 | 4-1 |
| March 27, 2011 | Daniel "KidPoker" Negreanu | -$26,500 | 4-2 |
| April 3, 2011 | Scott "urnotindangr" Palmer | -$5,425 | -- |
| April 10, 2011 | Scott "urnotindangr" Palmer | +$66,607 | 5-2 |
| June 19, 2011 | Rui "PepperoniF" Cao | +150,000 | 6-2 |
| July 3, 2011 | Terje "Terken89" Augdal | +150,000 | 7-2 |
| Total SuperStar Showdown Profit: | $650,207 | | |
*Above results do not take into account the promotional SuperStar Showdowns that have a 1/10th the buy-in.
Head over to the PokerStars Blog for a full recap of the action.
Who's Up? Who's Down?
Week's biggest winners (6/24-7/7): *Viktor "Isildur1" Blom (+$519,737), *Zypherin (+$204,693), Nussdorf (+$153,782), The Liar (+$114,361)
Week's biggest losers: *Terje "Terken89" Augdal (-$155,622), *moirhums (-$121,921), *MamaOsa55 (-$112,473), *Mary & Joey (-$108,197), *Ilari "Ilari FIN" Sahamies (-$92,730)
Year-to-date winners: Gus Hansen (+$3,941,000), Daniel "jungleman12" Cates (+$1,952,000), Alexey "NoPasaran" Makarov (+$1,875,348), *Gavin "gavz101" Cochrane (+$1,861,000), Matt Hawrilenko (+$1,440,000), bixiu (+$1,406,000), Phil Ivey (+$1,336,000), *Rui "PepperoniF" Cao (+$1,320,000), Patrik Antonius (+$1,157,000)
Year-to-date losers: Tom "durrrr" Dwan (-$2,474,000), Eugene "fishosaurusREX" Yanayt (-$1,399,000), kagome kagome (-$1,377,000), cadillac1944 (-$1,336,000), Esvedra (-$1,182,000), UarePileous (-$837,000)
*on PokerStars
*data obtained from HighStakesDB.com
Stay up to date on all the latest news by following us on Twitter and liking us on Facebook.