Online Railbird Report: A Week of Big Games on PokerStars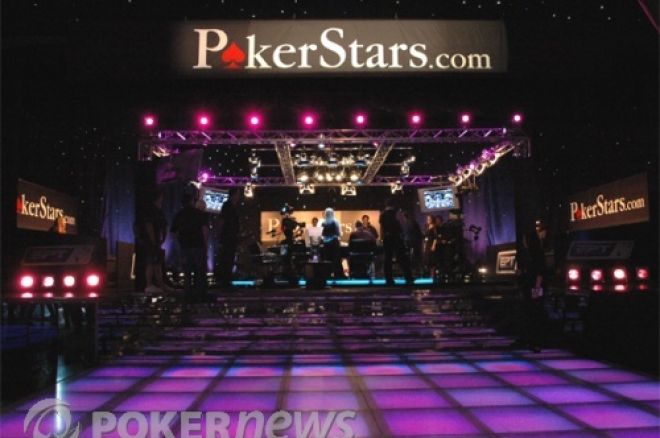 The action at the online high-stakes tables this past week has been quite slow; however, there was just enough to keep the railbirds happy. Surprisingly, the majority of the notable action occurred on PokerStars, deviating from the standard Full Tilt Poker tables. The big highlight of the week seems to be the return of the SuperStar Showdown on PokerStars, which hadn't occurred since the events of Black Friday. Complementing that match were some fairly juicy pot-limit Omaha games that involved a few high-stakes regulars.
Ben "Sauce123" Sulsky emerged as the week's biggest winner, winning $264,588 in 4,010 hands spread across 45 sessions on PokerStars. On the other end of the spectrum, "IReadYrSoul" earned the unfortunate label of "Week's Biggest Loser" after dropping $209,230 in 62 sessions comprising 3,603 hands on Full Tilt Poker.
Blom Dismantles Cao in the PokerStars SuperStar Showdown
On Sunday, June 19, 2011, the SuperStar Showdown returned after an eight-week absence. As previously reported in the Nightly Turbo, Viktor "Isildur1" Blom dismantled Rui "PepperoniF" Cao for his entire $150,000 starting bankroll in just 2,257 hands, bringing his overall record to 6-3
The match was played with $50/$100 blinds at two tables each of pot-limit Omaha and no-limit hold'em. It was at the former variation that one of the biggest hands of the match developed. According to the PokerStars Blog, it began with Blom four-betting to $2,700 preflop, and Cao making the call. When the flop came down
, Cao took the initiative and bet $3,500, which Blom called. The
turn inspired Cao to bet again, this time firing out $12,400. Blom sprung to action by raising pot and making it $49,600 to go. Cao called off his remaining $15,250 and the cards were turned up.
Cao:

Blom:
Both players had flopped a flush draw, with Cao's the better of the two; however, Blom had also flopped the nut straight, which was in the lead. Cao needed to catch either a club, six, or jack on the river, but as the
peeled off, the $67,700 pot shipped to Blom.
SuperStar Showdown Results
| Date | Opponent | Profit/Loss | Record |
| --- | --- | --- | --- |
| Dec. 19, 2010 | Isaac "philivey2694" Haxton | -$41,701 | 0-1 |
| Jan. 2, 2011 | Antanas "Tony G" Guoga | +$44,280 | 1-1 |
| Jan. 30, 2011 | Daniel "w00ki3z" Cates | +$51,196 | 2-1 |
| Feb. 13, 2011 | Eugene "MyRabbiFoo" Katchalov | +$111,750 | 3-1 |
| March 20, 2011 | Daniel "KidPoker" Negreanu | +$150,000 | 4-1 |
| March 27, 2011 | Daniel "KidPoker" Negreanu | -$26,500 | 4-2 |
| April 3, 2011 | Scott "urnotindangr" Palmer | -$5,425 | -- |
| April 10, 2011 | Scott "urnotindangr" Palmer | +$66,607 | 5-2 |
| June 19, 2011 | Rui "PepperoniF" Cao | +150,000 | 6-2 |
| Total SuperStar Showdown Profit: | $500,207 | | |
Head on over to the PokerStars Blog for the full recap.
Plenty of PLO Action on PokerStars
Monday saw some more high-stakes action on PokerStars when a six-handed game developed at the $100/$200 PLO tables. In the game were Tore "Lagerborg" Lagerborg, Theo "TheoJ" Jorgensen, "Zypherin," Fredrik "H@££INGGOL" Halling, "PauleAdler," and "Terken89." It was at this table that the second biggest hand of the week took place.
It all started when action folded to Lagerborg on the button and he bumped it to $500. Jorgensen was in the small blind and opted to three-bet to $1,700, which Zypherin called from the big blind. The raise was enough to drive Lagerborg from the hand, making it heads up to the
flop.
Jorgensen led out for $2,800, Zypherin raised to $12,295, and Jorgensen three-bet to $40,780. Zypherin moved all in for a total of $44,328 and Jorgensen called the additional $3,548.
Jorgensen:

Zypherin:
Jorgensen had flopped the nut-flush draw to go along with his pair of sevens; however, he was behind the top set of Zypherin, who also held heart blockers. The suspense didn't last long as the
spiked on the turn. It gave Jorgensen the flush, but it also paired the board and filled up Zypherin. While the river was of no consequence, it did bring the
to give Zypherin quads, not to mention the $92,556 pot.
Blom Back in Action
On Tuesday, Ben "Sauce123" Sulsky and Viktor "Isildur1" Blom squared off at the $50/$100 PLO tables on PokerStars, where the largest hand of the week developed. In that hand, Sulsky ($49,326.09) raised to $300 on the button and was three-bet to $900 by Blom ($73,240.85). Sulsky went for the old four-bet to $2,700, Blom five-bet $8,100, and Sulsky called.
With $16,200 in the pot preflop, it seemed there might be some fireworks on the flop. As it turned out, it was more of an explosion. Blom led out for $16,199.50 after seeing the
flop. Sulsky instantly moved all-in for $41,226.09, Blom made the call, and suddenly a pot worth $98,652.19 was on the line.
Blom:

Sulsky:
Sulsky had flopped a pair of eights with a gut-shot straight draw, but it was still behind the aces and nut-flush draw of Blom. The
turn couldn't have been more of a blank for Sulsky, leaving him wanting headed to the river. Blom managed to dodge Sulsky's out as the
river gave him trips, along with the week's biggest pot.
While Sulsky ended up losing that pot, he still managed to nab the title of the "Week's Biggest Winner."
Who's Up? Who's Down?
Week's biggest winners (6/17-6/23): *Ben "Sauce123" Sulsky (+$264,588), *Fredrik "H@££INGGOL" Halling (+$201,279), Volanthn (+$159,078), FLIPokeHer (+$151,588), *therooster35 (+$148,204)
Week's biggest losers: IReadYrSoul (-$209,230), *Roberta114 (-$174,287), *Rui "PepperoniF" Cao (-$166,306), *Terken89 (-$163,150), Esvedra (-$153,551)
Year-to-date winners: Gus Hansen (+$3,941,000), Daniel "jungleman12" Cates (+$1,952,000), Alexey "NoPasaran" Makarov (+$1,875,348), *Gavin "gavz101" Cochrane (+$1,861,000), Matt Hawrilenko (+$1,440,000), bixiu (+$1,406,000),), Phil Ivey (+$1,336,000), *Rui "PepperoniF" Cao (+$1,229,000), Patrik Antonius (+$1,157,000)
Year-to-date losers: Tom "durrrr" Dwan (-$2,474,000), Eugene "fishosaurusREX" Yanayt (-$1,399,000), kagome kagome (-$1,377,000), cadillac1944 (-$1,336,000), Esvedra (-$1,182,000), UarePileous (-$837,000)
*on PokerStars
*data obtained from HighStakesDB.com
Stay up to date on all the latest news by following us on Twitter and liking us on Facebook.