Online Railbird Report: Rui Cao Gets Revenge on Viktor Blom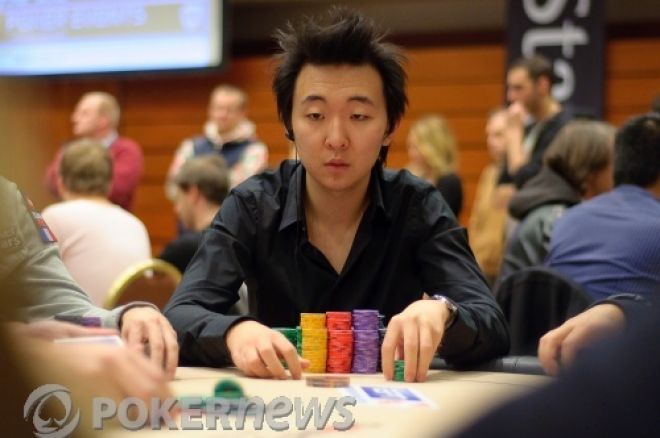 In an Online Railbird Report first, we'll be focused solely on the action that took place on PokerStars over the past week. Historically, the Online Railbird Report has been dominated by Full Tilt Poker action, but a deviation from the norm has occurred ever since Black Friday. Although players in the U.S. cannot visit the virtual felt, nothing has stopped Europeans from running the show.
The European presence was evidenced this past week when an unknown player known as "Halozination," rumored to be a 22-year-old from Germany, emerged as the big winner after profiting $172,059 in 3,129 hands spread over 47 sessions. Not far behind, Rui "PepperoniF" Cao managed to win $120,325 throughout 26 sessions spanning 2,489 hands, mainly against Viktor "Isildur1" Blom.
Speaking of Blom, his week wasn't too hot. He dropped $71,653 in 47 sessions comprising 3,213 hands. On the bright side, the Swede wasn't the week's biggest loser. Andreas "skerjvoy" Torbergsen, Alexey "LuckyGump" Makarov, and "Zypherin" all had worse weeks.
"Halozination" Lights It Up
On Monday, Halozination took to the $50/$100 and $100/$200 no-limit hold'em tables, finding quite a bit of success in the process. At the former tables, the mystery man won $36,000 after an 83-hand session against "breckster79." In what turned out to be the biggest hand of that session, breckster79 ($18,890,04) raised to $300 on the button only to have Halozination ($22,336) make it $1,100 to go. Breckster79 made the call and both players proceeded to check the
flop, leading to the
on the turn.
At this point, Halozination led out for $1,450, breckster79 raised to $2,900, and Halozination called. When the
peeled off on the river, Halozination bet $7,500, breckster79 moved all-in for $14,890.04, and a call followed.
Showdown
Halozination:

breckster79:
Breckster79 had flopped the best hand, but the river gave Halozination two pair to take down the $37,780.09 pot. He went on to win another $120,000 at the $100/$200 tables, taking $70,000 off "altiFC" and $50,000 from Zypherin.
Tuesday Tussle: "Isildur1" vs. "PepperoniF"
Earlier this week, on Tuesday to be exact, Rui "PepperoniF" Cao and Viktor "Isildur1" Blom went head-to-head on the PokerStars virtual felt. After 1,547 hands of pot-limit Omaha, Cao emerged victorious with a respectable $65,000 win. In the biggest hand between the two, Cao ($31,491.29) was on the button and raised to $300, but Blom ($30,505.70) had other plans and quickly reraised to $900. Not only did Cao call the raise, but he called a bet of $1,799.50 on the
flop.
The
turn seemed to slow Blom down, but nonetheless he check-called a bet of $3,000. Blom checked for a second time on the
river and Cao fired out $7,400. Blom then woke up with a check-raise for his entire stack — $24,806.20 total. Cao called and the cards were turned up.
Showdown
Cao:

Blom:
Blom had flopped an open-ended straight draw to go along with his queens but ultimately ended up with two pair. Unfortunately for Blom, Cao's turned straight was the winner, so he collected the $61,011.40 pot.
In another hand between the two, Blom ($26,495.50) made it $300 on the button, Cao ($32,017.79) exercised his option in the big blind by making it $900, Blom four-bet to $2,700, Cao five-bet to $8,100, and Blom opted to call. On the
flop, Cao bet $8,099.85, Blom move all-in for $18,395.50, and Cao called the additional $10,295.75.
Showdown
Cao:

Blom:
Blom had flopped top and bottom pair to crack Cao's aces; however, two cards were still to come. The
turn changed nothing, but the
river counterfeited Blom by giving Cao aces and queens, not to mention the $52,991 pot.
Thursday Throw Down: "Isildur1" vs. "PepperoniF" Round II
Obviously not content with his Tuesday thrashing, Viktor "Isildur1" Blom returned to the $50/$100 heads-up pot-limit Omaha tables on Thursday night for a rematch against Rui "PepperoniF" Cao. Unfortunately for the young Swede, things did not go according to plan. It took just an hour and half, or 720 hands, for Cao to take an additional $40,000 from Blom.
In the biggest hand of that match, Blom ($20,390.84) put in the standard button raise to $300, which Cao ($18,445.75) simply called. With $600 in the pot, the flop fell
and Cao led out for $500. After Blom called, the seemingly harmless
appeared on the turn, prompting Cao to bet $1,400. Blom then came to life with a raise to $5,799.50, Cao called, and the
spiked on the river. Cao wasted little time in moving in for his remaining $11,846.25 and Blom called just as quickly.
Showdown
Blom:

Cao:
While Cao had top set on the flop, he was behind Blom's straight. The turn was of little value to Cao, but when the river was also a deuce, Cao hit a full house to snag the $36,891.50 pot.
Who's Up? Who's Down?
Week's biggest winners (7/8-7/14): Halozination (+$172,059), Rui "PepperoniF" Cao (+$120,325), verve.oasis (+$84,935), 1-ronnyr3 ($83,966), le kork (+$79,922)
Week's biggest losers: Zypherin (-$157,473), Alexey "LuckyGump" Makarov (-$127,875), Andreas "skerjvoy" Torbergsen (-$-$91,831), Viktor "Isildur1" Blom (-$71,653)
Year-to-date winners: Gus Hansen (+$3,941,000), Daniel "jungleman12" Cates (+$1,952,000), Alexey "NoPasaran" Makarov (+$1,875,348), *Gavin "gavz101" Cochrane (+$1,861,000), *Rui "PepperoniF" Cao (+$1,444,000), Matt Hawrilenko (+$1,440,000), bixiu (+$1,406,000), Phil Ivey (+$1,336,000), Patrik Antonius (+$1,157,000)
Year-to-date losers: Tom "durrrr" Dwan (-$2,474,000), Eugene "fishosaurusREX" Yanayt (-$1,399,000), kagome kagome (-$1,377,000), cadillac1944 (-$1,336,000), Esvedra (-$1,182,000), UarePileous (-$837,000)
Biggest winners/losers all on PokerStars
*data obtained from HighStakesDB.com
Stay up to date on all the latest news by following us on Twitter and liking us on Facebook.