Movers & Shakers: Failla, Benyamine, & Chartier Move Up GPI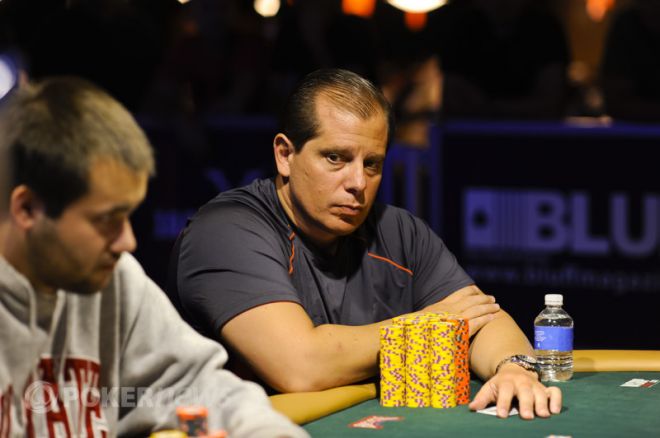 Last week, Federated Sports & Gaming (FS+G) introduced the poker world to the Global Poker Index (GPI), a revolutionary ranking system that sought to answer the question: "Who are the best live tournament poker players in the world today?" Each week the GPI releases a list of the top 300 tournament poker players in the world, so PokerNews thought it would be worthwhile to offer an analysis of a handful of GPI movers and shakers.
Now, if you're looking for an insightful look at what happens in the upper stratosphere of the GPI, you'll certainly want to check out Michael Craig's write-up on the GPI website. Craig, who serves as the executive editor of the Epic Poker League, does an excellent job of informing readers of the major GPI shape-ups, so we thought we'd focus on some of the other more subtle movements.
Moving On Up
Samuel Chartier (This Week: #102 w/ 1,399.76 point; Last Week: #218 w/ 1,140.38 points; Gained: 116 spots/+259.38 points)
When it comes to flying under the radar, no one has done a better job than Samuel Chartier. The Canadian skyrocketed up the GPI by ascending 116 spots, by far the most of any player this week, and nearly cracked the top third of the list.
While Chartier didn't make any noise at this year's World Series of Poker, he has $1,041,361 in lifetime earnings to his name, the vast majority of which has come inside the 36-month time frame calculated by the GPI. That includes first-place finishes in the 2009 WSOP-Circuit Caesars Palace Atlantic City $5,000 Main Event ($322,944) and 2011 PokerStars Caribbean Adventure $5,000 No Limit Hold'em-6 Max ($99,330).
While Chartier climbed fast, he'll need to put up some more results fairly soon if he hopes to maintain his momentum.
Emanuel "Will" Failla (This Week: #40 w/ 1,644.80 point; Last Week: #77 w/ 1,479.03 points; Gained: 37 spots/+165.77 points)
Last week, Will "The Thrill" Failla dropped 32 spots to 77th after holding down the 45th the week before. While it looked as though he was stuck in reverse, he came back with even more chutzpah, rebounding 37 spots to finish in 40th on the GPI. Although he was helped by a few players who decelerated in the rankings, it was Failla's impressive 2011 WSOP that helped push him back toward the top.
Failla, who won a weight loss prop bet against Joe Hachem this summer, continues to prove to the world that he maintains the skills to consistently go deep in tournament poker. Back in May, Failla placed 15th in the World Poker Tour $25,000 World Championship ($53,095) and immediately followed that with five WSOP cashes, his best being a seventh-place finish in the $2,500 No Limit Hold'em–Six Handed ($60,473).
He may be experiencing big swings on the GPI, but we imagine "The Thrill" will end up where he always does . . . near the top.
David Benyamine (This Week: #23 w/ 1,778.28 point; Last Week: #40 w/ 1,629.10 points; Gained: 17 spots/+149.18 points)
We'll be honest, we were surprised to see David Benyamine so high on the GPI. After a look at his results, we were equally surprised ― in a good way. While Benyamine has remained absent from the spotlight, he has slowly amassed some impressive results in 2011, including four GPI-eligible final tables. His most notable result, which is often overshadowed by Erik Seidel's win and Sam Trickett's runner-up performance, was a third-place finish in the $250,000 Super High Roller No-Limit Hold'em event at the Aussie Millions, which was good for $1,087,924.
Benyamine only had one cash at this year's WSOP, but it came from a final-table appearance in the $10,000 Seven Card Stud Hi/Lo Championship, where he ultimately finished in 5th for $96,836. While a major victory has eluded him since his bracelet win in 2008, Benyamine's consistency is rewarded on the GPI, which reminds the world that the Frenchman is still alive and well on the tournament scene.
Freefalling
Micah Raskin (This Week: #277 w/ 1,036.85 point; Last Week: #154 w/ 1,249.30 points; Dropped: 123 spots/-212.45 points)
A lackluster WSOP, combined with some big results from 2009 falling off the back end of the GPI's 36-month window, saw Micah Raskin tumble on the GPI. He went from the middle of the pack all the way to the back, making him the biggest mover of the week. Unfortunately for him, it was in the wrong direction.
With just four cashes totaling $120,139 in 2011, Raskin will need to put up some results in the last half of the year if he hopes to equal his numbers from the previous two years. It's not too late for Raskin to recover, but he'll need to do so soon if he hopes to maintain a spot on the GPI.
Matt Affleck (This Week: #287 w/ 1,025.72 point; Last Week: #166 w/ 1,227.14 points; Dropped: 121 spots/-201.42 points)
When we think of a consummate tournament grinder, we think of Matt Affleck. It wasn't much of a surprise to see him on the GPI, but it was to see him in the 287th spot. Affleck may be a regular on the circuit, but a major title has eluded the Washington state native, which certainly hurts him in any ranking system. While he's come close in the past, two deep (heart-breaking) runs in back-to-back WSOP Main Events aren't enough to carry him far on the GPI.
More recently, Affleck had three uninspiring cashes at this summer's WSOP, all in low buy-in events. Prior to that, he managed only two cashes in 2011, the largest for $92,490 for a 12th-place finish in the PokerStars Caribbean Adventure $25,000 High Roller Event. We have faith in Affleck and believe he has what it takes to be an elite tournament player, but the GPI is shedding light on his recent lack of success.
Will Molson (This Week: #59 w/ 1,560.41 point; Last Week: #20 w/ 1,807.08 points; Dropped: 39 spots/-246.67 points)
The man who finished runner-up in 2009 and 2010 in the PokerStars Caribbean Adventure $25,000 High Roller events finally captured the elusive title in 2011, earning $1,072,850 in the process. That is no doubt one of the most impressive runs in PCA history, but it will only carry Molson so far when it comes to the GPI because he's just beginning a downward spiral.
Molson's drop in the rankings are a result of his scores becoming dated, thus moving them into different periods with lower multipliers. Granted, Molson is still in the top fifth of rankings, but he'll only continue to fall if he doesn't add some new results to his résumé. The WSOP was a great opportunity to go just that, but Molson failed to capitalize because he only notched a single cash for $15,814.
Here's a look at this week's GPI top ten. For a look at the entire list of 300, visit the official GPI website.
The Top 10 as of July 18, 2011
| Rank | Player | Total Score |
| --- | --- | --- |
| 1 | Bertrand "ElkY" Grospellier | 2,446.83 |
| 2 | Jason Mercier | 2,434.30 |
| 3 | Eugene Katchalov | 2,248.83 |
| 4 | Erik Seidel | 2,197.38 |
| 5 | Samuel Stein | 2,168.85 |
| 6 | Sorel Mizzi | 2,135.88 |
| 7 | Fabrice Soulier | 2,133.87 |
| 8 | David Baker | 2,027.32 |
| 9 | John Juanda | 2,013.63 |
| 10 | Vanessa Selbst | 2,011.05 |
For the complete list of 300 players, visit GlobalPokerIndex.com; in the meantime, be sure to visit the GPI Twitter and Facebook page.
To stay on top of the GPI and other happenings in the poker world, you may want to follow us on Twitter and like us on Facebook.