Sounding Off: Hastings Wins WPT Regional, Matusow Speaks Out, and More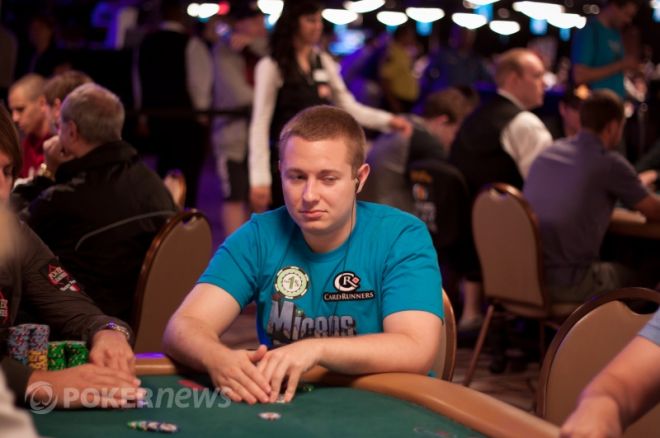 We decided it would be interesting to take a look back at the past week of poker and sound off about what's hot and what's not. This week we'll touch on Brian Hastings' World Poker Tour win, Mike "The Mouth" Matusow's new voice, and the WPT Legends of Poker.
On a Heater
Brian Hastings Wins WPT Regional Event: On Monday, August 22, 2011, the Twitterverse was captivated by a WPT event at the Seminole Hard Rock Casino in Florida. What made this noteworthy was that it wasn't a major WPT stop, but rather the $2,200 buy-in WPT Regional Summer Splash Event #12 Main Event. These regional stops aren't featured on TV, and are more akin to the World Series of Poker Circuit.
This past week Brian Hastings outlasted a field of 391 players and claimed the $213,877 first-place prize and his first major live tournament title. By winning the event, Hastings managed to bring some well-deserved attention to the WPT's smaller circuit, which was a huge win for the WPT because they were coming off of a record-setting Season IX and instituted even more changes for their upcoming season. Had runner-up Griffin Malatino defeated Hastings, there wouldn't have been as much excitement surrounding the win.
It's also worth noting that a number of other poker pros played the event, further cementing the reputation of both the WPT and Florida as a hotbed for poker. Darryl Fish (4th - $55,522) and Jason Mercier (23rd - $6,647) were a couple of the other notables who played and managed to find some success.
The WPT is constantly making headlines these days and will no doubt reacquire its position as one of poker's premiere tours. While Hastings won the tournament, the WPT was the big winner in the Sunshine State.
"The Mouth" Speaks Out: A couple of weeks back, new episodes of Poker After Dark aired featuring a $100,000 Cash Game. Two of the participants, Mike "The Mouth" Matusow and Phil Hellmuth, became engaged in a controversial hand that has poker fans up in arms. I'm not going to lay out the hand here, but you can either read about it in our recap or watch it below.
I was one of the viewers shocked by what transpired and even took to my personal blog to vent about the situation. I then posted a link on my Facebook, tagged Matusow, and was shocked to discover he posted the following response on my wall:
"Yea well all them other guys don't play on their own money. They cheat and equity chop everyone online. I don't feel like playing $200k pots. Have nice day."
Not only was I surprised that Matusow took the time to comment on my blog, I was legitimately impressed that he was actively addressing his play.
Matusow went on to address some of the other critics on his Facebook wall, even saying: "Let everyone idolize Ivey. He plays on all of your guys' money lol." Say what you will about Matusow, to allude to the Full Tilt Poker situation and call out Phil Ivey is a ballsy move. Even though he was a former FTP Pro, Matusow has been an outspoken detractor of the company, which has earned him some credibility among the masses. The Mouth is a polarizing character, so it's refreshing to see him take a stand and hold his ground, whether it's against FTP or critics of the now infamous hand.
What's more, Matusow isn't afraid to tell the truth about his financial situation. Content to hold on to his bankroll and reduce variance as much as possible, The Mouth posted the following on his Facebook page:
"I'm actively looking for someone to stake me full time on the tournament circuit. If anyone is interested please private message me (do not if you are not serious). The reason for this is there is a lot of variance on the tour and I don't feel like going bust. Thank you all!"
This is certainly a different Matusow from what we've seen in the past, but based upon his honesty, humility, and tenacity, it may be an improved version of the 2005 Main Event final tablist. I'll say this, if I was rich, I'd work out a staking deal with Matusow. He may only have a fraction of his $7.825 million in lifetime earnings left, but that shouldn't detract from his impressive résumé.
I Want to Be McLean Karr: I'll keep this short and sweet. Less than two years ago, I had never heard of McLean Karr, but now I can't stop hearing about the guy. Earlier in the month, he won the HK$100,000 No Limit Hold'em High Roller Event at the Asian Poker King Tournament in Macau for $103,808, and this week he notched another victory by outlasting a field of 181 players to win $74,706 in the $1,850 Parx Open Classic Main Event. That brought his lifetime earnings to $2,088,120!
Oh yeah, and he is dating Tatjana Pasalic too! Not too shabby for a guy who'll be celebrating his Golden Birthday on Novemeber 30th!
Major Cooler
East Coast vs. West Coast: The WPT Legends of Poker kicked off on Thursday with the first of two starting days. Anticipation was high that the $3,500 buy-in event could become the biggest WPT event ever, surpassing the Season IX Borgata Poker Open which attracted 1,042 players and was won by Dwyte Pilgrim, especially considering that Day 1a eliminations were allowed the opportunity to re-enter on Day 1b.
The first starting day drew a modest 322 players, while the second brought is a more impressive 435 players. Needless to say, the 757 players falls way short of the record. It was a nice thought while it lasted, but the recession obviously has its fingers sunk deep into the poker community. With that said, the Legends of Poker was far from a failure. On the contrary, it will prove to be one of the most popular stops of the year, just a bit short of the record. No harm, no foul, but a lesson in conservation nonetheless.
Be sure to follow us on Twitter for up-to-the-minute news.