Poker After Dark: $100,000 NLHE Cash Game Recap — Week 2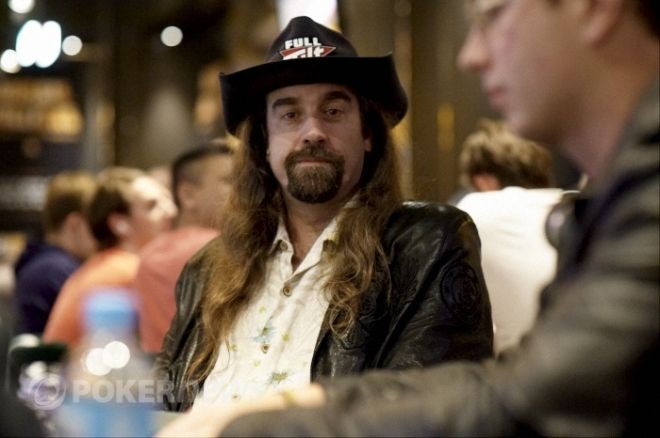 For the second week in a row, NBC has aired new episodes of Poker After Dark. Last week, PAD broadcast Part 1 of their $100,000 Cash Game, and this week it rounded things out with Part II. While the roster was the same, with Phil Hellmuth having replaced Michael Mizrachi, the players redrew seats before action got under way. Here's a look at this week's lineup:
Seat 1: Brandon Adams
Seat 2: Chris Ferguson
Seat 3: Peter Jetten
Seat 4: Phil Hellmuth
Seat 5: Mike Matusow
Seat 6: Jean-Robert Bellande
The game was $200/$400 no-limit hold'em with a minimum buy-in of $100,000.
Bad Spot for Bellande: Peter Jetten was under the gun and opened the pot for $1,400 with
, which was quickly called by Phil Hellmuth holding
. On the button, Jean-Robert Bellande looked down at
and made the call, and then Chris Ferguson made it $6,900 to go from the big blind with
.
Jetten quickly folded, Hellmuth made the call, and Bellande decided it was time to make a move. He grabbed some chips along with a block of cash and committed a reraise of $30,000 more. "Here's what's going through my mind," Ferguson explained on the Director's Cut. "If he had aces or kings, I think it's very likely he would have raised . . . So I thought if he had those hands, he would have raised early. But that doesn't mean he's not capable of calling there, it's just a little bit unusual." With that, Ferguson moved all-in for $77,200.
Hellmuth, who technically held the best hand, got out of the way, while Bellande made the call. With $163,200 in the pot, Bellande only had a 23 percent chance of winning the hand. Unfortunately, the
flop essentially left him drawing dead, while the
turn made it official. The inconsequential
was put out on the river, leaving Bellande with under $5,000.
Bellande Busto: Not long after, Chris Ferguson raised to $1,100 from the cutoff and was called by Phil Hellmuth on the button. Bellande then committed his last $4,000 from the big blind, Ferguson called, and Hellmuth tried to isolate with a reraise to $14,000; however, Ferguson called the additional $10,000 and it was three-handed to the
flop. Ferguson held
and ended up check-folding to Hellmuth's $14,000 bet, and the cards were turned up.
Showdown
Hellmuth:

Bellande:
Having already won $10,000 from Ferguson in the side pot, Hellmuth was looking to claim the $12,500 in the main. The
turn and
river allowed him to do just that, and Bellande made his exit from the PAD set. "For me, the stakes were a lot higher than for anyone else at the table because if anyone else losses a buy-in, they can rebuy. I'm not one of those people. So, you know, I get felted, I get felted. That one put me on the rail," Bellande lamented in his post-exit interview.
With an empty seat in the game, Michael "The Grinder" Mizrachi made his return to the table, no doubt looking to crawl out of the $30,000 hole he had dug during the first week.
Jetten Flops the Nuts: Brandon Adams opened for $1,200 in the cutoff holding
and found a call from Peter Jetten on the button with
. Both blinds got out of the way and it was heads up to the
flop. Adams checked with second pair, and Jetten opted to bet $2,400 with the nuts. Adams made the call and then checked the
turn. Jetten bet again, this time $6,500, Adams called, and the
blanked on the river. Adams checked for a third time, and Jetten overbet the pot by sliding out $26,000. Adams wasn't a believer and paid him off, allowing Jetten to claim the $73,100 pot.
Blind vs. Blind: It folded to Phil Hellmuth in the small blind and he raised to $1,300 with
. Never one to back away from some action, Mike "The Mouth" Matusow decided to make the call from the big blind without looking at his cards. The
flop saw Hellmuth check and Matusow bet $1,300, after having squeezed out
in the hole. The "Poker Brat" made the call and then checked in the dark.
Matusow checked behind on the
turn, and watched the
hit river. Hellmuth had hit his flush and bet $6,500, which prompted Matusow to fold.
What Just Happened?: In one of the more interesting hands of the week, Peter Jetten opened from $1,400 from the cutoff with
and Phil Hellmuth called with his own
on the button. Mike Matusow then three-bet to $5,300 from the small blind holding
, Jetten called, and Hellmuth woke up with a four-bet to $23,300. Matusow tanked for a minute before emerging with a five-bet to $53,300. Jetten reluctantly folded, Hellmuth moved all-in for $88,600, and Matusow made the call.
With $183,200 in the pot, Matusow was a 54 percent favorite to win the hand. "What do you want to do here? You want to run it twice? It's a big f**k'in pot, what do you wanna do?" Matusow asked Hellmuth. In what was no doubt a controversial shocker to viewers, the duo agreed to take the majority of their chips back and play for just $21,600. When the board ran out
, Matusow raked in $160,000 less than he could have.
Take a look at the hand here:
Hellmuth Felted: After Peter Jetten opened for $1,400 from the cutoff with
and both Phil Hellmuth and Mike Matusow made the call, Michael Mizrachi exercised his option in the big blind by making it $7,400 with
. Jetten called the additional $6,000, while Hellmuth raised to $43,400 with
. From there, Matusow folded his
, Mizrachi moved all-in, Jetten folded, and Hellmuth called off for another $6,900.
With $109,700 in the pot, Hellmuth chose to run it just once and could not connect as the board ran out
. Hellmuth shook hands with the table and made his exit without uttering a single word. In the Chat Box, Hellmuth explained: "Yeah, I'm feeling like really bad. I mean, why even show up and play? . . . It's getting a little ridiculous."
Who's Up?: Here's a look at the numbers during the last episode of the week.
Stack Sizes
| Player | Stack Size | Up/Down |
| --- | --- | --- |
| Chris Ferguson | $178,000 | +$78,000 |
| Michal Mizrachi | $169,000 | +$69,000 |
| Mike Matusow | $140,000 | +$40,000 |
| Peter Jetten | $117,000 | +$17,000 |
| Brandon Adams | $109,000 | -$6,000 |
| Phil Hellmuth | $0 | -$100,000 |
| Jean-Robert Bellande | $0 | -$100,000 |
As you can see, Ferguson ended up the big winner in the most recent installment of the PAD Cash Game, while both Hellmuth and Bellande ended up the big losers. It's also worth noting that Mizrachi managed a comeback in Week 2, erasing the $30,000 he dropped in his first go around.
Be sure to follow us on Twitter and like us on Facebook not only to keep on top of all the latest poker news, but to learn about special promotions and freerolls, as well.