The Nightly Turbo: Full Tilt Poker Investors, WPT at Parx Casino, and More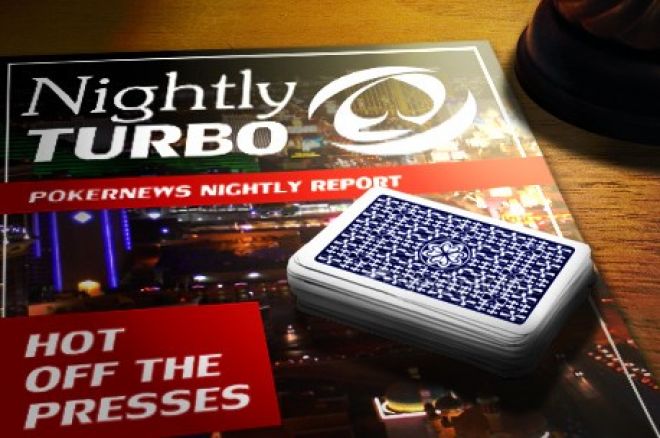 If you're looking for the right amount of poker information to send you into the weekend, then you've come to the right place. In tonight's Nightly Turbo we'll tell you about Full Tilt Poker's and its potential investors, the new spot the World Poker Tour is headed in Season X, and more.
In Case You Missed It
The final table of the first Epic Poker League Main Event was set Thursday. It's a stacked final table with Hasan Habib leading the way. Jason Mercier and Erik Seidel are still in the hunt and could cause some shakeups in next week's Global Poker Index.
Three players banked over $100,000 in the online high-stakes games this week. David Eldar came away with the biggest win of the week and you can read about it in the Online Railbird Report.
It's vacation time for members of Congress, and that means they're headed back to their home districts. It's the best time to contact your representatives to discuss online poker legislation and meet with them face-to-face.
Between a cheating scandal, a car theft, and a major event kicking off for the first time, you can say it's been quite an interesting week. Here are our Five Thoughts.
Potential Investors?
Canadian-poker.ca issued a press release stating that Full Tilt Poker may be close to reaching a deal with potential investors. Leon Daniels, a spokesman for Canadian-poker.ca, stated that 888poker, Bwin.Party, and Playtech could potentially each be the "unknown investors."
"I've mentioned before why companies like 888 would be interested in purchasing Full Tilt Poker. 888 has one of the biggest online poker rooms in the world, and they lost many players to the illegally operated Full Tilt. Now that Full Tilt is no longer active in the Canadian market, it makes sense that 888, a stable and reliable company, would take the opportunity to win back players in Canada, even if it means having to take responsibility for Full Tilt's infamous debts," Daniels said.
He doesn't believe PokerStars could be part of that group. "I don't believe PokerStars, formerly a huge presence in the online poker world, is a potential investor. Black Friday and subsequent investigations seem to have PokerStars' hands full at the moment. While they're faring better than Full Tilt by far, they still have to deal with the authorities," he said.
Is he just stirring the pot? It seems like that to us. Read the press release for more.
New Stop on the WPT
The World Poker Tour threw us a curveball while we were writing the Turbo by sending a late-day press release. So of course, we couldn't let you begin your weekend without the news of a new stop on Season X of the WPT.
The WPT's three-year agreement with Parx Casino in Bensalem, Pennsylvania, will see a televised Main Event take place in 2012, as well as three WPT Regional Events.
"We have put an emphasis on finding the right partners for expansion. Parx was an immediate target for WPT and have been wonderful business partners in getting this deal done," said WPT President Adam Pliska. "The ability to crown a WPT champion in a town that has recently seen the Flyers in the Stanley Cup, the Eagles in the Super Bowl and the Phillies win the World Series will be tremendous for both Parx and WPT."
The date of the 2012 WPT Parx event will be released later this year.
Check out the entire WorldPokerTour Season X schedule at WorldPokerTour.com.
Google + Zynga Poker
Google+ is trying to get Facebookers to convert. The new social networking site launched a platform that includes popular games like Zynga Poker and Angry Birds. Google+ will offer 16 games from third-party developers.
In a press release issued by Zynga in March, we learned that Zynga Poker attracts an average of 38 million users a month, and that at any given moment, 400,000 players are logged on handing out bad beats. At the moment, Zynga Poker is available on Facebook, Yahoo!, and MySpace, but will soon roll out to Google+.
We're sure a few of you U.S. players have pacified your online poker bug by signing up for Zynga Poker. Don't worry, we won't tell anyone.
The Wall Street Journal has more.
In 140 Characters
Some days we read tweets and think, "Our readers would probably like to know that," but the news bite is only 140 characters long. Instead of separating them into their own sections, we've compiled them all right here.

Phil Hellmuth (@phil_hellmuth): Can U believe Major League Baseball investigators called me about a guy that PLAYED in a poker game: understand it's 100% legal to PLAY?!?

Sick of athletes, politicians, and actors being persecuted for playing in poker games when it is 100% legal for them to play!! Sick of LIES!

Buzzer Blog (@buzzerblog): High Stakes Poker on GSN lost its Saturday 10pm slot. Million Dollar Password is taking it.
Poker Royalty (@Poker_Royalty): Happy to announce @Poker_Royalty client @LeoMargets has signed a sponsorship deal to become newest member of the Lock Poker PRO ELITE team.
Be sure and follow us on Twitter and like us on Facebook.