The Nightly Turbo: PPN Leaves U.S., Full Tilt Poker, and More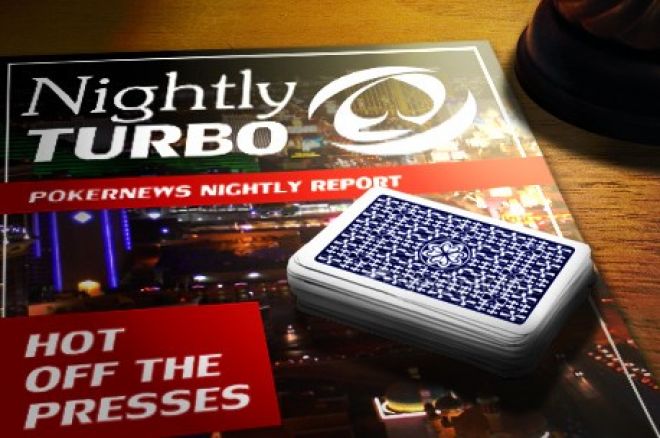 If you were looking for the day's top poker news stories, then you've come to the right place. We'll tell you which online poker site has decided to leave the U.S. (if you haven't figured it out from the title), some interesting news regarding Full Tilt Poker, and more.
In Case You Missed It
Alicia Sale is not only the chip leader for the Day 1c flight at the PokerStars Asia Pacific Poker Tour Queenstown, but she's also the chip leader of the entire Day 2 field. Find out how she got her chips in our APPT Queenstown recap.
Even though New Jersey Sen. Raymond Lesniak didn't get his first Internet poker bill passed by Gov. Chris Christie the first time, he didn't back down. On Thursday, Sen. Lesniak reintroduced his Internet gaming bill.
Last week, we introduced our new podcast series, Strategy with Kristy. In our latest edition, you can find part two of her interview with Andrew Seidman where they discuss nuts-versus-air ratios and more.
The latest Global Poker Index rankings were released Thursday and there weren't really any changes in the top 10. There were however, some players who found their way onto the GPI rankings this week, and they include Humberto Brenes, Matt Affleck, Keven Stammen, and more.
On Thursday, the World Poker Tour held a press conference prior to the kick off of Legends of Poker event at the Bicycle Casino. A number of changes were announced for Season X including live-streaming of final tables and more.
Another One Bites the Dust
In a press release issued Thursday, Poker Pros Network announced it recently moved its URL to PPNpoker.eu to comply with U.S. legislation. It also said it would be leaving the Cake Network and moving to a proprietary network in the near future. Also, on Aug. 31, PPNpoker.eu will no longer accept new registrations from players in the U.S. Players who registered for accounts prior to the separation will be granted an exemption.
"We here at PPN are dedicated to improving our software, creating a safe environment for players to compete, and encouraging our pros to be available to customers at all stake levels," said PPN Poker owner Chuck Kidd. "It's been a lot of work, but what we're introducing later this year should turn the online poker industry on its head."
According to the press release, PPN Poker plans on releasing "unique proprietary software" with new features including live dealers and dealers' choice games in the fall.
Read the press release at MarketWire.com for more.
Full Tilt Poker
If it's not one thing with Full Tilt Poker, it's another. On Thursday, Harry Demetriou made a post on the Full Tilt Poker Chatter Containment thread on TwoPlusTwo. He discusses the deals that were in place for Full Tilt after Black Friday including the one Phil Ivey allegedly set up and one that is speculated to have come from Jack Binion.
"Unfortunately the way things stand at present FTP are not really addressing the specific problems they need to address in order to get back up and running. If they don't do that soon, and I doubt they will, they will die a complete death and I think its now almost inevitable that this will happen as they are beyond salvation as they really are not focusing on the right areas to facilitate a recovery," he wrote.
While he feels that way about Full Tilt Poker, he also believes FTP is "genuinely trying to sort this mess out which they are overwhelmingly and predominantly responsible for creating." In the post, he says no dividends have been paid out to owners and that shareholders will receive nothing from the sale of Full Tilt.
A few pages later, a post was made by "solongdue," who we can only discern as being an ex-Full Tilt employee. He decided to describe his experience "within the walls of Pocket Kings/Full Tilt Poker." He discussed the head of human resources , Caroline Lynch, and others and even the food service in the office.
Read more about it at TwoPlusTwo.com.
Bellagio Bandit Gets More Time
On Thursday, the Bellagio Bandit (or OceanSpray25), Anthony Carleo was sentenced for robbing both the Suncoast casino and Bellagio. He will serve between nine to 27 years, according to the Las Vegas Sun.
"I'm completely ashamed of myself," Carleo said before being sentenced. "I'm not a lost cause, though. I know I can turn my life around."
For the Suncoast robbery, Carleo was sentenced to six to 16 years by District Judge Michael Villani. Carleo's attorney tried to get the sentences for the Suncoast and Bellagio robbery's to run concurrent but the judge disregarded the appeal.
On Tuesday, Carleo was sentenced to three to 11 years for the Bellagio robbery.
On top of his sentences, Carleo will have to pay restitution for both robberies. He'll have to pay $18,945 to the Suncoast, but the Bellagio restitution is yet to be determined. According to Assistant District Attorney Chris Owens, the police have not yet recovered $793,000 of the $1.5 million Carleo stole.

Find out more at LasVegasSun.com.
ESPN Inside Deal
ESPN released its latest Inside Deal on Thursday. Andrew Feldman was absent from the show, but Jon Anik and Bernard Lee were on set in Bristol to bring you a poker update. The two discussed Lee's run in the Heartland Poker Tour event and Chino Rheem being placed on probation. They were then joined by 2011 November Niner Phil Collins via Skype to find out how he's preparing for the big event in November and more.
Watch the latest Inside Deal at ESPN.com.
Record Broken
A little over a week ago, we told you about the Delaware Park Poker Room and its attempt at setting a Guinness World Record. The poker room hosted a $500 buy-in poker tournament with a guaranteed prize pool of $100,000 and was trying to hold the longest continuous poker tournament.
According to a recent press release, the Delaware Park Poker Room didn't exactly get its Guinness World Record, but it did set a new world record for Longest "Documented" Continuous Poker Tournament. The tournament lasted 31 hours and 58 minutes, but fell short of the 36-hour Guinness Record benchmark.
"At one point, there were 177 people streaming the live video and 1,700 people following the live updates through www.twoplustwo.com, in addition to the 40+ people in the crowd around the final table," said poker-room manager Kevin Castora.
"We are constantly trying to innovate the game of poker by creating new and exciting events. I want our players to always feel welcome and be a part of special events such as this," Castora said. "Although extremely fatigued, the players never lost their good spirits, which made for a positive atmosphere throughout the entire event."
The total prize pool reached $182,360 and Hieu Tran of Essex, Maryland took home the lion's share of $43,761 for outlasting the entire 376-player field.
Read the press release for more.
Calling the Clock: Joel Dodds
While at the PokerStars Asia Pacific Poker Tour Queenstown Snowfest, Lynn Gilmartin caught up with Joel Dodds and decided to call the clock on him. Find out what he had to say below in one of the fastest Calling the Clocks we've seen.
Follow us on Twitter for up-to-the-minute news.