The Weekly Turbo: Lesniak Tries Again, Full Tilt Poker Lawsuit, and More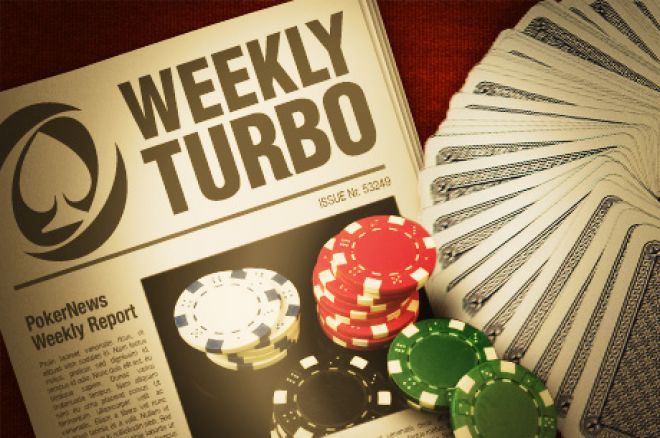 If you're looking for the best place to find the week's top poker news stories, then you've come to the right place. Find out more about the reintroduction of NJ state senator Lesniak's intrastate online poker bill, a new Full Tilt Poker class action lawsuit, and more.
Try Again
"If at first you don't succeed, try, try again."
That's what New Jersey state Sen. Raymond Lesniak is doing. Rather than giving up after New Jersey Gov. Chris Christie vetoed his bill for intrastate online gaming, Lesniak is planning on reintroducing it.
"Both industries are dying a slow death and they need the additional revenues that online gaming will provide for them," Lesniak said of Atlantic City casinos and horse racing.
The state senator says that online gaming would create 1,900 new jobs and tens of millions of dollars in tax revenue. According to reports, one reason Gov. Christie vetoed the bill was because he was worried that Internet cafes would pop up around the state and exploit it.
In the new version of the bill Lesniak said, "They will be strictly prohibited from doing that."
According to NJ1015.com, the bill will be reintroduced on August 25.
Read more on Lesniak's reintroduction on NJ1015.com.
Another Lawsuit
According to EGRMagazine.com Full Tilt Poker has another class-action lawsuit on its hands. EGRMagazine is reporting that two Canadian players, Zayn Jetha and Donald Whelan, are responsible for the suit. The two have named Ray Bitar, Nelson Burtnick and Howard Lederer, as well as Full Tilt Poker Ltd and a few other companies associated with Full Tilt Poker. Tiltware was on that list.
This lawsuit comes one month after professional poker player Todd Terry and three other plaintiffs filed a class-action lawsuit on behalf on "a nation-wide class of Full Tilt account holders residing in the United States." That suit named both Bitar and Burtnick, but also 13 members of Team Full Tilt.
You can read more at EGRMagazine.com.
Cates Multi-Accounting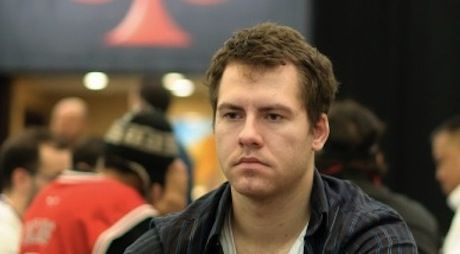 Last week, Daniel Cates was interviewed by Noah Stephens-Davidowitz and Vanessa Selbst for Subject:Poker. In the first interview with the two, Cates told Stephens-Davidowitz and Selbst that he witnessed Haseeb Qureshi playing under Jose Macedo's account.
"No, I basically witnessed it happen. Like, I just assumed it wouldn't really matter. In my opinion, the way multi-accounting is unethical is if there's some sort of information that leads the...It's difficult to explain, but basically if there's some sort of deception involved. Deception involved where, like, some read someone has on a player but if the player is not who they are, the read will be misused. Deception like that. But if that doesn't really happen then multi-accounting, in theory, is harmless. If that makes sense."
Subject:Poker was then contacted by Cates' publicist, who said Cates lied about who actually multi-accounted and that it was actually Cates. He was then interviewed again by Subject:Poker where he clarified the situation.
Listen to the interview at SubjectPoker.com.
Could Bwin Be Wynning?
On Tuesday, numerous reports were circulating that Wynn Resorts had its eye on Bwin.party. The reports were enough to shoot Bwin.party's share prices up. Rumors are saying a possible bid could reach as high as 170p per share, according to Independent.co.uk. The rumors surrounding Bwin.party and Wynn Resorts come on the heels of speculation that buyers could come from companies closer to home, like William Hill.
This isn't the first time Wynn Resorts has been linked to an online poker site. In March, PokerStars and Wynn Resorts announced a strategic alliance. The alliance was set to seek a license to jointly operate a U.S. online poker site, but disbanded after Black Friday.
Find out more at Independent.co.uk.
Online Poker TV Ads
With only one business-month left for the California legislature, the push is on to get Sen. Lou Correa's Senate Bill 40 passed. The California Online Poker Association has released a series of radio and television ads asking the legislature to pass the bill that would make online poker legal and taxed in California.
With ominous music in the background, the ad says, "California is facing a real emergency. A $4 billion budget shortfall that will result in cuts to police and fire departments, health care and state schools among other. Online poker will provide California with billions of dollars including $250 million immediately, create thousands of jobs and will ensure that the state's online poker market, the largest in the nation, won't be taken over by Nevada and its casinos."
The bill is opposed by other gaming tribes and they issued a letter urging the legislature not to take action.
"Even though there have been hearings on the matter of intrastate internet poker, many fiscal, legal, technical and policy related questions must be resolved before adoption of any intrastate internet gaming legislation. There are numerous stakeholders who stand to be irreparably harmed should legislation be 'ram-rodded' through this legislative year and this surely would be a disservice to ALL Californians, Tribal and Non-Tribal, alike," says the letter from Robert H. Smith, Chairman of the California Tribal Business Alliance.
The Sacramento Bee has more.
Bonomo on the Move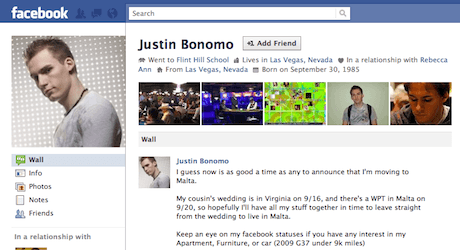 We tried to come up with a funny Magic the Gathering anecdote about Justin Bonomo moving to Malta to continue playing online poker, but we know nothing about MTG. However, this is the perfect story to link to our favorite video about Malta.
Back to the story at hand. According to his Facebook page, Justin Bonomo is moving to Malta. He's hoping to be settled in time to check out the World Poker Tour stop in Malta on Sept. 20.
Bonomo is one of quite a few professional poker players who have decided to move from the U.S. to continue playing online poker. Phil Galfond, Vanessa Selbst, Jon Aguiar, and Supernova Elite Mike "MeleaB" Brooks are among those who have made the move.
EPT President Appointed
Global Poker Tours Limited, the poker tour production company behind the PokerStars European Poker Tour, on Thursday announced that the PokerStars EPT appointed Edgar Stuchly president.
According to the press release, Stuchly will "act as an official spokesperson of the EPT, helping refine the vision for the tour, working to further improve the customer experience for the many thousands of players from around the world who participate in the events, and growing the brand across more countries in Europe."
"The EPT is the richest and most prestigious poker tour in Europe, and I'm delighted to be joining a much-loved and well-run live tour," said Stuchly. "The goal now is to take the EPT to another level, in terms of improving the experience for players and expanding the tour into burgeoning poker markets in Europe. It's a big challenge but one that I'm relishing."
Stuchly is the former head of poker for Casinos Austria. During his four-year tenure there, he managed poker rooms at 12 casinos, founded the Casinos Austria Poker Tour, and managed the European Poker Championships.
"Edgar's extensive live poker experience and vision for the EPT eased his appointment significantly. I'm sure that players, fans and anyone connected to the EPT will feel the benefits of his leadership over the coming months and years," EPT chairman John Duthie said.
Find out more at PokerStarsBlog.com.
Follow us on Twitter for up-to-the-minute news.