The Nightly Turbo: Lesniak's Online Poker Bill, Macedo's Legal Issues, and More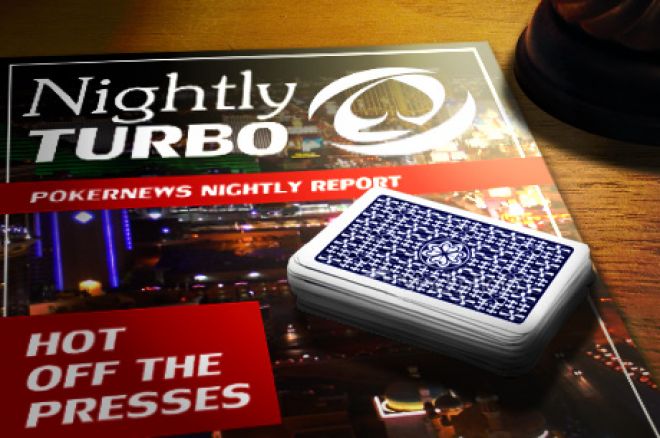 It's Friday and we're sure you're just as ready to start your weekend as we are, so we're going to keep this short and sweet. New Jersey senator Raymond Lesniak is looking to reintroduce his intrastate gaming bill. Keep reading to find out more on that, Jose "Girah" Macedo's legal issues, and more.
In Case You Missed It
Our new podcast series, Strategy with Kristy, is off the ground. Kristy Arnett spoke with Andrew "BalugaWhale" Seidman about everything from beginning play to polarized ranges.
Wondering what happened this week? Sarah Grant brings you all the details in the PokerNews Weekly.
The online high-stakes action was in full swing this week and plenty of notables banked big wins. Who won big and who had a losing week? You'll have to read the Online Railbird Report for that answer.
The debt super committee may be the key to getting online poker on radars of the U.S. congressmen. Here are our Five Thoughts on the issue.
On Monday, the Epic Poker League Standards and Conduct Committee held a hearing regarding Chino Rheem. The Committee released its decision on Friday, placing Rheem on probation.
Try Again
"If at first you don't succeed, try, try again."
That's what New Jersey state Sen. Raymond Lesniak is doing. Rather than giving up after New Jersey Gov. Chris Christie vetoed his bill for intrastate online gaming, Lesniak is planning on reintroducing it.
"Both industries are dying a slow death and they need the additional revenues that online gaming will provide for them," Lesniak said of Atlantic City casinos and horse racing.
The state senator says that online gaming would create 1,900 new jobs and tens of millions of dollars in tax revenue. According to reports, one reason Gov. Christie vetoed the bill was because he was worried that Internet cafes would pop up around the state and exploit it.
In the new version of the bill Lesniak said, "They will be strictly prohibited from doing that."
According to NJ1015.com, the bill will be reintroduced on August 25.
Read more on Lesniak's reintroduction on NJ1015.com.
Legal Problems
According to a post on TwoPlusTwo by Eric "Rizen" Lynch, Lock Poker is pursuing legal action against Jose "Girah" Macedo. The latest official statement, as posted by Lynch said, "Lock is currently pursuing legal action against Jose so we are unable to make a substantial comment at this time. We do realize that ongoing silence can lead to people jumping to conclusions. What happened goes against the very core of our player based philosophy and we intend on exercising our legal rights in the most severe degree. We will keep you updated as things progress."
Lynch went on to post that legal action will be filed in the near future and once that happens, then the purpose of the lawsuit will become clearer.
"I was VERY clear with Lock before we released this statement that it was a bad idea unless we were actually committed to pursuing legal action, otherwise it would just look like an attempt to avoid commenting," Lynch said.
Read the thread on TwoPlusTwo for more.
Friday's PSA
What we're about to tell you is shocking. We know you think we're omniscient, but even we make mistakes.
Our mistake? Well, we recently purchased assets from Per Hagen. If the name doesn't ring a bell, Hagen, who was on the 2010 BLUFF Power 20, is a former poker agent. Back to the situation at hand. PokerNews recently learned that Hagen sold the same assets to multiple parties. To add to it, he didn't even own the assets he was selling.
We have been hearing numerous reports of shady dealings and are working on a large editorial piece. If you or anyone else has been scammed by Hagen, please contact us.
Every now and again we like to throw PSAs your way. This is our fair warning to all of our friends, you shouldn't trust Per Hagen. Avoid him like you'd avoid a Nigerian lottery email.
Pocket Kings Ltd. Chief Marketing Officer Resigns
On Friday, QuadJacks reported that Pocket Kings Ltd. chief marketing officer, Lothar Rentschler resigned. PokerNews has confirmed the resignation via email.
Lothar worked for Pocket Kings for three years and said it was "not an easy step" to come to the decision. "However, given the current circumstances, I do believe it is a long overdue step towards the right direction," he wrote.
He continued, "Our hands in Marketing were bound and at the end even every communication was stopped. Again, I can only apologize for this situation. The future will hopefully see a better, well organized structure and a return to business as usual. To see the brand FTP going down that way, hurts a lot."
Read more at QuadJacks.com.
Bet365 Shuts Down Australian Site
According to EGRMagazine.com, Bet365 will be shutting down its services to its Australian players. The U.K.-based online gaming site is preparing to apply for a sports betting license Australia.
The Australian obtained an email sent to Bet365 players which read, in part, "We're in the process of applying for a sports betting licence in Australia. As part of our preparations for this, we regret to inform you that our Casino, Poker, Games and Bingo sites will no longer be available from week commencing 22nd August. Any funds currently in your Casino, Poker, Games and Bingo balances will be transferred to your Sports balance. Our Sports site will continue to work as normal. Please accept our apologies for any inconvenience this may cause."
TheAustralian.com.au has more.
Follow us on Twitter for up-to-the-minute news.