The Nightly Turbo: Will Full Tilt Recover, Reid and Kyl Unite, and More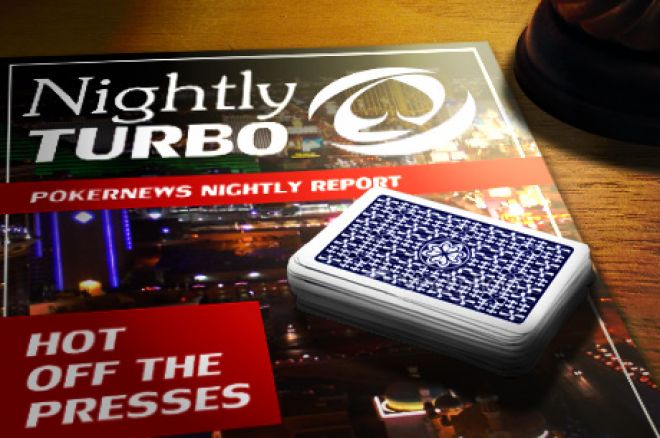 If you can't feel the excitement in the air as the 2011 World Series of Poker Main Event gets closer to its November Nine, you're either not following the coverage or you aren't at the Rio. One of those we can fix. Catch up on your Nightly Turbo news and then head over to the Live Reporting Blog for all the action. Today we'll take a look at the Full Tilt Poker situation, how Senators Reid and Kyl have joined forces, and more.
In Case You Missed It
If it's Monday, you can rest assured that we've got the results from some of the biggest online poker tournaments Sunday has to offer. If you want to find out who padded their bankroll with an extra hundred-thousand or so, check out the Sunday Briefing.
If you missed any of the action from the 47th day of the 2011 World Series of Poker, we've got you covered. Check out our daily WSOP recap to catch up on what happened.
We understand that last night you probably had to choose between a myriad of things to watch on TV. In case you missed the World Poker Tour on FSN, or your DVR forgot to do its job, check out our WPT recap, so you'll know what everyone's talking about.
The Full Tilt Poker Drama
Sure, you've been following the goings on in the Full Tilt Poker scandal for the last few months, but EGRMagazine.com has placed it all nicely in one article.
EGRMagazine.com takes a look at the suspension of Full Tilt Poker's license by the Alderney Gambling Control Commission, as well as the ARJEL suspension, and the class action lawsuit against the company as well. The article then touches on tweets from players, such as Tom Dwan, and also delves on the negotiations that involved Full Tilt Poker and a group of European investors.
What about the players? EGRMagazine.com also reports that other sites have seen increases in sign-ups and James Hollins, an analyst at Evolution Securities said, "The clear read across is positive for [Full Tilt's] competing operators that should be able to gain additional customer actives and share of wallet."
Hollins also stressed that, "The clear indication is that [Full Tilt] is facing major cashflow issues and, with zero cash income following its complete licensing base suspension, the situation may become terminal."
For more, head on over to EGRMagazine.com.
By Their Powers Combined...
Last week, U.S. Senators Harry Reid and Jon Kyl joined forces last week to write a letter to Attorney General Eric Holder. In the letter, it seems that Reid and Holder are attempting to grasp the Department of Justice's stance on Internet gambling.
"We respectfully request that you reiterate the Department's longstanding position that federal law prohibits gambling over the Internet, including intra-state gambling (e.g., lotteries). Conversely, if for some reason the Department is reconsidering its longstanding position, then we respectfully request that you consult with Congress before finalizing a new position that would open the floodgates to Internet gambling," they wrote.
They also requested stronger penalties for companies that violate the law and would like to work with the Department to "enhance its ability to fight Internet gambling."
It all sounds a little worrisome, but the Las Vegas Sun believes that this letter could be a "prelude to a web poker bill Kyl could live with."
LasVegasSun.com has more.
WPT Slovenia
The World Poker Tour is in Slovenia for its second stop of Season X. The €3,000 + €300 buy-in event kicked off on Sunday with Day 1a with 46 players. Dragan Galic, Casey Kastle, and Filippo Candio all made it out for Day 1a. Galic and Candio did not move on, but Kastle finished ninth in chips on Day 1a.
Day 1b attracted 95 entrants bringing the total number to 141. Tony G, John Eames, Toby Lewis, and Dominik Nitsche, were part of the Day 1b group and all made it on to Day 2. Nitsche finished the day on top of the counts and will take his chip lead into Day 3 as the overall chip leader.
A total of 84 players have moved on to Day 2 of the event. Play resumes at 1300 CET (0400 PDT) on Tuesday and you can follow all the action at WorldPokerTour.com.
Winner Winner
Six hundred and three players plunked down the £500 buy-in for the PokerStars UK & Ireland Poker Tour Brighton last week, breaking an attendance record and creating a prize pool of £292,455.
On Sunday, Chris O'Donnell was crowned champion of UKIPT Brighton and took home £71,000 for his efforts. He navigated a final table full of PokerStars qualifiers and took on Richard Hasancebi heads up.
Hasancebi took the chip lead from O'Donnell during heads-up play, but O'Donnell never relented and retook the lead. After three-and-a-half hours, the two players got all the chips in the middle for the last time. Hanacebi tabled
and it was no match for O'Donnell's
. The board rolled out
giving O'Donnell the win.
If you want more action from UKIPT Brighton, you can get it on the PokerStars Blog.
Game Strategy with Jared Tendler
Being of right mind is crucial when playing for $8.7 million. That's why some players call upon mindset coaches to get them focused. Lynn Gilmartin caught up with mindset guru Jared Tendler over the weekend to get some tips on staying focused.
Tendler, along with PokerNews' own Barry Carter, authored the recently released book, The Mental Game of Poker. In it, Tendler touches on tilt, fear, confidence, motivation, emotion and other matters. Carter helps put Tendler's more scientific approach into real-world examples. You can order the book at MentalGameofPoker.com.
Follow us on Twitter for up-to-the-minute news.