The Nightly Turbo: Poker Hall of Fame Nominations, SuperStar Showdown, and More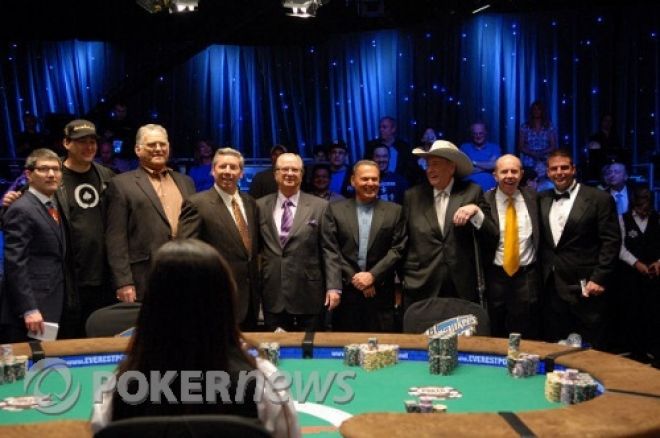 The long weekend is over, the fireworks have fizzled, and the hamburgers have been eaten. It's back to work for you, and it's back to work for us. Poker Hall of Fame nominations are now open and we'll tell you how to get in on that process, bring you the latest results from the PokerStars SuperStar Showdown, and more.
In Case You Missed It
If you missed the World Poker Tour coverage on FSN on Sunday, then you probably don't know who's at the final table of the Hollywood Poker Open. Read our WPT recap and get caught up for this week's episode.
A new event didn't kick off on Monday at the 2011 World Series of Poker, but that doesn't mean there wasn't plenty of action. Check out our daily WSOP recap for everything that happened.
Over the weekend Full Tilt Poker received more news regarding its operating licenses. Here are the statements from the AGCC and ARJEL.
We know what goes on during our day, but what goes on during WSOP tournament director Jack Effel's day? We decided to follow him around find out.
Nominate Away
Thanks to WSOP communications director Seth Palansky and the press release we received this morning, we can now tell you that the public nomination process is now open for the 2011 Poker Hall of Fame.
After the public nomination process ends, the list will be forwarded to the nominating committee that will review the submissions and make a list of eligible candidates for the 2011 HoF class. That list will be announced around Sept. 15 and will be voted on by the current members of the Poker Hall of Fame and selected media members.
Criteria for the Poker Hall of Fame
A player must have played poker against acknowledged top competition
Be a minimum of 40 years old at time of nomination [to be known as the "Chip Reese" rule, adopted in 2011, 20 years after Reese's induction at age 40]
Played for high stakes
Played consistently well, gaining the respect of peers
Stood the test of time
Or, for non-players, contributed to the overall growth and success of the game of poker, with indelible positive and lasting results
Any individual affiliated with poker can be nominated for consideration from now through August 14.
Find out more about the nominations and cast a vote yourself at WSOP.com.
Blom's Showdown
While many of us were battling the hamburger or hot dog dilemma on Sunday, Viktor "Isildur1" Blom was battling another opponent in the PokerStars SuperStar Showdown. Blom took on Terje "Terken89" Augdal from Norway. We could go on about the what happened during the match, but we like to keep things short and sweet around here. Plus the PokerStars Blog has it all.
Anyway, after 1,566 hands, Blom had dismantled his opponent and added another $150,000 to his tally.
SuperStar Showdown Breakdown
| Date | Opponent | Profit/Loss | Record |
| --- | --- | --- | --- |
| Dec. 19, 2010 | Isaac "philivey2694" Haxton | -$41,701 | 0-1 |
| Jan. 2, 2011 | Antanas "Tony G" Guoga | +$44,280 | 1-1 |
| Jan. 30, 2011 | Daniel "w00ki3z" Cates | +$51,196 | 2-1 |
| Feb. 13, 2011 | Eugene "MyRabbiFoo" Katchalov | +$111,750 | 3-1 |
| March 20, 2011 | Daniel "KidPoker" Negreanu | +$150,000 | 4-1 |
| March 27, 2011 | Daniel "KidPoker" Negreanu | -$26,500 | 4-2 |
| April 3, 2011 | Scott "urnotindangr" Palmer | -$5,425 | -- |
| April 10, 2011 | Scott "urnotindangr" Palmer | +$66,607 | 5-2 |
| June 19, 2011 | Rui "PepperoniF" Cao | +150,000 | 6-2 |
| July 3, 2011 | Terje "Terken89" Augdal | +150,000 | 7-2 |
| Total SuperStar Showdown Profit: | $650,207 | | |
If you want a more detailed breakdown of the match, head on over to the PokerStars Blog.
Online Poker Traffic Report
What effect did the shutdown of Full Tilt Poker last week have on the rest of the online sites? Thanks to PokerScout we can tell you. According to PokerScout, other online sites have launched promotions in an attempt to gain the displaced players and already "57 percent of the traffic lost by Full Tilt has already been absorbed by other sites."
Since the Full Tilt Poker shutdown, PokerStars, PartyPoker, and the iPoker Network each saw increases in traffic by 15 percent, 23 percent, and 13 percent respectively compared to the previous week. The Cake Poker Network has seen the biggest change in traffic since Full Tilt's shutdown, increasing 41 percent.
Online poker traffic has seen a decrease of 27 percent in the last year according to PokerScout's ACES indicator.
As for year-over-year numbers, the Merge Gaming Network, 888poker, and Bodog have seen increases of 113 percent, 107 percent, and 39 percent respectively. PokerStars has seen a 17 percent decrease year-over-year and the Cereus Network has fallen 95 percent.
Catch up on all the movers and shakers at PokerScout.com.
Rockefeller Endorses Regulation
A few days ago, Senator Jay Rockefeller (D-WV) issued his thoughts on 18 specific proposals that could trim $1.29 trillion from the deficit over 10 years.
"There's lots of talk about reducing the deficit and cutting spending, but we have seen very few specific ideas, especially when it comes to revenues," said Rockefeller. "The American people are willing to make some sacrifices to help secure a better future by reducing the deficit, but those who are already struggling cannot shoulder the bulk of that burden themselves and it's shameful to suggest otherwise. Big corporations and the very wealthy must start paying their fair share," he said.
What does this have to do with you and poker? One of his proposals is to "crack down on illegal Internet gambling."
"Establishing online gambling regulations will protect consumers, state's rights and state sovereignty, and eliminate a huge illegal market that today benefits only countries and companies overseas, saving an estimated $41.8 billion over ten years, and an estimated additional $30 billion for states. (federal estimate from the Joint Committee on Taxation, rough state estimate is based on most states mirroring federal taxes)," he wrote.
Find out what else Rockefeller had to say on his website.
Strategy with Kristy
Over the weekend, Sarah Grant caught up with our very own Kristy Arnett to discuss a hand she played recently in a cash game. She spoke about her thought process in the hand and even wants to get your thoughts, so check out the video below and let us know what you think.
Follow us on Twitter for up-to-the-minute news.