2011 PokerStars.com EPT Barcelona Day 5: Schleich Spoils Katchalov's Triple Crown Bid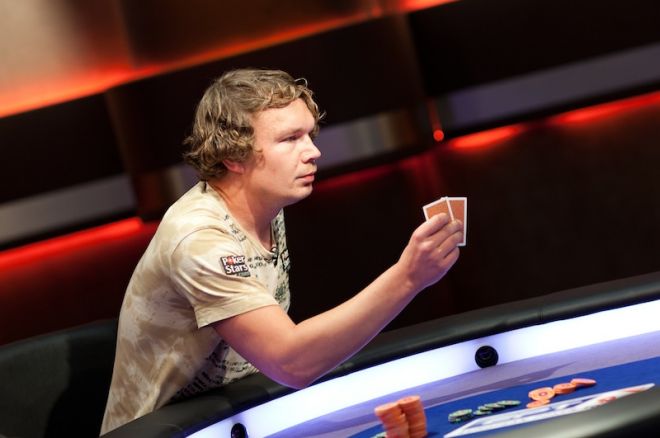 On Thursday, the eighth annual PokerStars.com European Poker Tour Barcelona came to a close after a week of action. From the record-setting field of 811 players, only eight were left inside the Gran Casino de Barcelona as they played it out for the trophy. The day was long, and it was nearly 3:30 a.m. before a champion was crowned. Starting about midway through Day 4, all eyes turned toward Team PokerStars Pro Eugene Katchalov as he inched ever closer to achieving poker's triple crown. In the end, though, Germany's Martin Schleich was crowned the newest EPT champion, adding €850,000 to his pockets and spoiling Katchalov's party in the process.
The EPT hasn't had a woman at an Main Event final table since Liv Boeree won San Remo in Season 6, but Isabel Baltazar showed up Thursday with a middling stack and a shot at becoming the fourth female EPT champion. Unfortunately for her, her run at history was put to an early end in eighth place (€73,000). It was a pretty tough spot as the lady found two more ladies in her pocket, looking down at
and calling a four-bet shove from Katchalov. She can't be faulted for going with queens, but Katchalov had found
, and a board full of blanks meant the field was reduced to the final seven.
Next to leave the table was one of the three Spaniards, Juan Manuel Perez. He was getting short on chips when he found a good spot to flip for a double up, his
a slight underdog against, his countryman, Tomeu Gomila's
. Gomila flopped a flush draw to steal two outs, and he rivered a set to secure the knockout. Perez walked away with the first six-figure payout (€105,000) for staving off elimination until seventh place.
When the six players retired for their dinner break, Katchalov was in the lead. And in one of the first hands back, Saar Wilf got himself in a spot of trouble against the big stack. Wilf opened the button, Katchalov shoved, and Wilf (the second-short stack by now) called all-in with
. Katchalov was a favorite with
, and the
board kept his pocket pair in front for the knockout. Wilf was gone in sixth place (€145,000), while the Ukrainian's chip lead continued to swell.
It was during the following level that things went awry for the two remaining Spaniards. Gomila was the start-of-day chip leader, but, as the pots became more meaningful, he had been chipped down to about half his starting count. Ace-king was plenty good enough for him to stick in the rest of his chips preflop, but he was unable to win a flip against Schleich's pocket queens. The
board was the end for Gomila, out in fifth place (€185,000). Just a few minutes later, Raul Mestre's
was straightened out by Katchalov's
to seal his exit in fourth place (€224,000).
It's probably about time to fill in some of the gaps in Katchalov's day, because it was certainly an entertaining one to watch. He only had 690,000 chips to begin the final table as the short stack, and he didn't waste any time taking his stand. During the first level, he doubled with
through Wilf's
, and moments later he knocked out Baltazar in eighth place. After a cooling-off period, he suddenly managed back-to-back doubles to shoot right back up to 5.5 million. A half hour later, he was the chip leader, and he claimed two more victims on his way to three-handed play.
That's where the tournament ground to a halt, though, and the trio passed the button around and stole each others' blinds for more than four hours. All three of them had their hands on the chip lead as one point or another, and Katchalov's momentum slowly evaporated. In his final pot, he three-bet shoved his 15 big blinds with
, and he ran his pair into Schleich's superior
. In the most dramatic moments of the day, the dealer dropped the
in the window, then the
right behind it to draw a loud, multi-phased reaction from the rest of the room. Katchalov's set could not catch up to his opponent's overset, and his run for the Triple Crown was quashed in third place (€315,000).
Schleich had about a two-to-one lead going into heads-up play, and it took him an hour to finish the deed. The last hand saw Schleich's
dominating Dragan Kostic's
, and the
board was the one that put the final punctuation on Schleich's title. It's noteworthy that it's the first time we've mentioned Kostic in this article, and he did indeed manage to pick his way quietly through the tough table with some skill. For his runner-up finish, he pocketed more than a half-million euros (€532,000).
But it's Martin Schleich who is getting the congratulations, cashing in fully on his first major final table. His paycheck shows €850,000, but money can't buy that EPT trophy he'll get to stick on his mantle. It's by far the largest cash in the 29-year-old's career, and he'll have the night in Barcelona to celebrate in style.
The EPT is already gearing up for the annual trip to London, and we're headed there with it from September 30 through October 6. In the meantime, follow us on Twitter to keep tabs on the rest of the tournament circuit.