The WSOP on ESPN: Rousso Eliminated by Bach on Day 4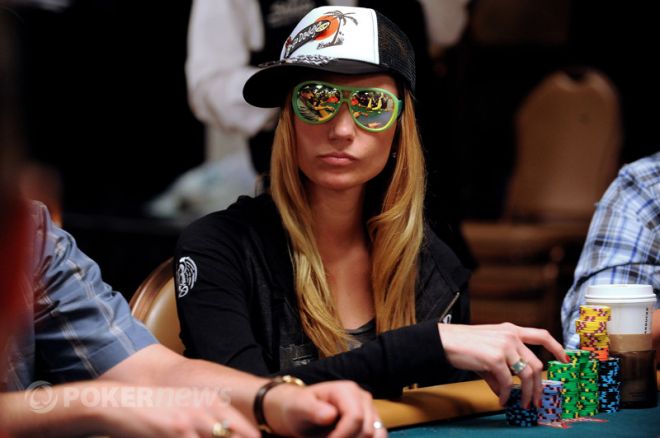 The 2011 World Series of Poker rolled on Tuesday night with two more episodes of the Main Event broadcast on ESPN. With six of 24 episodes already in the can, Main Event coverage continued on the march to the November Nine. Last week, the first half of Day 4 action was shown and resulted in the money bubble being burst. With 6,865 players entering this year's "Big One," creating a prize pool of $64,531,000, it meant only 693 players would get paid.
Continuing on in Day 4 were a number of notables including Erick Lindgren, Daniel Negreanu, Joseph Cheong, Ben Lamb, and chip leader Daryl Jace, who sat with a stack of 1,558,500. With 654 players remaining, here are the top chip counts:
Day 4 Top Chip Counts
| Place | Player | Chip Count |
| --- | --- | --- |
| 1st | Daryl Jace | 1,558,500 |
| 2nd | Stephane Albertini | 1,421,000 |
| 3rd | Sam Barnhart | 1,331,500 |
| 4th | Pius Heinz | 1,328,000 |
| 5th | Ben Lamb | 1,312,000 |
| 6th | Marc-Andre Ladouceur | 1,261,000 |
| 7th | Matthew Kay | 1,212,500 |
| 8th | Mazin Khoury | 1,198,500 |
Let's Get It On: On the outer tables, Jean-Robert Bellande was down to 13 big blinds and found himself all-in with
and up against Scott Shelley's
. Bellande may have only had a 39 percent chance of winning, but it was enough because the
flop delivered him two pair. Neither the
turn nor
river changed a thing, and Bellande doubled to 173,000.
Ladny vs. Barnhart: Eric Ladny opened for 14,000 holding
and received a call from Stuart Tuvey, who was holding
. Action then folded to Sam Barnhart in the small blind and he looked down at
and promptly put in the three-bet to 73,000. Ladny responded by moving all-in for 224,000, Tuvey folded, and Barnhart made the call. It was a classic race, one that saw Barnhart cross the finish line first as the board ran out
. Barnhart took down the half-million pot and became the new chip leader, while Ladny made his way to the exit.
Blind vs. Blind: Maxime Nault was in the small blind with
and improved to kings full on the
flop, which was far ahead of Erick Lindgren's
in the big blind. There were two big hands for this blind-vs-blind battle, and Nault had gotten lucky to take the lead and fired out 52,500. Lindgren hesitated a few moments before reluctantly folding his aces. The players rabbit-hunted the turn and river, with the latter bringing an ace!
Adios: The cameras didn't catch the bust-out hands, but it was revealed, after returning from a commercial break, that both Dennis Phillips and Robert Varkonyi had been eliminated. In addition, a stat was given, showing that 14 women started Day 4, with Amanda Musumeci leading the way.
Bach Hits Turn to Double Big Against Rousso: On the feature table, Joe Serock raised to 13,000 with
and received a call from Vanessa Rousso, who was holding
. David Bach was in the big blind with
and opted to come along for the ride. There was three-way action to the
flop, which was kind to all the players. Bach checked, Serock bet 25,000, Rousso raised to 50,000, and Bach check-raised all-in for 442,000.
Serock wisely folded his two pair, while Rousso talked it out, eventually making the call with her set. Bach was way behind with his open-ended straight draw and needed either an eight or king to take the lead. Wouldn't you know it, the
spiked on the turn to complete the straight. All hope was not lost since Rousso could still win on the river if the board paired, but it was not meant to be as the
rolled off.
Bach doubled to 960,000 while Rousso lost 62 percent of her stack, dropping to 274,000.
Bach Finishes the Job: After a commercial break, David Bach raised to 15,000 with
and Vanessa Rousso called from the big blind with
. The
gave Rousso top pair, but it was still far behind the pocket rockets of Bach. Rousso check-called a bet of 25,000 from her opponent, leading to the
turn. Again Rousso checked, Bach bet 55,000, and Rousso min-raised to 110,000. Bach asked for a count before moving all-in, and Rousso called off for 240,000 total. The
river was no help to Rousso, and she made an unexpected exit from the 2011 Main Event.
Nice Flop for Darcourt: After Sam Barnhart raised to 18,000 with
, Guillaume Darcourt defended from the big blind with
and was immediately rewarded with a straight on the
flop. After a Darcourt check, Barnhart fired out 30,000 only to have his opponent raise to 74,000. Barnhart responded with a reraise to 230,000, Darcourt popped it to 445,000, and Barnhart tank-folded. "Nah, if I had aces I'd call you in a second," Barnhart asked when Darcourt inquired if he had aces.
One for Negreanu: Returning from a commercial break, there was 162,000 in the pot and a board reading
as Benjamin Logan checked his
over to Daniel Negreanu who happily bet 37,000 with his
. Both players had eights and fives, but Negreanu's kicker was best. The
river improved "Kid Poker" to a flush, and he bet 48,000 after Logan had checked. His opponent made the call and watched as the 295,000 pot was pushed Negreanu's way. "I have more chips now than I've ever had," Negreanu said about his stack of 350,000. "For real."
Jack Link's Beef Jerky Wild Card Hand: "Titan" Tom Braband had the pleasure of having the title hand, and put in a raise to 17,000. The multiple-choice options for his mystery hand were: (A)
, (B)
, (C)
and (D)
. Norman Chad guessed that Braband held the small pocket pair. Regardless, only Duane Alexander called from the big blind, and the two were heads-up to the
flop.
Alexander, who held
, check-called a bet of 20,000, leading to the
turn. Alexander had hit his card, but settled on another check. Braband kept the pressure on with a 47,000 bet, which Alexander called. The
river saw Alexander check for a third time, and Braband responded by moving all-in for 198,000. Alexander thought for a minute before making the call, only to see Braband roll over
for a set. For once, Chad was right!
Negreanu Spikes a Queen: Freddy Deeb opened for 18,000 with
and received a call from Morten Mortensen holding
. Action folded to Daniel Negreanu who three-bet to 57,000 with
, which got Deeb to lay down his hand. Mortensen, who had slow played his mighty pair, sprung into action by moving all-in for 192,000, which Negreanu called. Mortensen was at risk, while Negreanu had most of his chips in the pot. As fate would have it, the
flop gave Negreanu a set and the lead. Neither the
turn nor
river helped Mortensen, and he made his way to the payout desk. Interestingly, Deeb pointed out that had he seen the flop, he would have moved all-in with the nut-flush draw.
With that, players bagged up their chips and Day 4 came to an end. Here's a look at the end-of-day chip counts:
End of Day 4 Chip Counts
| Place | Player | Chip Count |
| --- | --- | --- |
| 1st | Manoj Viswanathan | 2,115,000 |
| 2nd | Sam Barnhart | 1,925,000 |
| 3rd | Pius Heinz | 1,887,000 |
| 4th | Stephane Albertini | 1,867,000 |
| 5th | Daryl Jace | 1,849,000 |
| 6th | Lars Bonding | 1,813,000 |
| 7th | Kyle Johnson | 1,761,000 |
| 8th | Matthew Kay | 1,756,000 |
Tune in Next Week: Every Tuesday leading up to November, ESPN will air two episodes of the 2011 WSOP Main Event. Be sure to either check your local listings or come back next week for our recap of the action.
Don't forget to follow us on Twitter and like us on Facebook.