The WSOP on ESPN: The Scotty Nguyen Show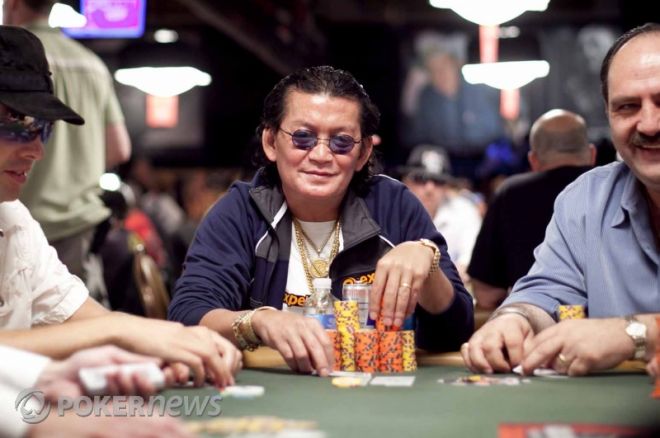 It took an entire week (four Day Ones, two Day Twos and one precious day off) to reduce the 7,319-strong field in the 2010 World Series of Poker Main Event to the 2,557 players who returned to play on Day 3. This was the first day the field fit in one room, and unfortunately, the last day of the WSOP for nearly half of the players who made it this far. Among the lucky ones? Vanessa Selbst, Sam Farha, Billy Kopp, all four Mizrachi brothers, Patrik Antonius, Phil Laak, and Scotty Nguyen, who took center stage on the main featured table for the entire two-hour block of coverage.
Cast of Characters: Joining Nguyen on the main featured table were David Sklansky, Adam Schoenfeld, and Deuces Cracked founder Chuck Danielsson while Jason Mercier had to contend with Ted Bort (aka the Barking Guy) on the secondary featured table. In addition to 1998 Main Event champion Nguyen, six former world champs made it to Day 3: Joe Cada (2009), Chris Moneymaker (2003), Dan Harrington (1995), Jim Bechtel (1993), Robert Varkonyi (2002) and Johnny Chan (1987, 1988).
Street fighting man: As he let out a string of barks after winning a pot, Jason Mercier finally asked Ted Bort the $64,000 question — what's up with the barking? Bort explained that he used to be a street fighter in Chicago and back then he used the tactic to intimidate his opponents. Now it's used purely for celebration purposes (and to draw in the TV cameras, methinks). Bort, however, was silenced midway through Day 3 when the floor "yellow carded" him for his antics.
Stab wounds: In Mercier's ESPN featurette, he talked about how his breakthrough moment in poker led to him fighting for his life. After winning the European Poker Tour San Remo in 2008, Mercier was stabbed in a bar fight and was rushed to the hospital with a shard from a beer bottle wedged in his back. If the wound been more than a few inches to either side, Mercier might not have survived the attack.
Notable eliminations: David Sklanksy's stint at the featured table was extremely short-lived. He got the rest of his chips in with
but could not improve against his opponent's
. Olympic gold medalist Petter Northug knocked out rocker Sully Erna with pocket kings against pocket queens. Prahlad Friedman shoved the river with two pair only to run into Luis Nargentino's flush, while Joe Cada lost a coinflip for all the bones, his ace-queen failing to improve against Bradley Libson's pocket tens. Heather Sue Mercer's pocket fives couldn't run down pocket kings, and poor poor Billy Kopp once again suffered a horrendous end to the Main Event. Although he turned aces full, his opponent had flopped quad eights.
Other Day 3 bustouts included Jennifer Harman, Robert Iler, Allyn Shulman, Erik Seidel, Chris Moneymaker, Daniel Negreanu and Jeff Sarwer.
The easiest $2 million he ever made: At the beginning of the WSOP, Mike Matusow bet Ted Forrest $2 million that he would not weigh less than 140 lbs. on July 15. With a rigorous diet and exercise plan and the assistance of several trainers, the 5'11" Forrest lost 50 lbs. in less than two months, weighing in onstage at the Rio at an emaciated 138 lbs.
Bluff me once, shame on you: Ronald Gandolfo opened for 2,800 from UTG with
, Nguyen three-bet to 7,000 with
from UTG+1, and with the action folded back around to him, Gandolfo put in a gutsy four-bet to 20,000.
"Dang, baby!" Nguyen said before open-folding. "If you bluffing that hand, I track you down!"
Gandolfo later tried the same move, four-bet shoving on Nguyen with
. This time, however, Scotty baby made the call with ace-jack, his hand holding up to send Gandolfo to the rail.
Quote of the week: "Who let the dogs out, baby?" – Scotty Nguyen in response to Ted Bort's barking.
Jobs Ted Bort has held: IT company executive, male stripper
PokerNews reporters spotted: Dave "F-Train" Behr and Donnie "Sunglasses" Peters
November Nine watch: This week, viewers caught their first glimpse of Fillippo Candio, who spent part of the day on the secondary featured table and played two of the session's most exciting hands.
In the first, David Williams (not that David Williams but another guy with the same moniker) came in for 2,000 with
, Candio raised to 5,700 with pocket sixes, Bill Melvin reraised to 15,000 with
, and Jason Mercier picked up
in the small blind. He bumped it up to 38,200, Williams folded, and Candio went for the gusto, shoving for 216,500. Melvin folded and Mercier removed his headphones, screwing up his face as he mucked his hand. Candio showed one of his sixes.
"Should have done what I usually do. Never fold," Mercier said.
Then, on one of the last hands of the night, Candio six-bet all-in with pocket kings and Jordan Cristos called with pocket aces. With nearly all his chips on the line, Candio spiked his two-outer on the river to make a set, win the 700,000 pot and send a stunned Cristos to the rail.
Schoenfeld can't smile: Adam Schoenfeld is typically a funny, chatty guy, but during his stint at the featured table on Day 3, he hardly cracked a smile. We're pretty sure it had nothing to do with a bad mood or a dislike of his opponents, but rather an ingrained aversion to bad beats at the Rio (Schoenfeld has only one career cash at the WSOP). When Schoenfeld picked up
and opened for 4,100, Chuck Danielsson looked down at
and three-bet to 6,600. Schoenfeld moved all-in for 41,500 and Danielsson called, his tournament life on the line. Schoenfeld remained stone-faced even when the flop came down
, making him middle set. The turn was the
, the river was the
, and Schoenfeld doubled to 100,000.
A man of many voices: Hank Azaria, who has lent his voice to dozens of characters on The Simpsons for the last 21 years, made it to Day 3 and treated his tablemates to a number of impromptu performances. In his interview with ESPN, Azaria said that of all his Simpsons characters, he thought Abu would be the worst player.
"He has 8 kids to support. He'd be scared money," Azaria said.
Who's in? Who's out?: James Carroll ended the day at the top of the leaderboard with 780,000 but Johnny Chan was hot on his heels with 650,000. All four Mizrachi brothers survived, as did Allen Cunningham, Barry Greenstein, and 2009 November Niner Eric Buchman.
The 2010 World Series of Poker Main Event airs Tuesday evenings on ESPN. Check your local listings.
Are you following us on Twitter yet? Well why not?