The WSOP on ESPN: World Champions, November Niners, and One Very Controversial Hand
Nicole Gordon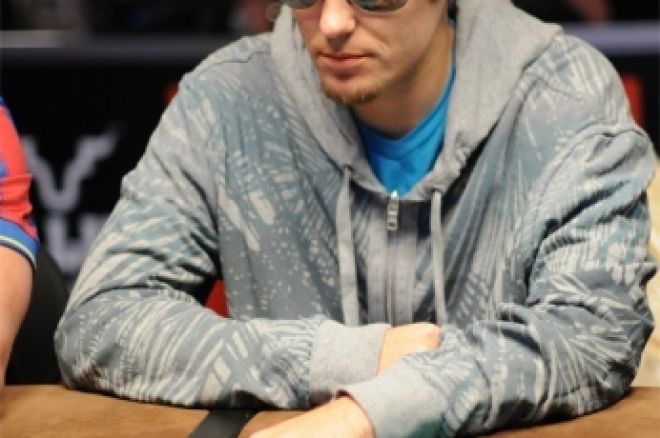 Day 2b of the 2010 World Series of Poker Main Event was nothing short of monstrous. A record 2,734 players survived Days 1b and 1d and were scattered across the Amazon and Pavilion rooms at the Rio Convention Center to continue their run at a WSOP bracelet. ESPN's two-hour block of coverage that aired Tuesday night featured former champions, Hollywood actors, and one of the most controversial hands of the tournament.
Cast of characters: At least three former Main Event Champions — Dan Harrington, Doyle Brunson, and Chris Ferguson — along with four members of the 2009 November Nine — Phil Ivey, Jeff Shulman, Darvin Moon and Eric Buchman were in the field. Harrington, Shulman, and later Josh Arieh landed on the main featured table, while Phil Laak, Eric Mizrachi, Donny Mizrachi, Barry Greenstein, Frank Kassela, Tom Schneider, Jason Alexander, Hank Azaria and The Sopranos' Robert Iler played on the outer tables.
Featured table fun facts: Shulman has made two WSOP Main Event final tables while Harrington has been there four times.
Not the summer of George: Jason Alexander was an early casualty on Day 2b when he ran his pocket jacks into pocket kings. Thuy Doan also exited in the first few levels after her pocket fives fell to pocket tens.
Ivey, Ivey, Uh-oh: With his #1 fans Mel and Pat Humphries watching from the rail, Phil Ivey was crippled when his
fell to
. Although Ivey turned a set, his opponent rivered a king to wrest away the pot. Ivey's stack was crippled and he was eliminated later that day.
The Barking Dude vs. the Vegan Rapper: Anyone who walked the floor during the Main Event that day no doubt heard a few barks (yes, like a dog, you read that right) coming from a red-capped gentleman called Ted Bort. Bort supposedly made the canine sounds to convey strength to his opponents, but we just found it exceptionally annoying. That day, Bort was involved in one of the most controversial hands of the Main Event, a massive pot against Malibu-dwelling vegan rapper Prahlad Friedman.
Here's how the action went down. Bort bet 10,000 on a
flop and Friedman called. The turn came the
and Bort fired another 25,000. Again, Friedman called. When the
hit the river, Bort bet 77,250, setting Friedman all-in. Friedman tanked for several minutes before Bort called the clock on him. A floor supervisor arrived at the table and counted down the last ten seconds Friedman had remaining to act on his hand. After the floorman said "one" but before he said "dead hand," Freidman announced a call. His hand, however was declared dead. Friedman didn't seem to mind, especially after Bort showed him
for top two pair. Friedman mucked his hand and several of his tablemates began a loud protest, including Mike Mustafa. Had Friedman's call stood, he would have been eliminated from the Main Event (he was holding an inferior two pair).
Lead Supervisor Charlie Ciresi was called in, but he reiterated the first ruling — that Friedman's hand was dead as soon as the floorman said "one." Commentator Norman Chad, however decided to stoke the flames of controversy, claiming that Friedman's call should have stood.
Not only can he rap, he can shoot the rock: Friedman not only survived that hand, but he demolished Steve Nash's free throw record. While Nash was able to shoot 21 free throws in 60 seconds, Freidman made 23 and captured it all on tape.
Moon shot: Darvin Moon made his last stand, moving all in with
on a
flop only to run in to pocket aces. Moon did not improve, the turn and river falling the
and the
, sending him back to his home the Maryland woods.
"At least the pressure's off, honey," he said as he walked out of the Amazon Room
PokerNews reporters spotted: Brett Collson, Greg Lewis, Alex Villegas, Adam "Snoopy" Goulding, and Ben Conoley.
VPIP-o-meter: The featured table VPIP-o-meter told us that Jeff Shulman played a relatively loose 30 percent of his hands while Dan Harrington was rocking it up with only a 21 percent VPIP.
Don't cross Dan Harrington, he will flop a set on you: Just when Tibor Hegedus thought he could exploit Harrington's nittiness, he ran into a monster hand. Hegedus raised to 1,400 with
, the button called with pocket fours and Harrington called with pocket nines in the big blind. Harrington hit top set on the
flop and checked over to Hegedus, who bet 3,200 with what Norman Chad would call "squadoosh." The button folded, Harrington raised, Hegedus shoved and Harrington made the call. Hegedus was drawing dead by the turn and was crippled while Harrington doubled to 73,600.
How to make that $8.9 million last a lifetime: Tax-free municipal bonds. Dan Harrington tried to convey this to some of his young tablemates, who were speculating that the first-place Main Event prize might last them "a few years."
Fashion offense of the week: We love Tom Schneider, but that gaudy blazer covered in images of playing cards simply must be lit on fire. I'm getting vertigo just thinking about it.
Laak's world record run: Describing his experience playing $10/$20 no-limit hold'em nonstop for 115 hours at Bellagio, Laak said, "It was so positively fulfilling to my life it's incredible."
Arieh annihilated: Arieh opened
for 2,000 and German pro Mark Tschirch called from the cutoff with
. Arieh bet 3,700 with middle pair on the
flop and Tschirch called with top pair. The turn was a blank with the
. Arieh fired out 6,200 and again Tschirch called. Arieh checked the
on the river and Tschirch bet 14,500. Arieh made a crying call and found himself down to only 16,000, losing more than 60 percent of his stack on the hand.
Although Arieh was able to double back up through Jeff Shulman, his stack was reduced to only 5,000 when he ran ace-ten into ace-jack. Joe Hanna finished him off a few hands later when his pocket queens held up against Arieh's
.
Notable eliminations: Chris Ferguson was KO'd when his
did not improve against Brian Kaverman's
. Doyle Brunson moved all-in on a
flop holding pocket sevens, but was called by pocket jacks. The entire room paused for an ovation as Texas Dolly made his exit. Tom Schneider was eliminated in similar fashion, moving in with pocket sevens on a
flop. Schneider could not improve against his opponent's pocket aces and hit the rail.
That's a lot of books: Barry Greenstein estimates he's given away between 200 and 300 copies of "Ace on the River" to players who have busted him out of tournaments over the last few years.
See you on Phish tour, Happy: Jeff "Happy" Shulman raised to 2,200 from UTG with
, the button called with
and Mark Tschirch reraised to 7,200 from the small blind with
. Shulman shoved and Tschirch called. Shulman could not improve on the
board and exited the featured table, his hopes for back-to-back November Nine appearances dashed.
Bellande survives: Danny Bowling four-bet all-in with
and Jean-Robert Bellande called with
. The 100,000 chip coinflip landed on Bellande's side, the board running out
, to double him up to a healthy 102,000.
Who's in, who's out?: The Real World's Trishelle Cannatella, and 2 Months 2 Million star Brian Roberts won't be getting any more camera time, but Phil Laak, Jean-Robert Bellande, and "barking man" Ted Bort will. Eric and Donny Mizrachi also advanced to Day 3 and will join their bracelet-winning brothers Robert and Michael who made it through the Day 2A field.
The 2010 World Series of Poker airs Tuesday nights on ESPN. Check your local listings.
Are you following us on Twitter yet? Well why not ?
PokerStars have once again announced an exclusive $10,000 Sunday Million Freeroll for Club PokerNews members in October. This is the fourth month in a row our players have benefited from a 10k satellite freeroll to some of the biggest online tournaments in the world.