WCOOP Day 14: Steve "gboro780" Gross Wins His First WCOOP Bracelet

Brett Collson

Mickey Doft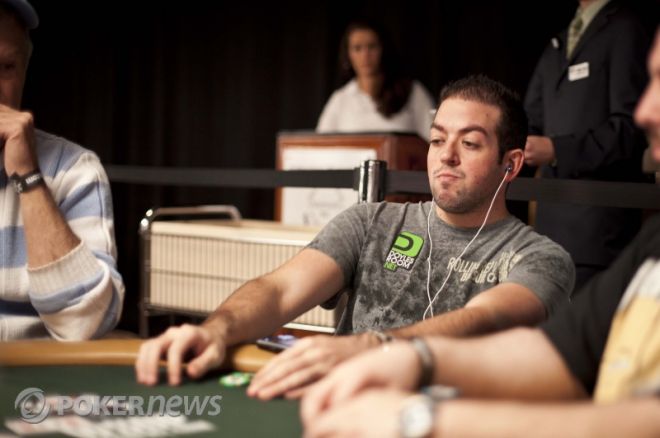 Only one bracelet was awarded on Day 14 of the 2011 PokerStars World Championship of Online Poker, but it went to one of online poker's all-time greats. Steve "gboro780" Gross added yet another notch to his belt by winning his first WCOOP title in the $300 HORSE event. It was the New Jersey native's third tournament win on PokerStars since moving to Canada earlier this month to resume his poker career.
PokerStars WCOOP 38 - $500 No-Limit Hold'em Heads-Up Two-Day ($350K Guaranteed)
| Buy-in | Entrants | Prize Pool |
| --- | --- | --- |
| $500+$30 | 765 | $382,500 |
The second heads-up tournament of the 2011 WCOOP attracted 765 players and generated a prize pool of $382,500. After five rounds of play on Saturday, the field was trimmed to 32, and several top pros have their eyes set on the first-place prize of $95,625.
Among those who survived Day 1 were Grayson "gray31" Ramage, Andras "probirs" Nemeth, Torsten "jetkiss" Brinkmann, and Team PokerStars pro Chad "ChadBrownPRO" Brown, who is looking for his first final table of the 2011 WCOOP after bubbling Event #33.
The most intriguing matchup of Round 6 pits Evan "PURPLE"K"99" Parkes against Elio "smokrokflok" Fox. Both players have more than $2 million in online earnings (Parkes has over $3.5 million) but have yet to capture WCOOP glory.
Play resumed at 1000 EST (1500BST) on Sunday and will conclude when the heads-up champion is crowned.
PokerStars WCOOP 39 - $300 HORSE ($125K Guaranteed)
| Buy-in | Entrants | Prize Pool |
| --- | --- | --- |
| $300+$20 | 591 | $177,300 |
Entering the final table with the chip lead in Event #9, the $300 HORSE, was Steve "gboro780" Gross. Short stacked for a good while with two and three tables remaining, Gross battled back and went on a serious heater to gain steam and lead the way. Here were the chip counts to start:
| Seat | Player | Chips |
| --- | --- | --- |
| 1 | bisbiki78 | 531,552 |
| 2 | playitsafe | 539,768 |
| 3 | Alex "joiso" Kostritsyn | 395,756 |
| 4 | Kyle "KJulius10" Julius | 215,512 |
| 5 | CACAFOGO | 212,844 |
| 6 | ViTaMin_F22 | 153,135 |
| 7 | Steve "gboro780" Gross | 647,094 |
| 8 | Kaas81 | 259,339 |
The first exits came in the form of a double elimination. The hands of the three players involved were as follows:
"Kaas81:"
/
/

"playitsafe:"
/
/

"CACAFOGO:"
/
/
After each went three bets on third street, "Kaas81" was all-in on fourth street with a wheel draw. "CACAFOGO" also held a wheel draw, while "playitsafe" hit an ugly
on fourth street. Still, that didn't deter "playitsafe" from moving forward with the hand, spiking a
on fifth street. At this point, "Kaas81" made an 8-5 low, but failed to improve from there. "CACAFOGO", meanwhile, got it all-in on sixth street, but was only able to make a 10-5 low. That left the door open for "playitsafe" who made a 7-6 low on seventh street to not only knock both players out, but also to claim the chip lead.
Kyle "KJulius10" Julius exited two games later in stud hi/lo. Short stacked, Julius committed the last of his chips with
/
against "ViTaMin_F22's"
/
. Julius caught a mediocre
on sixth street and the
on seventh street to make just a pair of sevens with no low. "ViTaMin_F22," meanwhile, made a low on sixth with the
and caught a straight on seventh with the
to secure the entire pot and eliminate Julius in sixth place. Departing next in Omaha hi/lo was "bisbiki78." After an
flop, "bisbiki78" was all-in with
against Steve Gross'
. The
turn was great for Gross and gave him many more outs to a straights and a flush. He got there when the
hit the river to take down the pot.
Alex "joiso" Kostritsyn busted during the stud round, also against Steve Gross. Kostritsyn committed his stack with
/
against the
/
of Gross. On fifth street, Gross improved to trips but Kostritsyn wasn't able to improve his hand past ace-high and hit the rail in fourth place.
Out of the remaining three, "playitsafe" failed to make it to heads-up play. In Omaha hi/lo, "playitsafe" defended a button-raise by "ViTaMin_F22" from the big blind. The flop came down
and "playitsafe" put in a check-raise, that was called. The rest of the chips went into the middle when the
hit the turn and "playitsafe" showed
for a flopped full house. However, "ViTaMin_F22" turned aces full with
and added insult to injury by hitting the
on the river for quads.
The chip counts at the start of heads up play were as follows:
Steve "gboro780" Gross: 1,628,370
"ViTaMin_F22:" 1,326,630
Gross made quick work of "ViTaMin_F22." He needed only seven hands to lock up his first WCOOP bracelet. The final hand came in razz, and here is how their respective hands looked at deal's end.
Steve "gboro780" Gross:
/
/

"ViTaMin_F22:"
/
/
Gross' third-street completion and fourth-street bet were called by "ViTaMin_F22." When fifth street fell, Gross bet once again, but this time his opponent raised. Gross called and the rest of his opponent's chips went into the pot on sixth street. "ViTaMin_F22" improved to an 8-5 low, but Gross' wheel draw made the next best thing for his hand, a winning 6-5 low. For his impressive performance, Steve "gboro780" Gross pocketed $33,332.52 and won his first WCOOP gold bracelet.
| Place | Player | Prize |
| --- | --- | --- |
| 1 | Steve "gboro780" Gross | $33,332.52 |
| 2 | ViTaMin_F22 | $24,378.75 |
| 3 | playitsafe | $17,907.30 |
| 4 | Alex "joiso" Kostritsyn | $13,297.50 |
| 5 | bisbiki78 | $8,865 |
| 6 | Kyle "KJulius10" Julius | $6,205.50 |
| 7 | CACAFOGO | $3,989.60 |
| 8 | Kaas81 | $2,659.50 |
Notable Finishes: Pius "MastaP89" Heinz (23rd - $1,418.40), Jon "LUFCBas" Spinks (24th - $1,418.40)
We will be providing in-depth daily recaps of all WCOOP final tables, so be sure to keep it here at PokerNews to stay up to date on all of the exciting action as it occurs.
For news, updates, and more, follow PokerNews on Twitter and Facebook.