Catching Up with the Ring Leader: Mark "Pegasus" Smith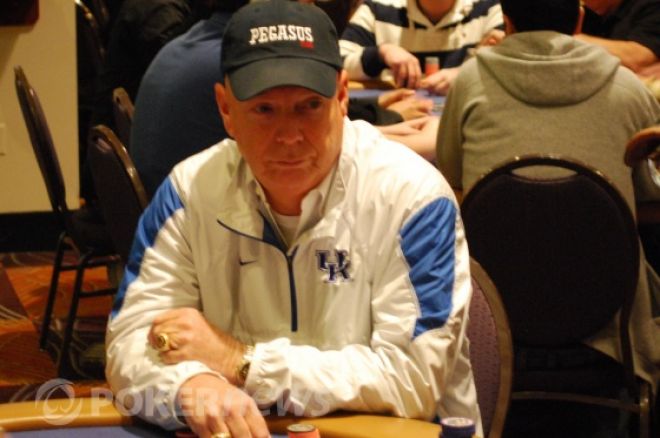 The World Series of Poker Circuit Hammond kicked of its Main Event this weekend with an impressive turnout that blew last year's field of 872 out of the water. One man who was in that field was Mark Smith, who recently became the all-time WSOP Circuit ring leader at the Southern Indiana stop six weeks ago. For those who may not be familiar with the man known as "Pegasus," you may want to familiarize yourself, because he is a force to be reckoned with on the WSOP Circuit.
Smith, a tournament regular for the past five years, has amassed four WSOP Circuit rings from 2006 to 2009. That tied him with Men "The Master" Nguyen and Chris Reslock for the most rings in history, but that all changed on Sept. 30, 2011, when Smith final tabled a $345 ring event at the Horseshoe in Southern Indiana:
Final Table Chip Counts
| Seat | Player | Chip Counts |
| --- | --- | --- |
| 1 | Danny Sweeney | 119,000 |
| 2 | David Mendez | 78,000 |
| 3 | Christian Schumacher | 470,000 |
| 4 | James Gordon | 103,000 |
| 5 | Mark "Pegasus" Smith | 300,000 |
| 6 | Matt Campbell | 476,000 |
| 7 | Matt Ashlock | 470,000 |
| 8 | Robert Castoire | 226,000 |
| 9 | Steve Kats | 593,000 |
Smith began the final table fifth in chips and was on the verge of elimination on more than one occasion. In one hand, Smith moved all-in on a board reading
and received a call from chip leader Steve Kats. Smith tabled
for a flush, Kat mucked, and Pegasus doubled to over 500,000.
Likewise, Smith found himself racing for his tournament life in the middle stages of the final table with
against the
of Matthew Ashlock, who held an overwhelming chip lead. Ashlock ended that hand with trips, but it was bested by Smith's flush.
Ashlock ended up busting in fourth place, leaving Smith with a commanding chip stack, one he used to strike a deal with the remaining two players. After negotiating a chop, the three players played it out on the live WSOP stream and thousands of viewers watched Smith play his way to victory, claiming his fifth ring and the accompanying $19,441 first-place prize in the process; not only that, he also claimed the "Casino Champion" title, which earned him a coveted spot in this year's National Championship.
Smith's WSOP Circuit Rings
| Season | Location | Event | Prize |
| --- | --- | --- | --- |
| 2006/2007 | Grand Casino Tunica | $5,000 No-Limit Hold'em Championship | $306,003 |
| 2007/2008 | Caesars Indiana | $500 No-Limit Hold'em w/ Rebuys | $36,244 |
| 2009/2010 | Horseshoe Southern Indiana | $345 No-Limit Hold'em | $10,088 |
| 2009/2010 | Harrah's Atlantic City | $340 No-Limit Hold'em | $34,642 |
| 2011/2012 | Horseshoe Southern Indiana | $345 No-Limit Hold'em | $19,441 |
Smith's nickname, "Pegasus," is the result of his work in professional horse racing and breeding, and it couldn't be more fitting as he has been flying high on the WSOP Circuit. We caught up with Pegasus during a quick break at the Hammond Main Event to discuss his record-breaking win, his plans for the future, and his love for the Circuit.
How did it feel to win your record-breaking fifth WSOP Circuit ring?
Almost indescribable. It's a validation of a lot of play and a lot of effort. Some good fortune.
How much time has passed between this most recent win and your last?
I was overdue in my mind. I won my third in November of '09, and my fourth in December of '09. Did win one in '10, and I took a couple of months off after the Series this summer, and was fresh when I went to Southern Indiana and just had a wonderful series. Won the "Casino Championship." Played four tournaments, made three final tables, a first, a third, and a fifth in the Main.
The third-place finish came in the event right after your big win, how did it feel coming so close to your sixth ring?
I played great, got down, I was card dead probably for the last four hours. Got extremely low in chips, looked down and saw an ace, and went all-in. I wound up with
and
called, flop ten-ten-rag.
We seem to see you on the Circuit quite a bit, do you go to every stop?
No sir. I'm really proud about the small amount I play. I probably play 25 percent of the Circuit, I don't make every stop. I still like to sleep in my bed and drink my coffee, watch my TV, and have a real life outside of poker.
Did you qualify for the National Championship last year?
I did not and it was very disappointing personally. I bubbled it with 100 points. Two people with 100 points got in, but they had greater earnings than I did.
So how do you feel about already locking up your spot this year?
I think the Lord rewarded me. He knows I tried hard last year, I just barely missed it, so he took care of it this year.
Do you have aspirations to add a bracelet to your ring collection?
I'm hoping next summer will be my summer out there. I have five cashes at the World Series, but none real deep. I think 43rd is the deepest I've gone. I'm looking forward to putting together a good series this year.
When you won your fifth gold ring, you had made a three-handed deal. Do you think that winning a ring when a deal is involved still means a lot?
Well sure. You put yourself in the position, and with a deal you still play for the ring. You may chop the money, but you play for the ring. It is what it is, you take care of business first. I've made 16, 17 final tables, and I think that should be validation, that I put myself in a position to win everything that's come my way.
As someone with a ton of experience on the WSOP Circuit, how do you feel about the direction it has taken is recent years?
I think it's tremendous. I think they made the changes last year, they added the Regionals. There were a lot of people who ground it out and did not make it, whereas at four Regionals they gave away 36 seats [to the National Championship] to everyone who made the final tables. They may have been lucky in one tournament, and got a seat in the National Championship. I think when they looked at that and redid it this year, it was for the best. Jack [Effel] does a tremendous job, Nolan [Dalla] does a tremendous job, Alan Fowler, all the people at the World Series are to be congratulated.
Where can we expected you next on the Circuit?
I'm going to skip the IP and go to Tahoe, and then that will probably be my last stop for the calendar year. I'll start again in January.
Stay up to date on all the latest news by following us on Twitter and liking us on Facebook.