Celebrate the Gold Rush this Halloween at Unibet Poker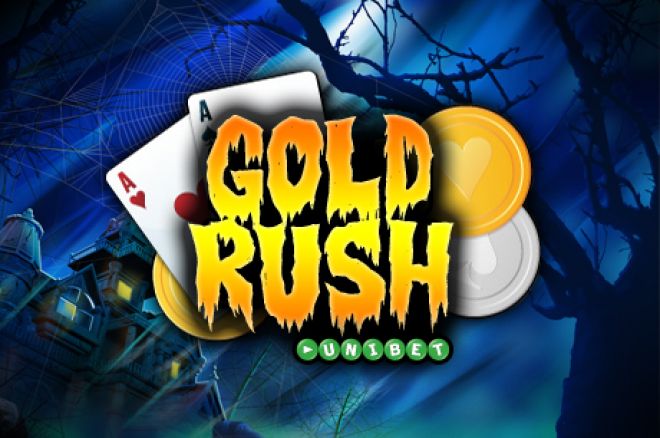 Download Unibet Poker and start hitting the tables during the Gold Rush Halloween Special in October to earn cash back, just for playing!
Halloween may be just around the corner, but there is nothing scary about winning free cash at Unibet Poker.
The Gold Rush Halloween Special is simple. Players will be rewarded for earning a minimum amount of daily target points for playing poker over a set number of days in October. To make this even simpler, players are rewarded for merely playing.
Of course, if you hit the poker tables more often than other players, you should be rewarded for doing so. Unibet Poker has acknowledged this by setting up a reward system where players are awarded cash prizes and freeroll seats depending on how many VIP points are earned and over how many days.
This means that players who earn a higher the number of VIP points per day over more days will be awarded accordingly. For example, the lowest reward during the October Gold Rush Halloween Special will see players who earn a minimum of 35 VIP points a day over five days receive entry into a Unibet €2K freeroll. Players who earn a modest 350 VIP points a day over 10 days of play will receive an instant €25 bonus. Can't get enough poker? Manage to earn 8,400 VIP points per day for 25 days and an instant €3,000 bonus will be credited to your account.
See below for an example of all the prizes on offer, compared to the volume of play you will have to put in to receive a certain bonus.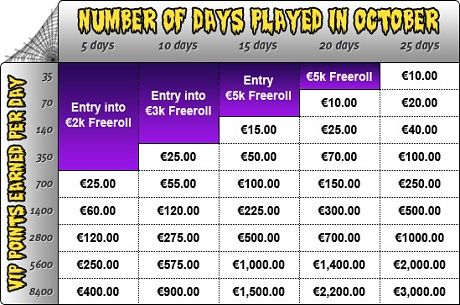 In addition to the prizes described above, Unibet Poker is also offering an exclusive invite to the €2,000 Halloween Special freeroll tournament to any player who registers for the Gold Rush Halloween Special. The freeroll takes place at 1800 CET on Oct. 31, and to register players simply need to have a Unibet Poker account and opt-in at Unibet.
If you don't have an account yet, how does a €1,000 bonus, no matter what you deposit, sound? Join Unibet Poker through PokerNews to get an exclusive €1,000 bonus regardless of the size of your deposit. You will also be eligible for any future PokerNews exclusive promotions with Unibet Poker. For more information visit our Unibet €1,000 Bonus Info Page.