World Series of Poker Circuit Hammond Main Event Day 1a: Bianchi, Luce, & Crain Thrive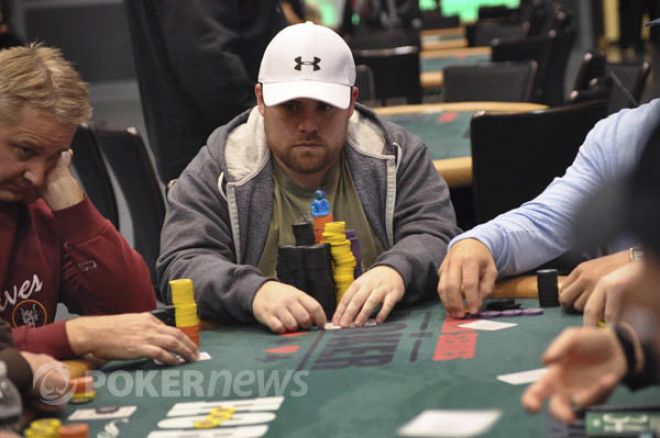 Day 1a of the World Series of Poker Hammond Main Event saw 912 entrants pony up the $1,600 entry fee. The Day 1a field eclipsed the 872 entrants that entered the 2010 event, and there is still Day 1b to account for; needless to say, it is going to be a huge field with an attractive prize pool. After 15 levels of play, Paul Bianchi ended the day as the chipleader with 358,500 after making a charge late in the evening. Joining him atop the counts are Tom Luce with 263,500 and Eric Crain with 251,500.
Other notables still alive include Chad Brown (87,000), Dwyte Pilgrim (137,000), Josh Brikis (147,500), Mohsin Charania (51,800) and Kenny Nguyen (125,000).
The starting field also boasted notables Kathy Liebert, Steve Brecher, Allen Kessler, 2010 WSOP Hammond Main Event winner Kurt Jewell, Faraz Jaka, Kevin Saul, Aaron Massey, Mark "Pegasus" Smith and Mark "P0kerH0" Kroon, all of whom did not survive the day.
With only 20 minutes remaining in the day, a hand unfolded that all the players at the table agreed might be the sickest hand they've seen. Pavlin Karakikov opened from early position and thought everyone folded and exposed pocket jacks to the table; however, Voytek Glab was in the big blind and made the call. The flop came K♥ Q♦ 4♥ and Glab bet 6,000. Karakikov called and the turn brought the A♠. Glab then moved all-in for 44,600. Facing three over cards to his jacks and an all-in, Karakikov tanked, eventually making the call. Glab tabled pocket fives and was dead to rights from Karakikov's hero call, but the river was a cruel 5♥ sending the pot to Glab. To make matters worse, Karakikov was given an orbit penalty for exposing his hand.
The early part of the day saw Kenny Nguyen soar to the chip lead, at one point having 130,000 — a full 80,000 more than the next closest stack. But Nguyen's wild style caught up with him and he was on an average stack shortly after dinner. Meanwhile, Dwyte Pilgrim was easy to locate in a tournament field with his loud, identifiable laugh and spent a good amount of time at the table with the equally boisterous Tim Vance. The pair squared off plenty of times with Vance getting the better of Pilgrim, although Vance was the one who wouldn't return for Day 2.
We expected to see Dennis Phillips in the field after winning his first WSOP Circuit ring Thursday night, but he fell ill. Phillips' appendix burst late last night shortly after winning and was rushed to the hospital for emergency surgery. We have been told he is stable and is expected to make a full recovery.
We should also note that any player who busted during Day 1a is allowed to re-enter into Day 1b. We expect to see many of the notables who busted on Day 1a with a fresh stack of chips at the start of play on Day 1b. After another 15 levels, both fields will combine on Sunday for Day 2 with the goal of playing down to a final table.
Follow all the Day 1b action in our Live Reporting Section when the cards hit the air at 1200 CDT (1700 GMT).
Stay up to date on all the latest news by following us on Twitter and liking us on Facebook.