2011 World Series of Poker: A Sit-Down with WSOP Champion Pius Heinz Part 1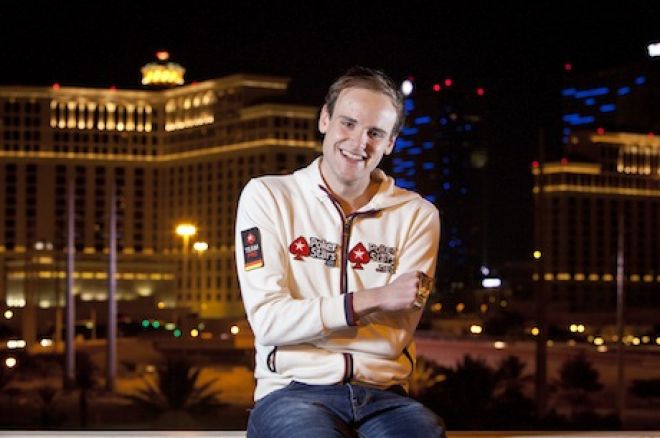 On Tuesday night, the newest member of Team PokerStars Pro, Pius Heinz, had his name ringing aloud in the confines of the Penn & Teller Theater at the Rio All-Suite Hotel & Casino after he shipped the World Series of Poker Main Event and $8,715,638. We all know winners like to party, but Heinz was right back to work the following day answering the many of questions from the media. PokerNews was able to sit down with Heinz to discuss his run to glory. Here's Part 1 of the interview.
Pius, first off, have you slept yet?
Ah. [Laughs]. I did sleep, three hours, about.
Well that seems good enough. First off, let's discuss the hiatus between July and November. We know you won a side event at EPT Barcelona. Could you talk us through how you felt the hiatus went, if you played a lot of poker and how you were preparing?
Yeah. For the most part, I just tried to relax and not think about it too much. I went to Barcelona and had a bit of fun there. I won a side event, which is always nice, and it's always good for your confidence to win an event.
Other than that, I honestly didn't do too much to prepare. I did a couple coaching sessions with Mike McDonald ["Timex"], who basically helped me about the ICM part of the game and the math aspect at a huge final table like that. But this is almost all I did when it came to strategy because I was so confident in my game and knew I could play really, really well and really good poker. I just thought that I was going to keep doing what I've been doing and it worked out.
It took you a little bit to finally win a hand on Sunday. Were you getting nervous or worried at all about things not going your way at the beginning?
I didn't get nervous. I just got frustrated because I never made a hand, basically. I rarely had a hand. I did have aces two times, but other than that, I never made a hand. Especially post flop, I just could not flop top pair — ever.
And Martin [Staszko], I think, flopped good hands a lot of the time. So this was really, really tough for me. I just tried to not worry about it and play my game; play as well as I can and hope the cards eventually go my way.
Were you surprised at the pace of the final table or was it something you expected?
Yeah, kind of. It went reasonably fast. Once we got to 400K/800K, we had, I think, four or five stacks that were 20 big [blinds] or less. So then it's almost like a turbo at this point. So then you're going to expect people to bust really fast because people are going to have to start open-jamming and all these things. Overall, it went pretty quick. Especially three-handed play obviously went really, really quickly.
Did you use the 15-minute delay at all during the final table? Were your friends watching it and relaying you information?
Yeah, yeah they did.
What are some big moments that stick out in your mind? 
On Sunday, definitely the queens hand against Eoghan [O'Dea] where he put me in a really tough spot, I thought. I've read some about people giving their opinions on the hand, and I think that everybody's basically dead wrong about it because I don't think queens is an easy get in there. If you think about what his value range is, I'm crushed by that. It's not a spot where you usually expect a player to barrel you a lot because my hand kind of looks face up and a lot of people don't ever expect you to ever fold a hand like two queens there.
When you moved in with those two queens, did you expect him to call?
No. [Pauses] Well, I was hoping he would not call. Let's just say I just cannot call the turn, and evaluate the river. That's just not an option at this point because there's way too much money in there. But yeah, I know that if he were to say 'call' immediately I would be crushed, so I was really happy when he did not snap-call.
Has everything sunk in yet?
[Laughs] No.
Not only are you are the first player from Germany to win the WSOP Main Event, you were the first player from Germany to make the Main Event final table. What was the reaction of your country leading up to the final table?
People were definitely interested in me. I had a lot of media requests, interview requests and all of that. I think now that I won, people are just going crazy over there. I've heard from friends who are getting called up by the media wanting to talk about me and all of that, so I think it's going to be crazy.
Do you think this could ignite a poker boom in Germany?
I think the chance that this is going to start a poker boom in Germany is pretty good.
Winning the WSOP Main Event, you obviously have big shoes to fill by taking the title and becoming poker's ambassador. Last year, Jonathan Duhamel, who is a fellow Team Pro at PokerStars, did a great job with all of that. How do you think you're going to be able to handle everything?
I'm just going to wait and see how it goes. This is all really new for me. I'm not used to that. It's definitely going to take me a while to get used to everything. I'm just going to try to represent poker and PokerStars, who I'm really proud to be part of the team, as well as I can, and just be a great ambassador for poker for the most part.
Speaking of PokerStars, before the final table you signed as a Team Pro for Germany and you joined the likes of fellow Team Pros Chris Moneymaker, Joe Hachem, Joe Cada and Jonathan Duhamel as recent WSOP Main Event champions. Also, Daniel Negreanu and Barry Greenstein. How does it feel to be in this sort of company?
I'm really honored to be part of PokerStars, of the PokerStars team. I just think PokerStars is the best company in the industry by far, the most reliable, the most safe, the best people working there. I'm really, really happy to be working with the best.
What are you most looking forward to for the future? What are your plans?
Honestly, the thing I'm looking forward to the most right now is just going to EPT Prague and playing poker again. Also, not doing too much media as I consider myself a poker player and not a famous guy or anything. I'm just looking forward to playing again, basically.
The big question on everyone's mind is how you're going to reward yourself with the money.
I don't know yet. I haven't made too many plans about it because leading up to the event, I didn't want to think about it too much, because I didn't even know how much I was going to win anyways.
It's better not to get ahead of yourself.
Yeah, just tried not to worry about it. I don't know yet, especially for my family. They have a couple wishes where I can maybe help with some, so this is something I'm definitely going to do. For myself, I'm honestly not sure yet. I'm definitely not going to buy something ridiculous.
Do you plan on playing bigger buy-in tournaments like the $100,000 and $250,000 events around the world? Are those up your alley at all or are you going to stick to the $10,000 ones?
I don't know yet. I think $10Ks seem about right for now. I mean $250K on one tournament is just pretty sick.
Don't forget to follow us on Twitter and like us on Facebook.