The Nightly Turbo: Updated November Nine Odds, Black Friday Bank Shut Down, and More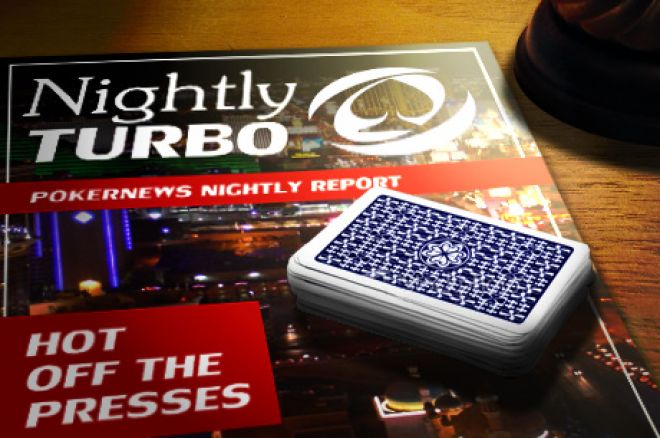 The four-month wait is officially over. The 2011 World Series of Poker Main Event Final Table began Sunday in front of a raucous crowd at the Penn &Teller Theater in Las Vegas. Pius Heinz, Ben Lamb and Martin Staszko were the three players to survive the day, and they'll battle for poker's ultimate prize on Tuesday night. In this edition of the Nightly Turbo, we bring you the updated odds for the WSOP Main Event, a Black Friday bank being shut down by U.S. regulators, and more.
In Case You Missed It
Nearly 7,000 players began, and only three are left vying for the $8.7 million top prize at the WSOP Main Event. PokerNews was reporting live from the Rio on Sunday to bring all the updates from the game's biggest spectacle.
Which player won his second PokerStars Sunday Million in the past four months? Find out in the Sunday Briefing.
How did Team PokerStars Pro member Bertrand "Elky" Grospellier get his start in poker? Find out in the latest edition of the "Seat Open with" series.
The 2011 World Poker Tour Amneville concluded on Sunday after five days of play. Get all the details from the final table in our daily recap.
Only 12 players survived through Day 2 of the World Series of Poker Circuit IP Biloxi Main Event on Sunday. Jeremy Drewery was in the pole position for the top prize of $112,779.
Who's Your Bet?
Only three players remain at the World Series of Poker Main Event, and Matchbook.com has re-opened its betting market for those looking to wager on the champion.
Pius Heinz, Ben Lamb and Martin Staszko will return to the Penn & Teller Theater Tuesday evening to duke it out for the $8.7 million top prize and the coveted WSOP bracelet. Heinz enters the final day with the chip lead, sitting behind 107.8 million chips. Lamb is second with 55.4 million, and Staszko has 42.7 million. Here's a look at the odds on the three players as of Monday morning:
Pius Heinz: 21/20
Ben Lamb: 4/1
Martin Staszko: 12/5
"Our in-play WSOP final table market has proved phenomenally popular and we're not done yet! There's still plenty of action to be had as Lamb and Staszko try to overhaul Heinz' commanding lead," said Matchbook.com spokesperson Andrew Pantling.
Find out more about Matchbook's odds at Yahoo.com.
U.S. Regulators Close Black Friday Bank
A bank tied to the seizure of the three major online poker sites in April was shut down by Utah regulators on Friday, according to multiple reports. SunFirst Bank, whose co-owner, John Campos, was one of the 11 men indicted by the Department of Justice on Black Friday, was reopened under new ownership as Cache Valley Bank.
Campos, 57, was named in six of the nine counts in the April 15 indictment, which said that SunFirst Bank processed payments for PokerStars and Full Tilt Poker. Campos was arrested on April 19 and released on $25,000 bail. He pleaded not guilty to the charges and filed a motion to dismiss the civil complaint last month.
Campos allegedly agreed to process the online poker transactions in return for a $20,000 bonus and a $10 million investment in the bank, according to the U.S. Attorney's Office. The money was purportedly offered to him by Las Vegas payment processor Chad Elie, also among the 11 men indicted for his role in the fraud and money-laundering charges.
Read more at TheSpectrum.com.
PokerStars Eyes Another Guinness World Record
PokerStars' 10th Anniversary celebration just got even bigger. Not only is the site hosting the biggest Sunday Million ever and giving away 100 seats to the PokerStars Caribbean Adventure next month, but it is also attempting to break the Guinness World Record for the biggest ever online tournament in poker history.
The current record was set in 2009 on PokerStars when 149,196 players took part in a $1 tournament that saw online player "oskar69" take home $50,000. Now, PokerStars wants to outdo itself.
The upcoming World Record attempt will start at 1230 EST (1730 BST) on Dec. 4, 2011, and will be a $1 buy-in, no-limit hold'em tournament with a guaranteed prize pool of $250,000. PokerStars is also offering $10 bounty prizes for players who knock out the participating members of Team PokerStars Pro.
"It's exciting and unique to be part of a World Record," said Team PokerStars Pro Bertrand "ElkY" Grospellier, who holds his own Guinness World Record for Most Online Poker Tables Played in One Hour with a Profit (62).
"I'm looking forward to doing it again on December 4. It will be great to see so many players come together to make history once again at the world's largest poker site."
Get more information on PokerStars' 10th Anniversary at PokerStars.com.
Venetian Deep Stack Extravaganza Update
The Venetian Deep Stack Extravaganza IV is in full swing as 11 of the 43 events had crowned winners through Friday night. Among the notables taking down tournaments: Chance Kornuth, Dominic Kay and Blake Kelso.
Each day of the Deep Stack Extravaganza features two tournaments, one at noon and another at 3 p.m., except for Saturdays, which will only have a noon event. Players have an array of games to choose from, including no-limit hold'em, pot-limit Omaha, Omaha hi-lo, Omaha 8/stud 8, and more.
The series runs through Nov. 22 and concludes with a $2,500 Main Event. Here's a look at the results thus far:
Venetian Deep Stack Extravaganza IV Results
| Date | Event | # of Entrants | Prize Pool | Winner | Prize |
| --- | --- | --- | --- | --- | --- |
| Oct. 27-28 | $340 No-Limit Hold'em | 751 | $217,414 | Chance Kornuth | $47,829 |
| Oct. 29 | $340 No-Limit Hold'em | 197 | $57,032 | Dominic Kay | $15,396 |
| Oct. 30 | $550 No-Limit Hold'em | 117 | $56,452 | Blake Kelso | $16,937 |
| Oct. 30 | $340 Omaha 8/Better | 103 | $29,181 | Jorge Walke | $8,946 |
| Oct. 31 | $340 No-Limit Hold'em | 189 | $54,715 | Daniel Dizenz | $14,774 |
| Nov. 1 | $340 No-Limit Hold'em | 189 | $54,715 | Danard Peti | $14,774 |
| Nov. 1 | $340 Pot Limit Omaha | 94 | $27,213 | Randy Ohel | $8,708 |
| Nov. 2 | $340 No-Limit Hold'em | 213 | $61,663 | Salvatore Dicarlo | $14,802 |
| Nov. 3 | $340 No-Limit Hold'em | 245 | $70,928 | Gary Bolden | $17,023 |
| Nov. 3 | $340 H.O.R.S.E. | 112 | $32,424 | Murray Deutchman | $9,078 |
| Nov. 4 | $550 No-Limit Hold'em | 169 | $81,542 | Adam Chalupnicek | $22,017 |
Get the full schedule and fact sheet for the Deep Stack Extravaganza at the Venetian's website.
Railbird Heaven
Last year, Michael "The Grinder" Mizrachi had the rowdiest rail at the World Series of Poker Main Event final table. Which player had the most rambunctious crowd this year? PokerNews' Sarah Grant took a look around the Penn & Teller Theater to find out.
Are you following PokerNews on Twitter? Like us on Facebook while you're at it, and sign up for the newsletter. You know you want to.