Chatting with Hellmuth Part II: Football, New Book & Benba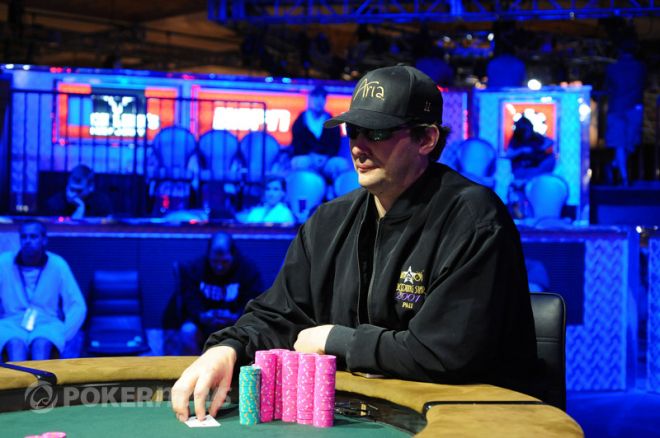 Phil Hellmuth has made plenty of headlines over the past year, from leaving UB to having a superb World Series of Poker. Now, as the year winds down, the "Poker Brat" is planning to return to his native Wisconsin for the holidays but not before making a push to overtake Ben Lamb in one last race.
Hellmuth was kind enough to chat with PokerNews, and in Part I of our interview, the "Poker Brat" talked about this weekend's 2nd Annual Phil Hellmuth's Hold'em with Agrace HospiceCare, his family, and going to the Rose Bowl.
In Part II, Hellmuth talks a little football, about his desire to play the 2012 World Series of Poker $1 million buy-in event, his autobiography, and chasing Lamb in the Phil Hellmuth Champion of the Year race.
According to your Twitter, you were at the San Francisco 49ers game a few weeks back. Can you tell us a little bit about that?
Basically I went to speak to the 49ers football team and give them a pep talk. Jim Harbaugh and I had been talking about this, and Jed York, the owner, and I had been talking about this, so I wanted to be there when I could have lunch with Jed. So we put Nov. 30 on the calendar. Well it probably would have been better for me to give them the speech when they were 9-1 than after they lost . . . I could see what was happening when they were 9-1, so I texted Jim Harbaugh and I said, 'Congrats. Great start, but right now you have the chip lead and you're not even at the final table yet.'
He texted back right away, 'Can I use that?' Then he used that line on his radio show.
So I texted him back the other day, after their win, and I said, 'Jim, you've made the final table now, which is the playoffs, but there's never any money in a poker tournament until you hit the final three, which is where the big money is.' In this case I said it's the final four. The thing is, if you're looking at a team that's 9-1, they buy into their own bullshit, they buy into their own hype, and their heads are up, I've been through it in poker. Once you start thinking you're really good, you start doing things like all-star moves, too many moves, and all of a sudden you're off your base.
I said don't jump routes, maybe that translates to poker to don't bluff every hand. Have a little patience, have a little discipline. It felt good for me and I said listen, you should be celebrating three times: once after you win your home playoff game, once after you win your second-round playoff game, and once after you win the Super Bowl.
The way things look, it might be inevitable that the 49ers face the Green Bay Packers. Being a Wisconsin native, who would you root for in that situation?
Well, I've been a life-long Packers fan, but I've been living in the Bay area for almost 20 years. There are some pretty great teams out here. The 49ers have had some pretty great teams in that time. For me personally, I just hope they don't play, lets put it that way. Because, you know, I'm friends with the owner, Jed York, he's a really cool guy . . . I love Harbaugh too. So having this personal connection, I think that it'd be a tough decision.
You have your life-long passion for the Packers, I've gone to their last two Super Bowls, versus I gave a team a speech, I'm good friends with their owner, and I'm good friends with their coach. I don't want to be put to the test there, but it looks like it might happen. Maybe they'll play in the NFC Championship game.
Switching topics, will you be playing in the $1 million buy-in event at the 2012 World Series Of Poker?
There's a chance. I think it's interesting. It's a great event because it is for charity, but a million dollars is a lot of money. I want to play it, but we'll see.
We've heard talk throughout the years that you have written an autobiography. What's the status with that?
Basically I've written most of it at this point and it's a matter of getting a publishing house that's interested in it or publishing it myself. It's weird, I had sold my autobiography in the late 90s, and then I started to do Play Poker Likes the Pros first, got lucky that made the New York Times Best Seller List, and I always had a goal of writing a best seller, I just always thought it'd be my autobiography, not my strategy book.
So, I brought [my autobiography] to Harper Collins right after Black Friday and they basically shunned the project, which I thought was interesting. I never went anywhere else, I'm not in a huge hurry. It was a little bit of wind out of my sails, I was a little bit surprised because poker's so big globally . . . so I thought it would have good global sales. I'm sure there are some other publishers who are interested, but we haven't really [shopped it].
Do you think the rejection was a result of Black Friday?
I think that they thought it was the end of poker, and I think that's why they passed. Again, I didn't even bring it to anyone else at this point and I'm just not in a hurry. I think what happened was when Black Friday came, I tried to rush it to Harper Collins, they said no, and I was literally super shocked that they said no. I was like, 'You've got to be kidding me.' But they didn't have a lot of enthusiasm either for Play Poker Like the Pros, which ended up selling 500,000 copies or whatever.
Anyway, what are you going to do? It's not a big deal. There's 50 to 60 percent of me that's kind of glad that they said no because now I can take my time with it again. I've been writing the thing since 1997 or 1998, but I'll take a year off and not write a singe word, that kind of deal. But I'm excited because I think it's really well-written.
The book focuses on your early days of poker, pre-1989, correct?
It does. I've put the lows in there, as well as the highs, and I think people are going to love to read that stuff. When I haven't looked at it for a year and I read it, you have to understand that my writing style has changed so much, so, I will write a chapter and then rewrite it a year later, then I'll rewrite it two years later, and so it's gotten better and better. But I guess I'll have to have other people judge that; sometimes I'm a little too cocky.
You recently tweeted that you're in second place behind Ben Lamb in the Phil Hellmuth Champion of the Year race. Do you have plans to try and overtake him?
It seems to be a recurring theme. It's a bit frustrating that I'm exactly five points behind him, but you know, I was three and a half points behind him when it came to the WSOP Player of the Year, of course that was assuming he finished ninth in the Main Event. It was pretty tight when I left Europe, I was three and a half points behind, and then he ended up taking third in the Main, so ended up beating me by a lot more points. I would have liked to pass him to put some more pressure on him.
Finishing second to him there, finishing second in three tournaments, and now being second in my own award, Champion of the Year, is frustrating.
Get all the latest PokerNews updates on your social media outlets. Follow us on Twitter and like us on Facebook today!