Chatting with Hellmuth Part I: Charity Event & Family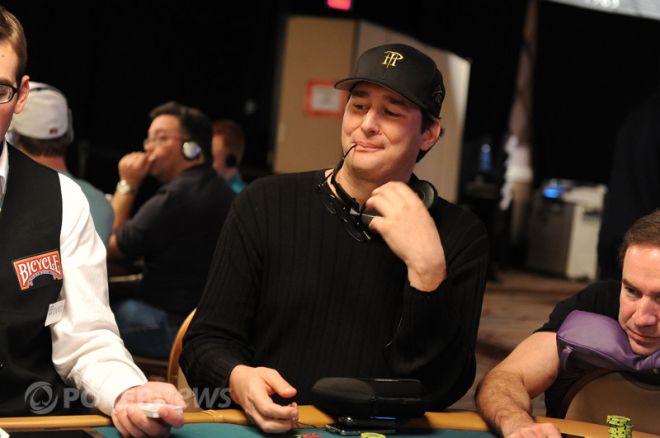 Phil Hellmuth has never shied away from the spotlight. Fans have mixed feelings when it comes to the "Poker Brat," a polarizing character if there ever was one. Some love him, others hate him, and even more love to hate him. This summer at the World Series of Poker, Hellmuth notched three runner-up finishes, contended for the Player of the Year award, and showed the poker world there was still plenty of gas left in the tank.
As 2011 winds down, Hellmuth is preparing for the holidays and his upcoming charity event in his native home of Madison, Wisconsin. The 11-time bracelet winner was kind enough to sit down with PokerNews for a candid and lighthearted talk that covered an array of topics including his charity event and family.
This weekend you'll be returning to Madison, Wisc., for the 2nd Annual Hellmuth's Hold'em with Agrace HospiceCare charity event. Are you excited about that and can you tell us a little bit about it?
I am excited about the event. Having Jerry Kelly, who I went to watch a couple of rounds with when he played on the PGA Tour, is just a cool guy. He said, 'Man, I'm more nervous about [playing in the charity event] than I am on the first tee of the US Open.' I'm sure the level wasn't that high, but he was really nervous about playing poker. Last year he had a couple of beers and all of a sudden he was at the final two or three tables, and there was such excitement in the room.
If you look at pictures on the website, it was just a great event. It was a first-class event last year, every detail was perfect. There was a ton of energy in the room. This year, we'll have a ton of Olympians there, Scott Ian is flying in for this event. I love Scott, he's part of the band Anthrax and he's a real good poker player. I'm missing a bunch of other people. Annette Obrestad, Eric "basebaldy" Baldwin, and you know Baldy is just a really good kid. Annette is another really good person.
You have a slew of celebrities attending your charity event this weekend. Who are you most excited about?
It's exciting. We'll have about five Olympians there. Oh, and Mark Johnson, I'm really excited about Mark Johnson because I grew up in Madison and I watched Badger hockey. My dad has regular season tickets to this day, and he had them all as I was growing up from 1966 onwards. Mark Johnson was a hero back then to me, and then he goes on to play on the Miracle on Ice Team, and now he's coaching at UW. I've never met him before, and he's going to be there and I'm really excited about that.
Interesting fact, your dad made the final table of your charity event last year. What was it like watching Phil Hellmuth Sr. making a deep run?
I was actually nervous. It's similar to rooting for my sons. Both my sons have had some deep runs in a few of the charity events I have hosted. Just watching them make it down that deep, you're really nervous and really rooting for them. My sister Carrie was with me in Manhattan for the Children's Hospital of Philadelphia, we raised a million in one night, and having her there was absolutely wonderful for me; she finished second. I could see the look in her eyes.
Carrie lives in Madison, she's an attorney there, she has a couple of young kids, and she hasn't been playing much poker, but I've given her a lot of training in the past. It was just really exciting. There were at least 200 people in the tournament and she finished second, and I think my wife finished fourth in that event.
I have a lot of pride and I'm nervous when my family is making a deep run. I had my son win the family championship last year. There are about 14 or 15 of us who play in that — my brothers, my sisters, my parents, my kids, my nieces and nephews. In that one, it came down to my two sons heads-up, so I was like OK, either way I am happy.
Your charity event actually gained some notoriety last year when Paul Soglin, former mayor of Madison, used the event to announce that he was going to run for mayor once again. Not only did he do so, but he won and is now the current mayor. What are your thoughts on that?
First of all, I love Paul Soglin. He's another guy I was a fan of growing up my whole life. I was proud of this young guy who, at the time, was mayor and going and visiting the dictator in Cuba. He was almost a national headline. Paul is a pretty good poker player. He has been enjoying playing some small stakes games with some of my friends in Madison, and because of that he and I kind of got connected.
When you return home, do you play any poker with your old friends?
Yes, we always have a game. Sometimes it's a big game. It's fun, starts as a $1,000 buy-in or something like that. One year we had a $3,000 buy-in to start, but the blinds are usually just $5/$5 to start. Usually we just bring checks; it's better to settle up that way. It's been a fun game.
Five or six years ago I lost $11,000 or $12,000 in the game and everyone was kind of giving me crap about it. I got most of it back the next year, and then I think three years ago I won $20K in the game. The next year I won $14K in the game. I think last year I won maybe $3K in the game.
It just depends on who is there. It's a bunch of the guys, not even the guys I used to play with in the past. It's more like guys who came to poker after I left Madison that I've been hanging out with when I come back to town. We have golf matches, poker matches, and just in general it's fun.
Staying in the Midwest, the University of Wisconsin Badgers made the Rose Bowl. We understand you'll be going to that?
Yeah, I've been to all four Wisconsin Rose Bowls since I've been of the age I can travel. I went to the Barry Alvarez Rose Bowl, all three of those, and then I went to the Brett Bilema Rose Bowl last year. It seems like 100 percent that I'm going to go this year. It's like 'How can you miss it?'
For more on the 2nd Annual Phil Hellmuth's Hold'em with Agrace HospiceCare, check out this interview he did for a local Wisconsin news station:
Be sure to check back tomorrow for Part II as Hellmuth talks more about his charity event, his family, and chasing Ben Lamb on yet another leaderboard.
Get all the latest PokerNews updates on your social media outlets. Follow us on Twitter and like us on Facebook today!