The Nightly Turbo: Hellmuth Befriends a Former Facebook VP, ESPN Inside Deal, and More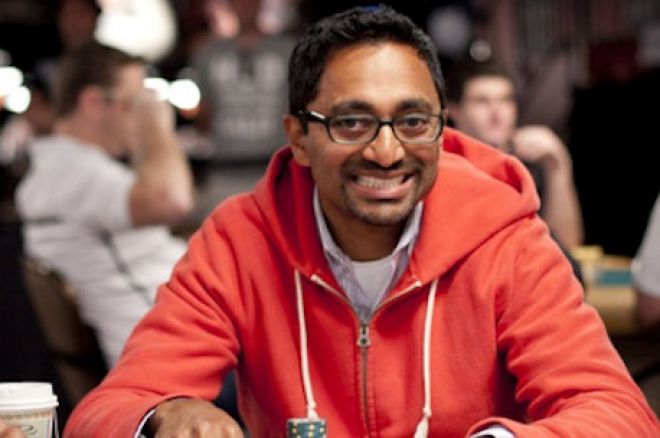 Phil Hellmuth was name dropping again on Friday. This time, you probably won't recognize the name, but he's kind of a big deal. Former Facebook VP Chamath Palihapitiya is an avid poker player and apparently a friend of the Poker Brat. In other news, ESPN release its monthly edition of the Inside Deal, the World Series of Poker is hosting a charity event in France, and more.
In Case You Missed It
There were big headlines all week long and we're afraid you may have missed something. Catch up on the latest at Full Tilt Poker and find out the finalists for the 2011 Poker Hall of Fame in the PokerNews Weekly.
Brian "aba20" Townsend was back at the high-stakes tables at PokerStars this week and turned a nice profit. The Online Railbird Report fills you in on this week's biggest winners and losers.
Benny Spindler is the latest European Poker Tour champion. The German pro earned £750,000 by defeating Steve O'Dwyer heads-up at the Main Event in London this week, and PokerNews was on hand to witness all the action.
Phillip Gruissem went back-to-back at the EPT London High Roller on Thursday. Find out how it happened in our recap.
Last week, the Poker Player's Alliance met with the Department of Justice to stress the importance of Full Tilt Poker players getting their money back. PPA executive director John Pappas discussed how that meeting went.
The World Series of Poker Europe kicked off in Cannes, France, on Friday, and a lot has changed since last year. We take a look back at the 2010 WSOPE.
Sunday is almost here and that means football. Find out which NFL are for real through the quarter-way point of the season in the latest Pigskin Diaries.
Palihapitiya 'Likes' Poker
Chamath Palihapitiya is a venture capitalist by day, but he's truly a poker player at heart. The former VP of Growth, Mobile and International at Facebook was recently featured inESPN's coverage of theWorld Series of Poker during an impressive run through the Main Event. This week, his story was highlighted by the New York Times in an article that included a photo of Palihapitiya cozied up to a poker table — the same table that Phil Hellmuth has admittedly lost money playing at.
Palihapitiya, who left Facebook in June to start his own VC firm, told The Times that he shudders at the memory of wearing a buttoned-down shirt and pressed pants at work, favoring jeans and flip-flops. Yup, he's definitely a poker player.
Even though the article doesn't delve into his life as a competitive poker player, it's still a great read; especially since we expect Palihapitiya to be around the poker scene for a while.
Read the full story at the New York Times.
ESPN Inside Deal
This month's edition ofESPN's Inside Deal was released on Thursday. Hosts Jon Anik, Bernard Lee, and Andrew Feldman discussed topics such as theFull Tilt Poker situation, the Poker Hall of Fame nominations, and more.
Final Table at the ANZPT Darwin Main Event
A final table was reached at the ANZPT Darwin $2,200 Main Event on Friday as nine players were left vying for a top prize of $36,480.Jack Drake extended his cheap lead one more day as he enters the final table with a slight advantage overJonathan Dangio, the only non-Aussie to make the final nine. The native of New Caledonia owns 232,300 in chips, 41,000 short of the leader, but the top two stacks tower over the rest of the seven players at the final table.
The major story leading up to the final table was the ANZPT Player of the Year race between Leo Boxell and Danny Chevalier. The top two players in the standings were still alive with 18 remaining at Darwin, but Boxell's run ended when he lost a three-way all in with
to the pocket fives of Jamie Hill. That opened the door for Chevalier to claim the POY honor with a top 10 finish, which he ultimately secured by coasting to the final table as a short stack.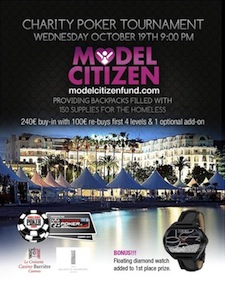 Visit the PokerStars Blog for the full final table lineup.
WSOP-E Hosts Charity Tournament
Poker players are competing for millions of Euros at the World Series of Poker Europe in Cannes, France, this month. But on Oct. 19, they'll have a chance to give back to those in need. The WSOP is running a charity poker tournament supporting theModel Citizen Fund, a nonprofit organization that provides a platform where people can donate backpacks with 150 items inside to underprivileged people around the world.
The event gets under way at 9 p.m. on Wednesday, Oct. 19 with a €240 buy-in and unlimited €100 rebuys for the first four levels, and players will have the option of a €100 add-on. In addition to the prize pool, the winner will receive a floating diamond watch.
Love Connection
PokerNews' Sarah Grant loves her WAG Diaries. While in London for the European Poker Tour, Sarah caught up with poker pro Angel Guillen to test his knowledge of girlfriend and PokerNews hostess, Lynn Gilmartin.
Are you following PokerNews on Twitter? Like us on Facebook while you're at it, and sign up for the newsletter. You know you want to.