The Online Railbird Report: Townsend, Geeng & Halling Get in on the High-Stakes Action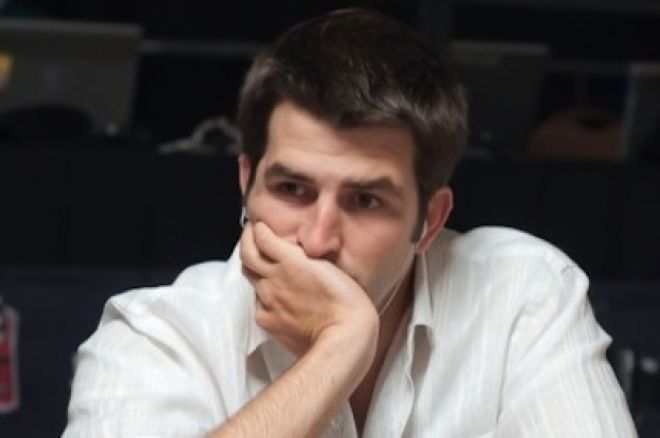 The high-stakes online cash games were quite interesting this week. First, an eclectic cast of players took to the felt, with the European contingent finding the most success, and second, some unusually big no-limit hold'em games sprang up during the midweek.
The week's biggest winner ended up being Ta-Chih "socutiesf" Geeng, who played 77 sessions comprising 10,453 hands and took home $312,259. A little further down the line was Jen "Jeans89" Kyllönen, who won $161,153 in 67 sessions of 5,099 hands, and Brian "aba20" Townsend, who played 22 sessions of 2,279 hands and won a smooth $117,483.
Not faring as well was "mitdadu,", the biggest loser this week, after dropping $138,000 in just one session of 127 hands. Not far behind were "tanya1604," and "Omlphalotus," who dropped $127,754 (22 sessions of 3,345 hands) and $120,536 (16 sessions of 1,635 hands) respectively.
Big Guns Come Out for PLO
This past Sunday, there was plenty of action at PokerStars' $50/$100 pot-limit Omaha tables featuring an all-star lineup of high-stakes players. They included "Zypherin," Rui "PepperoniF" Cao, Phil "MrSweets28" Galfond, Ta-Chih "socutiesf" Geeng, Gavin "gavz101" Cochrane, and Ben "Ben86" Tollerene. The last two players managed to do quite well, scoring $87,000 and $106,000 respectively. Close behind them was Brian "aba20" Townsend, who won $85,000 and took down the most notable hand.
It happened at a three-handed $50/$100 PLO table when Geeng ($30,951.59) raised to $300 on the button, Townsend ($34,312.40) three-bet to $1,060 from the small blind, and Cochrane ($25,627) folded from the big. With action back on Geeng, he four-bet to $3,640, Townsend called, and the flop fell
. Townsend checked, Geeng bet $4,800, Townsend check-raised to $21,239, and Geeng moved all-in for $27,311.59 total. Townsend called the additional $6,072.60 and the cards were turned up.
Showdown
Townsend:

Geeng:
Townsend managed to crack his opponent's by flopping a set of kings, but Geeng still had a draw to the nut flush. The
turn added to socutiesf's draws, giving him a gut-shot straight draw, but the
river gave Townsend quads and the $62,003.19 pot.
Bad Start for Geeng
Geeng couldn't seem to get things going Sunday and ended up losing the biggest pot of the day to Cao. It happened at a five-handed game of $50/$100 PLO and began when action folded to Geeng ($41,763.40) on the button and he raised to $300. Cao ($42,219) then exercised his option in the small blind with a three-bet to $1,100, the big blind folded, and Geeng made the call.
Cao and Geeng were heads-up to the
flop, which saw Cao lead out for $1,500 only to be raised to $5,200 by Geeng. Cao made the call and then checked the
turn, allowing Geeng to bet $10,200. Again Cao called, but this time he took the initiative on the river by shoving all-in for $25,690 when the
spiked. Geeng called off for $25,263.40 with his
, but it was no good against Cao's
rivered straight, to give him the pot worth $83,626.80.
Cao may have won that sizable pot, but he went on to lose $80,000 on the day; meanwhile, Geeng ended up the biggest loser of the day, dropping $110,000. Luckily for him, there was still plenty of time left in the week to turn things around.
Geeng on the Rebound
On Monday, Geeng was back at the $50/$100 PLO tables, no doubt looking to recoup the previous day's losses. He did just that by notching two separate scores of around $80,000 each, giving him about $50,000 profit over the two days.
In one notable hand, Kyllönen ($36,132) opened for $470 under the gun only to have Geeng ($56,527.50) three-bet to $1,680 from the cutoff. Phil "takechip" D'Auteuil made the call from the button, Kyllönen came along, and action was three-handed to the
flop, which all three players checked. When the
peeled off on the turn, Kyllönen led out for $5,000, Geeng raised to $20,307, D'Auteuil got out of the way, and Kyllönen moved all-in for $34,452. Geeng called the additional $14,145 and the cards were turned up.
Showdown
Kyllönen:

Geeng:
Geeng had turned top two pair, but needed to dodge a bevy of draws. That's exactly what he did as the
fell harmlessly on the river, shipping the $74,094 pot to Geeng.
As if that wasn't enough, Geeng laid claim to another sizable pot. It happened at a five-handed table of the same stakes when "mitdadu" ($32,362) raised to $450 from the button, Geeng ($56,521.25) three-bet to $1,550 from the small blind, and Tollerene ($54,891) exercised his option in the big blind with a four-bet to $5,200.
Both opponents made the call and action was three-handed to the flop, which came down
. Action checked to mitdadu and he fired out $10,100, which Geeng quickly check-raised to $45,998. Tollerene got out of the way, and mitdadu called off for $27,162 total. The turn and river brought the
and
, prompting Geeng to flip over
for a straight, which was good enough to take down the $69,904 pot.
Hello, Halling
Tuesday proved to be a slow day on the virtual felt, but an online legend made an appearance and booked a $95,000 win. We're talking about Swedish online pro Frederick "H@££INGGOL" Halling, who played $25/$50 PLO at both the six-max and heads-up tables. It was at a heads-up table that Halling ($18,168.75) was facing off against Romain "morihums" Arnaud ($10,550) when the latter player opened for $150 on the button. Halling made the call and then led out for $200 on the
flop. Arnaud raised to $700, Halling three-bet to $1,950, Arnaud four-bet to $6,849.50, Halling five-bet, and Arnaud called off for $10,400 total.
Showdown
Arnaud:

Halling:
Arnaud had flopped top set, but needed to fade Halling's straight and flush draws. The straight draw was completed on the
turn, leaving Arnaud in need of a paired board on the river, but it didn't happen as the
bricked. Halling took down the $22,850 pot on his way to a good day.
Wait, What? No Limit Hold'em!!!
Wednesday night was special for one very specific reason: The biggest winner of the night didn't come from a game of PLO, which is the norm in the high-stakes games, but rather in a good old-fashioned game of no-limit hold'em. The big winner was "Kanu7," who earned $82,000 in under 1,300 hands. About half of his profit came from a heads-up match against D'Auteuil at the $25/$50 table, while the other half came in just 59 hands played at the $50/$100 six max tables.
In one hand, which happened to be the biggest of the night, Kanu7 ($24,775) opened for $350 from the cutoff, both the button and small blind called, and "Asprin1" ($27,959) raised to $1,875 from the big blind. Kanu7 responded by making it $5,000, the button and small blind folded, and Asprin1 five-bet to $8,275. Kanu7 made the call, and then called a bet of $8,275 on the
flop. When the
hit the turn, Aspirin1 moved all-in for $11,409 and Kanu7 called off for $8,225. Aspirin1 revealed
for an open-ended straight draw, but needed to improve against the
of Kanu7. Unfortunately Aspirin1, the
river was no help and Kanu7 raked in the $50,250 pot.
Who's Up? Who's Down?
Week's biggest winners (9/30-10/6): Ta-Chih "socutiesf" Geeng (+$312,259), Jen "Jeans89" Kyllönen ($161,153), Brian "aba20" Townsend (+$117,483), "PimpyLimpy" ($114,431), "weak force" (+$112,812), Frederick "H@££INGGOL" Halling ($109,247), Brian "$tinger 88" Hastings ($105,203)
Week's biggest losers: "mitdadu" (-$138,000), "tanya1604" (-$127,754), "Omlphalotus" (-$120,536)
Year-to-date winners: *Gus Hansen (+$3,941,000), *Daniel "jungleman12" Cates (+$1,952,000), Rafi "refaelamit" Amit (+$1,884,000), *Alexey "NoPasaran" Makarov (+$1,875,000), *Matt Hawrilenko (+$1,440,000), *bixiu (+$1,406,000), *Phil Ivey (+$1,336,000), Andreas "Skjervøy" Torbergsen ($1,283,000), Jen "Jeans89" Kyllönen (+$1,264,000)
Year-to-date losers: *Tom "durrrr" Dwan (-$2,474,000), *Eugene "fishosaurusREX" Yanayt (-$1,399,000), *kagome kagome (-$1,377,000), *cadillac1944 (-$1,336,000), *Esvedra (-$1,182,000), *UarePileous (-$837,000)
Biggest weekly winners/losers all on PokerStars
*Reflects Full Tilt Poker profit/loss
Data obtained from HighStakesDB.com
Stay up to date on all the latest news by following us on Twitter and liking us on Facebook.