Pigskin Diaries Week 5: The Quarter Pole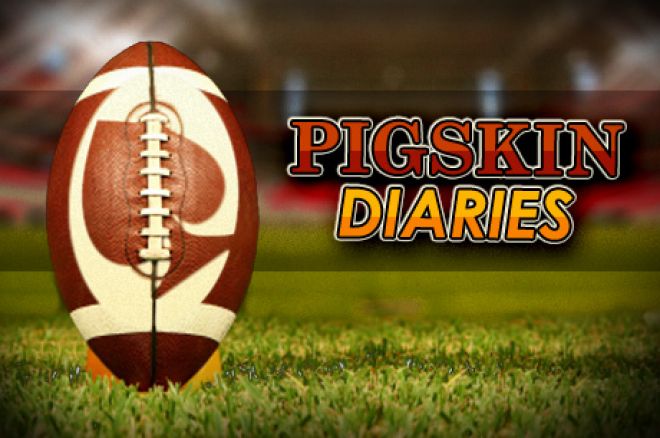 We're at the quarter pole of the 2011 National Football League regular season, and after a very good Week 4, we're 12 games over .500! This isn't the time to celebrate though, because we have 12 more tough weeks ahead of us, plus the playoffs. This week, six teams are on a bye, and only two are more than a touchdown favorite, making this the toughest week of the season to date.
Tennessee @ Pittsburgh (-3)
You're probably very confused with that pick, seeing that I've been very anti-Steelers through the first four weeks of the season. Well, this feels like a classic case of "everyone thinks we're old when we're still decent." Pittsburgh isn't great by any means, but they're still competitive, and the price is right. Had this game been played two weeks ago, the Steelers would've been no less than 6.5-point favorites. The public is concerned because Pittsburgh plans to start new players at left tackle and left guard, and Isaac Redman will most likely start in place of the injured Rashard Mendenhall. What the public doesn't understand is these changes are nominal. The offensive line has been horrible at best, leaving plenty of room for improvement, and Redman has looked just as good as Mendenhall.
The Titans are solid, especially on defense, but Matt Hasselbeck can't throw for 300 yards every game. Right?
Fantasy: We've said it before, but we'll say it again. All Mendenhall owners should have Isaac Redman. You probably used a first-round pick on Mendenhall, so protect him.
Arizona (+3) @ Minnesota
You won't find me laying points with the Vikings anytime soon. After blowing three straight halftime leads, they finally put together 60 minutes of mediocre football, losing outright to the Chiefs last week. Adrian Peterson has only eclipsed the century mark once this season, Donovan McNabb continues to show us why Andy Reid sent him to Washington last year, and Antoine Winfield is battling a neck injury. That last note may be the most crucial of the three. If he plays, Winfield will be responsible for covering Larry Fitzgerald for the majority of the game.
The Cardinals lost a heartbreaker last week, although it was clear to me that Victor Cruz was giving himself up. Beanie Wells continues to make me look stupid, running for 138 yards and three touchdowns, while Kevin Kolb continues to be very average. Neither of these teams are exciting or impressive, but Arizona is getting the points and is the lesser of two evils.
Fantasy: If you really want to roll the dice this week, then Michael Jenkins is a deep sleeper at wide receiver. The Cardinals secondary is very poor, and he's shown more explosiveness than any other Vikings receiver.
Philadelphia @ Buffalo (+3)
One bad game against a good defense, and the Bills are suddenly dogs at home? They must be playing against some kind of dream team or something.
Fantasy: David Nelson and Donald Jones have both been productive at times this season, but neither have been consistent enough to be "must starts."
Kansas City @ Indianapolis (-2)
Dare I say that Curtis Painter looked really good on Monday night? The two long touchdowns to Pierre Garçon were short passes, but Painter was very accurate, and the offense felt more Peyton Manning-like than when old man Kerry Collins was under center. Joseph Addai was also running hard and the Colts looked like a different team. Their defense is still suspect, however, and they lost the game, but they also covered for the second straight week.
Desperately looking for their first win of the season, the Colts welcome the Chiefs to Lucas Oil Stadium on Sunday. What perfect timing. Despite winning last week, Kansas City is in worse shape than Indy, and is flirting with the idea of giving Jackie Battle more touches on offense. That doesn't say much about Dexter McCluster's future with the team. Dwayne Bowe is always a threat, but Matt Cassel's can't be trusted, and it's time for Indy to get off the snide.
Fantasy: Buy low on Reggie Wayne and sell high on Garçon. Wayne is much more talented; thus, he is much more reliable going forward.
Oakland (+6) @ Houston
Without Andre Johnson, the Texans offense was very pedestrian-like against Pittsburgh's average defense. The Raiders don't have a great secondary, but their front seven are very aggressive (ask Tom Brady), and will be able to focus in on running back Arian Foster. Darren McFadden is a nightmare for defenses, and Oakland is much more comfortable when they can run the ball rather than play in a shootout like they did against New England and Buffalo.
This game has let down written all over it for Houston, which will need to find a way to get the ball downfield without their best playmaker.
Fantasy: Receiver Jacoby Jones and tight end Owen Daniels see increased value with the loss of Johnson.
New Orleans (-6.5) @ Carolina
I still won't pick against Drew Brees, even though Cam Newton is a backdoor specialist. The Panthers are 3-1 against the spread (ATS), and honestly I hope the Saints destroy them because I want to ride Carolina all year. Conventional, public bettors are weary when it comes to rookie quarterbacks, especially when they're in a smaller market like Charlotte, North Carolina, giving the team a lot of value. In fact, if this line was eight points or higher, I probably would've taken the Panthers.
There is nothing more enjoyable then continuously getting a touchdown with less than average teams that are frisky, and consistently play just above average.
Fantasy: If you're having trouble finding players to drop during the waiver wire period, and Pierre Thomas is on your team, cast him away. Darren Sproles is by far their most effective back, and Mark Ingram gets the bulk of the load between the tackles.
Cincinnati (+2) @ Jacksonville
The Bengals defense is legit, giving up only 275 yards per game (first in the NFL) and 18.5 points per game (sixth in the NFL). The Jaguars have struggled offensively, averaging less than 10 points per game (32nd in the NFL). With Blaine Gabbert at quarterback, Jacksonville is forced to give the ball to Maurice Jones-Drew at a higher rate, and he can only do so much. I'll take Andy Dalton over Gabbert everyday, especially when he has fellow rookie A.J. Green wreaking havoc in the secondary.
Fantasy: MJD remains the only player on Jacksonville that you can trust. If you haven't already, please look elsewhere if you still have Marcedes Lewis at tight end.
Seattle @ New York Giants (-9.5)
This line stinks, but so do Tarvaris Jackson and the Seahawks on the road. Besides, if big blue can score early, then laying the points won't be so painful. I'm still skeptical about the Giants, but Eli Manning is one of the more trustworthy quarterbacks in the league and has a ton of weapons around him. If New York shows a little bit of life on defense, they should have no problem against a very weak Seattle team.
Fantasy: Sidney Rice is back to being the stud we all remember in Minnesota, and Victor Cruz is quickly becoming Manning's favorite target.
Tampa Bay (+3) @ San Francisco
The Bucs are traveling to the West Coast on a short week, and they haven't been able to put together a full, 60-minute game. It's a good thing they're playing the Niners, who, despite being 3-1, are still in the NFC West. Don't get too excited, people.
Fantasy: Kendall Hunter looked good last week, and props to Frank Gore for playing tough while injured, but Hunter is a must-have for Gore owners. See: Mendenhall, Rashard.
San Diego @ Denver (+4)
What is going on here? This line opened at 5.5, and it's been bet down a point and a half already? Is Vincent Jackson that injured? Has Philip Rivers been that mediocre? Do the bettors really hate Norv Turner that much?
Something about this game is real fishy, and I think my friend Admiral Ackbar knows why.
Fantasy: Mike Tolbert is getting fewer and fewer carries but is still a very solid RB2 or flex play in point-per-reception leagues. Willis McGahee is now the guy in Denver — Knowshon Moreno only had two carries last week.
New York Jets @ New England Patriots (-9)
Remember in January when Bart Scott said the Patriots couldn't stop a nosebleed? Bill Belichick and Tom Brady do. The Jets can't score with the Pats, and this one could get ugly for Gang Green.
As if Sunday night wasn't ugly enough.
Fantasy: LaDanian Tomlinson could potentially catch a lot of balls this week, making him a very interesting flex play.
Green Bay (-6) @ Atlanta
Wow. Aaron Rodgers.
Fantasy: Donald Driver missed a little time last week with an injury, and in his absence James Jones scored a touchdown. I don't think Jones should be owned quite yet, but Driver is a veteran and could easily miss more time.
Chicago @ Detroit (-5)
The Lions are 4-0, and haven't hosted a Monday Night Football game since 2001. The roof might blow off of Ford Field.
Fantasy: It's hard to trust Jay Cutler, but the Bears will have to throw a lot to win this game. Johnny Knox is his best option, and should be considered in your lineup.
On Bye: Baltimore Ravens, Cleveland Browns, Dallas Cowboys, Miami Dolphins, St. Louis Rams, Washington Redskins
Last Week: 14-2
Season: 36-24-4
Follow us on Twitter for up-to-the-minute news.
All betting lines are from Covers.com, and are accurate as of 11 a.m. EST