NHL Stars & Poker Pros Join Forces to Raise $50,000 for Cancer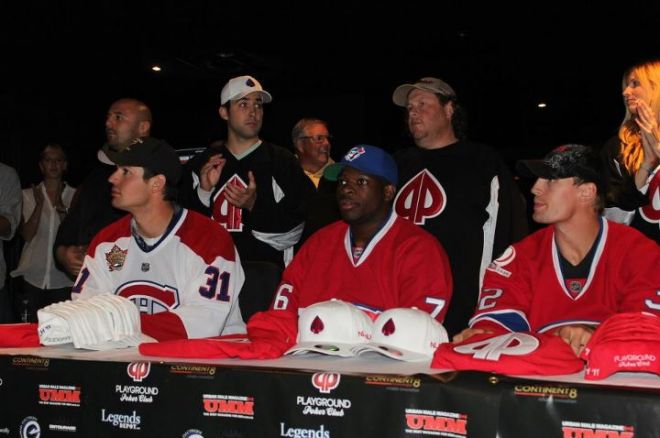 It seems like the poker headlines have been dominated by negative stories for the past couple of weeks. From the Mike DiVita and Epic Poker situation to the recent Full Tilt Poker "ponzi scheme," poker has been dealt a blow in the eyes of the public. This is unfortunate, given all the good poker has done, especially for charities. Thankfully, the value of poker was reassured to me this week when it was announced that $50,000 was raised for cancer research with the Playground Poker Club's "NHL Faceoff" event.
From Sept. 10 through 12, 2011, stars of past and present from both hockey and poker joined forces in Kahnawake, Quebec, for a three-day tournament designed to raise money for the Jodi Taiger Lazarus Fund for Hereditary Breast Cancer Research at McGill University. Day 1a of the event featured five teams, each captained by a legendary National Hockey League player, including Guy Lafleur, Guy Carbonneau, Mike Bossy, Bobby Dollas and Steve Shutt. The second leg on Day 1b featured current Montreal Canadiens Carey Price, Josh Gorges, Travis Moen and PK Subban along with the legendary Pete Mahovlich.
Joining the hockey stars were a plethora of poker professionals including Canada-native and World Poker Tour Player of the Year for Season IV, Gavin Smith, Antonio Esfandiari, who emerged as the chip leader after Day 1a, 2006 World Series of Poker Player of the Year, Jeff Madsen, Trishelle Cannatella, Jennifer Leigh; and WSOP bracelet winner, Pascal Lefrancois, just to name a few.
The unique team format allowed the NHLers to consult with their poker pro co-captains for advice, which ensured some top-notch action. This was especially useful to the men accustomed to the ice, not the felt. According to the official press release: "In one particular hand, Montreal-born professional poker player Marc Karam was called on by his Team Captain, Steve Shutt to analyze a hand and Karam quickly gave him his calculated overview. Shutt pushed all-in with pocket tens and doubled his stack."
With 293 entrants, a $120,000 prize pool was created, which generated a $50,000 donation to the Jodi Taiger Lazarus Fund. In the end, it was Jason Smith who emerged victorious and took home $25,000 along with a coveted NLH Faceoff Cup and a gold Playground Poker Club Champions bracelet. In addition, the winning "team" was the one captained by Montreal Canadiens goalie Carey Price and Montreal-native Pascal Lefrancois, with the team earning the opportunity to compete in a winner-take-all Freeroll for $5,000.
NLH Faceoff Charity Poker Final Table Results
| Place | Player | Prize |
| --- | --- | --- |
| 1st | Jason Smith | $25,000 |
| 2nd | Phil Levi | $17,000 |
| 3rd | Alec Brandstatter | $13,500 |
| 4th | Marko | $10,500 |
| 5th | Grantell Gibbs | $8,500 |
| 6th | Claudio Fabrizzio | $7,200 |
| 7th | Joseph Bothamley | $5,200 |
| 8th | Pat Reeves | $4,300 |
| 9th | Ami Alibay | $3,300 |
| 10th | Vladimir Avetisian | $2,900 |
The hockey players who played in the event are very notable on the ice, and it was extremely generous of them to devote their time to such a worthy cause. The same can be said of the poker pros who made the trip to Quebec. I wish all professional sports leagues would allow their athletes to use their superstardom to help bring awareness to charities by teaming up with poker.
I recall writing an article back in March that focused on the National Football League's decision to ban some of its players from playing in a charity event in Las Vegas. This was a legitimate, highly publicized charity tournament that drew the likes of Phil Hellmuth, Steve Martin, Don Cheadle, Jordin Sparks, and Kevin Sorbo, not to mention the dozens of poker pros. By not allowing its players to participate, the NFL was doing the charity a disservice not only by reducing the prize pool and donations, entries were down after all, but also because it suggested that there was something negative associated with the event.
Fast forward six months and I find myself writing that article's counterpart, one that applauds a professional sports league for wising up and accepting the legitimacy and power of poker. This particular charity event was created specifically to utilize hockey's popularity in Canada, and it was refreshing to see it get the support of the sport. Not only did everyone have a great time with no harm done, but $50,000 was raised for a great cause. Poker brings out the worst in a few, but I like to think it brings out the best in more.
Don't forget to follow us on Twitter and like us on Facebook.