Player Reactions to the $1 Million Buy-In Tournament for One Drop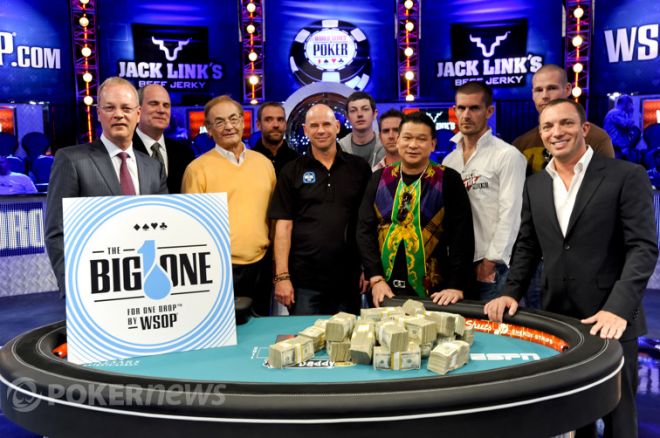 Last week, the World Series of Poker announced a $1 million buy-in tournament to benefit One Drop, an initiative started by Guy Laliberte that focuses on providing access to clean water worldwide. The event will take place during the 2012 WSOP from July 1 through 3 at the Rio All-Suite Hotel and Casino in Las Vegas. We caught up with some of the players at the Rio to get reactions to the announcement.
Jonathan Duhamel, 2010 WSOP Main Event Champion – I know Guy and he is a really nice guy. I know his foundation also, One Drop, so it's a very good occasion to raise a lot of funds. It is going to be like 10 percent going to charity, so that's really nice. He said it is capped at 48 players and I think he is going to get all his players because there is one year for all the players to find the money from somewhere to have the million. It is just going to be a nice tournament. It is going to be all the best pros in the world and a couple of big business men, as well, so I think it is going to be a very nice dynamic and it's a very nice cause. I might play, I'm not sure yet, but maybe.
Vanessa Selbst, Team PokerStars Pro – I think it is ridiculous it completely destroys the sanctity of the bracelets. It completely ruins the idea of poker stats. Everything has gotten out of hand already. I think $100k and $250k buy-in tournaments are stupid enough. High-roller tournaments are $25k, that's enough, that's what people can afford to play and that's a high-roller event. The other events, if you want to buy in for higher than that, you can go do it on your own time, that's fine, but not when it includes all the different stats and tracking and all that stuff. It really completely destroys the idea. It is ridiculous.
For a political analogy it is kind of what America is doing. It completely eliminates the middle class. It is the richer people who are able to play bigger buy-in tournaments and it artificially inflates their stats and they are recognized as the best players. It makes it that much more difficult for the lower buy-in players to break through. Like the Dwyte Pilgrims of the world who came from just crushing the $1,500 tournaments and made his way into the bigger buy-ins. It is that much tougher to do that because you have all these crazy high buy-in events that artificially inflate the stats. The $100ks and $200ks are all really bad ideas.
Jeff Madsen, 2006 WSOP Player of the Year - I wanna play it, but I'm not going to be able to because it's a lot of money. I mean the WSOP keeps stepping it up. I'm going to predict it's going to get 51 people exactly.
Liv Boeree, Team PokerStars Pro – It is not like you can even satellite into the million-dollar tournament. There is no way you can satellite in; it is never going to happen. So you are only going to basically get super high-stakes players and people who set up poker companies years ago. That is all you are going to get. It is going to be the same damn players and it is going to be like watching another episode of Poker After Dark.
You are going to have one person who is going to have the biggest cash ever for winning one tournament and well done because you're a billionaire anyway. The higher buy-in tournaments are just a bad idea because they are smaller tournaments and you don't have to be that good to win. You know, I am not belittling Erik Seidel; what he has done is amazing, but the point is you are not going to get any kind of consistency and you are not going to be able to say this person is the world's best player and yet they are going to get this accolade because they have a million dollars to buy in to this tournament.
Maria Ho, Last woman standing, 2007 WSOP Main Event – I think the one million dollar buy-in tournament for One Drop is just really great because it just goes to show, and I have said it for a long time, poker players are some of the most generous people that I know. Of course they are playing for something, there is something on the line, but at the same time they definitely are donating a significant portion to charity. I really admire all the people that are willing to step up and take on that challenge and I hope to see more things like this, where you can mix some healthy competition with a great cause.
Be sure to follow us on Twitter for up-to-the-minute news.