The PCA/amfAR Celebrity Poker Tournament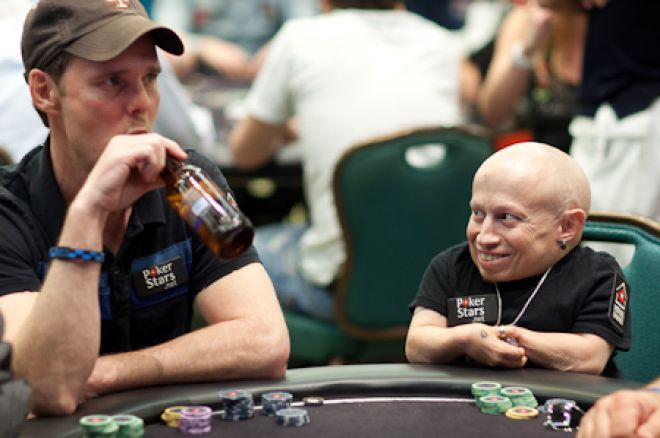 This past week, I had the opportunity to work the PokerStars Caribbean Adventure at the Atlantis Resort in the Bahamas. While this was the eighth incarnation of the PCA, it was my first visit to Paradise Island. Needless to say, I was excited to blog about the various tournaments and being a part of a huge poker celebration. One particular event I was looking forward to was the Second Annual PCA/amfAR Celebrity Poker Tournament that took place on Thursday, Jan. 13, 2011. I was curious to see how the PCA, as one of poker's premiere events, would leverage its notoriety to raise money for charity.
For those who don't know about amfAR, here is the description found on its website:
"Founded in 1985, amfAR is dedicated to ending the global AIDS epidemic through innovative research. With the freedom and flexibility to respond quickly to emerging areas of scientific promise, amfAR plays a catalytic role in accelerating the pace of HIV/AIDS research and achieving real breakthroughs. amfAR-funded research has increased our understanding of HIV and has helped lay the groundwork for major advances in the study and treatment of HIV/AIDS. Since 1985, amfAR has invested nearly $325 million in its mission and has awarded grants to more than 2,200 research teams worldwide."
All of the prize pool went directly to the charity, and PokerStars matched all personal donations made by the tournament's participants. In addition, players could make donations via PokerStars.net to benefit the Foundation's innovative HIV/AIDS research programs. With such a great cause to play for, it is no surprise that celebrities, athletes and poker superstars came out to show their support.
Kenneth Cole, amfAR chairman, gave a brief speech before the event: "Tonight is a really big deal. Everyone gets to do what they enjoy doing and at the same time, will be part of something very important. We are flattered PokerStars has got involved for a second year. Five thousand people died every day from AIDS but it doesn't need to be like that."
I wasn't sure what to expect, but I certainly looked forward to watching the action. While the event drew a modest 58 players, I was impressed with the field. Among the players in the event were former NBA basketball star John Salley, pro golfer Sergio Garcia, former LA Dodgers pitchers Chad Billingsley and Orel Hershiser, Spanish football legend Poli Rincon, 2008 Playmate of the Year Jayde Nicole, Entourage star Kevin Dillon, TV personality Ricki Lake, and Verne Troyer, who played Mini-Me in the Austin Powers movies. Based upon reactions from the rail, Troyer, who is seated next to Dillon in the photograph above, was the clear fan-favorite.
Joining these celebrities were some of poker's biggest names such as 2010 World Series of Poker Main Event Champion Jonathan Duhamel, 2009 WSOP Champ Joe Cada, 2004 WSOP winner Greg Raymer, and European Poker Tour San Remo Champion Liv Boeree. Joining them were 26 other Team PokerStars Pros, many of whom went on to do quite well. Here were the top seven finishers:
| Place | Player |
| --- | --- |
| 1st | Anh Van Nguyen - Team PokerStars Pro (Canada) |
| 2nd | Martin Hruby - Team PokerStars Pro (Czech Republic) |
| 3rd | Andy Lowe |
| 4th | Jonathan Duhamel - Team PokerStars Pro (Canada) |
| 5th | Matt Marafioti |
| 6th | Fatima Moreira de Melo - Team PokerStars Sport Star |
| 7th | Pieter de Korver - Team PokerStars Pro (Netherlands) |
As you can see, Team Pros dominated the event; in fact, no celebrities or guest athletes were able to find their way to the final table; however, those who managed to make the top seven were rewarded handsomely. De Korver won $1,000 to donate to the charity of his choice and naturally chose amfAR. Moreira de Melo won a PokerStars luxury chip set; Marafioti was awarded signed celebrity merchandise; Duhamel won a fabulous Atlantis spa treatment, dolphin experience and dinner; Lowe won dinner and a poker training session with Team PokerStars Pro Daniel Negreanu; Hruby got tickets for the France vs. England rugby match in London next month; and Nguyen won the first-place prize of two tickets to any sporting match in the U.S., travel costs and one night in a hotel included. Not a bad reward for helping out a charity.
In addition to the money generated by the players, PokerStars donated $50,000 to amfAR. Also of note, the amfAR welcome desk near the tournament area accepted donations from spectators, which was reported to be quite successful. All in all, everyone had an entertaining time, and money was raised for a great cause. Generally, if those two criteria are met, it is hard for a charity tournament not to be a success. The Second Annual PCA/amfAR Celebrity Poker Tournament was no exception. I, for one, hope the PCA/amfAR Celebrity Poker Tournament will be on the schedule for years to come.
To learn more on amfAR and to learn how you can help, visit its website at www.amfar.org.
Photo courtesy of PokerStars.net.
Want to keep on top of all the action from the PCA? Be sure to keep up with our Live Reporting Team who is in the Bahamas capturing all the action. Also, you can always follow us on Twitter for up-to-the minute updates.