PokerNews Op-Ed: Are Celebrities Good for Poker?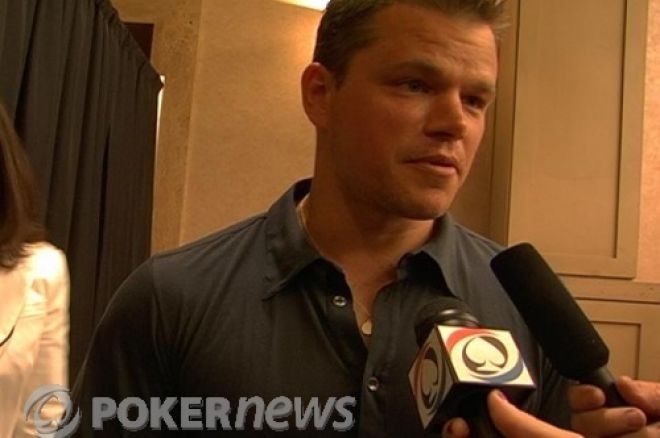 Do you remember when Bravo used to air the Celebrity Poker Showdown? One of the most popular shows on cable, it successfully meshed Hollywood and poker as one. The concept was excellent, especially coming off the poker boom, and quickly capitalized. The general public loved the show, but the poker world was highly critical for one specific reason: hardly any of the celebrities knew what they were doing. Instead, their sporadic plays gave the game an image that it was based on luck as opposed to skill. Obviously, this was not the perception that poker players wanted the public to develop, so they began asking, "Is this good for poker?"
The inquiry started a debate in the poker world that largely diminished after the show's cancellation. However, in recent years, there has been a resurgence of celebrities in the industry and once again people are asking, "Are these celebrities good for the game?" I believe that there are both pros and cons to having amateur celebrities involved in poker, but I also believe the pros far outweigh the cons. Let me explain.
For simplicity's sake let us say that celebrities become involved in the poker world in three capacities: charity events, television appearances and sponsorship deals. In the first instance, I don't think anyone would disagree that celebrity participation in charity events is a good thing. They not only help raise money for the charity, but they also bring mainstream coverage to their cause.
Take Ante Up For Africa as an example. Every year, the WSOP hosts the charity event, put on by Annie Duke and Don Cheadle, and has raised millions of dollars for the Refugees International. The fact that celebs such as Matt Damon, Ben Affleck, Evander Holyfield, Montel Williams and Jerome Bettis have participated in the event has brought invaluable coverage by the press and has introduced the situation in Darfur to millions of people. Celebrity participation in charity events is clearly a positive.
Aside from charity events, celebrities can be found appearing on various poker television shows. Let's take PokerStars.net's Million Dollar Challenge as an example. The show is in its second season and relies heavily on celebrity participation for its network television broadcast. The show is played in three rounds. In Round 1 the challenger is joined by Daniel Negreanu, who coaches him or her as they play heads-up against a celebrity or professional athlete. Although he can give the challenger advice, Negreanu cannot see the hole cards. In Round 1, the challenger is allowed a single timeout that pauses the action whenever called and allows private strategy session with Negreanu. If a challenger manages to win Round 1, he or she will be awarded a trip to the Bahamas. While this sounds reasonable enough, the celebrity defenders often do not know what they're doing.
Although I admit that celebrity ignorance about poker is not entertaining and diminishes the skill aspect, I believe the benefits of their participation far outweigh the negative consequences. On a mainstream channel such as Fox, the audience is varied, and it is likely that only a small fraction know anything about the poker world. If they were to tune into the show and watch Phil Ivey battling Tom Dwan (a match any poker fan would salivate over), they'd probably be thinking to themselves, "Who the heck are these guys?" With celebrities, this is not the case. Most Americas would stop channel surfing to see 2007 Playmate of the Year Sara Jean Underwood battling anyone. Football fans get a kick out of seeing John Elway on the felt instead of the field. They immediately see a familiar face that they can associate with and suddenly they become intrigued by what the person is doing. What game is this? How is it played? It looks like fun. Maybe I'll try. Like fishing, it is important to hook the audience before they move on.
By using celebrities to hook an audience, the show's producers stand a better chance of introducing poker to new players. This introduction will, in turn, get new players into the game, which is always good for business and the poker economy. In conclusion, celebrities = new players = more publicity and money = a good thing.
Sponsorship, the third role celebrities tend to play in poker, is a bit more complicated. In poker, sponsorship is something that every player strives for. It not only brings them fame, but financial benefits, as well (i.e. tournament buy-ins, travel costs, etc.). For a player to obtain the elusive sponsorship deal, they must perform well and put up consistent results. Celebrities, on the other hand, do not always have to meet the same criteria. Instead, they are often awarded deals based upon their celebrity status in an attempt to bring attention to the brand. These deals can either be long, such as Orel Hershiser's with PokerStars, or a one-time gig, such as Emmitt Smith's appearance at this year's WSOP wearing the Full Tilt Poker logo.
These sponsored celebrities bring the same benefits as they do when they appear on television, except they're specifically trying to apply those benefits to the brand. For instance, the aforementioned players publicize their respective sites and bring new players to each. Of course, this benefits the sites directly, but what is often overlooked is that this also benefits poker as a whole. Let me give you an example. My friend Robby is the biggest Emmitt Smith fan I have ever met, but he doesn't know too much about poker. When I told him Smith was at the WSOP wearing Full Tilt gear, suddenly Robby was intrigued. He wanted to know what was going on, why he was there, and what the deal was with Full Tilt Poker. Mission accomplished for Full Tilt by introducing its brand to a new player through celebrity endorsement while the rest of the poker world benefits because a new fish may have just entered the water.
As an experienced player, I know it can be frustrating to watch amateur celebrities on television; however, I also realize the benefits the celebrities bring to the table. I'm all about bringing new players and fresh money into the game. If the best way of doing that is through celebrity participation, so be it. As long as they're benefiting the game of poker as a whole, I am more than willing to endure the celebrity's often horrendous play that passes for poker entertainment.
Want to play against a celebrity? Full Tilt Poker and PokerStars have plenty of celebrity players, so head on over to our Online Poker Room page and sign up for an account today and take advantage of our deposit bonuses. And remember, follow us on Twitter for up-to-the-minute news.