Michael DiVita & Epic Poker's Stephen Martin Speak Out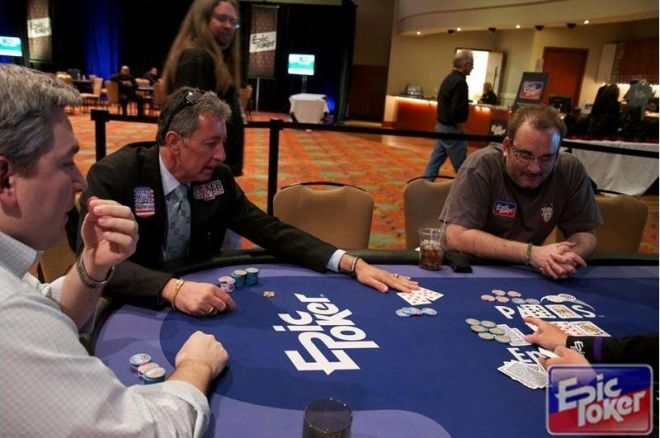 On Sunday, Sept. 4, 2011, PokerNews was on location at the Palms in Las Vegas to bring you live updates from the Epic Poker League's (EPL) second $1,500 Pro/Am event. Of the 97 players who turned out for the event, the final nine qualified for seats in the $20,000 Main Event, that began on the following Tuesday. One of those qualifiers was Michael DiVita, who ended up not playing after it came to light that he was a registered sex offender.
Those seem to be the uncontested facts, but the story quickly becomes convoluted from there. According to the EPL, a conversation resulted in DiVita voluntarily withdrawing from the Main Event and being reimbursed his $1,500 Pro/Am buy-in; however, DiVita contends he was forced to withdraw, and would not have been allowed to play had he chosen to do so. In addition, DiVita believes he is owed $20,000 — the value of a Main Event seat for which he qualified.
The situation evolved as a result of DiVita's criminal past, which dates to 1991 when he pleaded guilty to "sexual battery" of a female, and "molest child u/18" of a male, according to the Criminal Case Report (Case CR43908) of Riverside Superior Court. While the report doesn't go into specifics, DiVita offered an explanation as to what happened on TwoPlusTwo. In addition, DiVita faced more criminal charges in 2008, including "Assault/Intent Rape,Sodomy,Oral Copulation" and "Assault w/deadly weapon," as documented in Riverside Superior Court Criminal Case Report RIF10002366. However, those charges were dismissed and there was never a conviction.
DeVita has not been shy about addressing his past, actively posting in forums and reaching out to various media outlets. In reality, DiVita's past is not the center of controversy. On the contrary, the big issues in the poker community seem to be whether or not the EPL acted reasonably, and if DiVita, regardless of his past, is entitled to $20,000. Based on the responses in the forums, the general consensus seems to be that it was reasonable for EPL to consider DiVita's past, but it should have refunded him the value of the Main Event seat for which he qualified.
In a telephone conversation with PokerNews, DiVita explained what transpired when he was first approached by Stephen Martin, EPL's Standards and Ethics committee chairman:
"They just didn't want me anywhere near, as far as their show, which is fine, and I told him, 'You know, pal, give me my $20K, I'll go home. We'll leave it at that and no hard feelings.' He just says, 'Well, we're gonna let you go home, but we're not giving you no $20,000.' He says as a gift we'll give you back the $1,500 you used as for the buy-in, he said we're not giving you $20,000, and I said I want $20,000.
"He said, 'No, you won a seat.' So you want to debate over the difference between a seat and $20,000, and I say OK, you know what, I'll take the second option then and I'll just play my seat. You know, I've already got my seat assignment. He says, 'Well, it's just not gonna happen. We're not gonna let you play. As soon as you sit down, you'll be disqualified.'"
DiVita obviously understood EPL's concern about allowing him to play, given his past, and was content to take the value of the seat — $20,000. However, he contends that he was offered $1,500, surrounded by security guards, and intimidated by EPL officials into taking the money and going silently into the night. According to DiVita:
"Mr. [Stephen Martin] and Epic Poker are under the impression that I'm some grumpy old guy that's gonna tuck my tail between my legs and run home, and they had no expectation that I would come out and say, 'Sure, I'm a sex offender, so what, let's move on.' You know, they had no expectation I would actually stand up to all this attention and deal with it. They expected me to go home, change my phone number, change my email address, and just never be heard from again, and it's really just not me."
Summary of Other Points Highlighted in DiVita's Conversation with PokerNews
Security showed up and he felt obligated to make his exit before things escalated.
He feels entitled to the $20,000 and feels the EPL will be in hot water with the Nevada Gaming Commission.
Has not heard from anyone from EPL since speaking with Stephen Martin.
Claims this was brought to light because Randy Dorfman was upset with him after being eliminated from a charity poker tournament and approached the EPL regarding his past.
He doubts the EPL Standards and Conduct Committee actually met since there was only a 24-hour time frame, although he is not sure.
Concerned this could have implications with other poker tournament organizations.
He spoke with executives from the Heartland Poker Tour, which is owned by Federated Sports + Gaming, and assured that he is still eligible to play HPT events.
He has nothing to hide and hasn't tried to do so.
DeVita has requested a formal hearing with the Standards and Conduct Committee, and submitted the following to the EPL in writing:
"As an ethical man, I will not ask for anything that I do not feel that I am due. What I was due was $20,000.00. What I was given, was $1,500.00. I'd like the balance sent to me within ten (10) days. If my money is not received by that date, I will file a lawsuit against Federated Sports + Gaming, Inc., the Epic Poker League, and ALL of its partners and principals, for not only my $18,500.00, but also additional damages for many other causes of action, including civil rights violations against me."
As you've probably gathered, part of the controversy concerns whether EPL barred DiVita from playing, or whether he chose to withdraw voluntarily. Martin initially spoke with DiVita when his past came to light and contends that DiVita willingly withdrew and accepted the $1,500 refund, though he admitted to PokerNews that had DiVita chosen to play, the EPL would probably not have allowed it.
"No, he probably wouldn't have been allowed," Martin said. "You know, the Committee didn't take any official action at that point. Mr. DiVita, after winning the Pro/Am, was given a copy of our Conduct rules and other supporting documents that all players who play in the Main Event have to sign, and at that point he didn't sign it. Had he not signed it, he would have been disqualified from the event anyway. What I explained to him was, 'Look, we've been made aware of a significant felony conviction and potentially an active legal matter that you have, that the community is concerned about.'
"I explained to him what the disciplinary process would be, you know if the Committee took disciplinary action against him, and he could ultimately appeal that. I said the other thing, the other option for him, is he can withdraw, ask for eligibility to play in the league [which means requesting a hearing with the Standards and Conduct Committee to ensure he satisfied the EPL Code of Conduct]. . . and if he chose to withdraw, we would refund his $1,500 entry fee, which he would not have retained had he been eligible. Mr. DiVita thought about it and he chose to take the route of an eligibility hearing in front of the Standards and Conduct Committee."
In regard to DiVita being reimbursed $20,000 as opposed to $1,500, Martin elaborated on EPL's stance.
"Well, I mean it's really a simple issue. There was never really a $20,000 prize. There was never a $20,000 cash prize that was available to him. It's not like an amateur can win the Pro/Am and then decide to take the $20,000 or the seat. You know, he was eligible for a seat plus any associated prize pool. In this case, there was no associated prize pool. Had he actually won money, which happened in the first Pro/Am, he would have been paid that money.
"I know there's been some discussion that Epic took the money, or Epic saved $20,000, and it's simply not true. What happened is to keep the prize pool full, and to follow the rules that are laid out that he and every other poker player agreed to, said if somebody's ineligible or otherwise decides not to play in the Main Event, they force up their seats, and that seat goes to the next highest finisher, which in this case it did, to Jaime Kaplan.
"What we tried to do was put everybody back into their original place, and we decided to refund the $1,500 to him, out of our own money and not out of the prize pool and not taken from any of the other players. We refunded the $1,500 to him so that he was not out-of-pocket for any money in the event and he could have an eligibility hearing. If he was subsequently deemed eligible to play, you know, then the seat could be awarded to him. What we were trying to do is make sure due process was followed and showed everybody, including all of the players in the league that we took the action that was going to be best for everybody. In this circumstance, Mr. DiVita, under no circumstance, was he entitled to $20,000 . . . In fact, our rules are absolutely to the contrary. It's not a decision that we made . . . it just follows the exact rules based on the situation."
Summary of Other Points Highlighted in Martin's Conversation w/PokerNews
Even with a short time frame, the Standards and Conduct Committee did in fact meet to address DiVita's criminal conviction.
While the EPL tries not to take pre-league actions into account, they will do so if negative behavior persists, the situations affect the EPL (Chino Rheem situation), "or [are] so severe, you really have no choice to address it."
Martin confirms that DiVita's past was brought to the attention of the EPL by a player in the league, but subsequently heard about it from more than one person. He would neither confirm nor deny that Randy Dorfman was that player as DiVita contends.
While DiVita faced consequences in the EPL, which is a closed event, he is still able to play in other Federated Sports + Gaming open events, like those put on by the Heartland Poker Tour.
In regard to the security present at the Palms, Martin explained: "Epic Poker never called security, never had any security advised, never sent anybody to talk to him. As far as I knew [while explaining the situation to him on the phone], there was nobody around him."
EPL sent DiVita a response to his letter that reiterated the rules and explained that there was never a $20,000 prize pool to which he was entitled.
The EPL will not reimburse the $18,500 DiVita seeks.
If DiVita seeks an eligibility hearing and is deemed eligible, he will be allowed to play in future EPL events.
The EPL followed established rules and complied with the Nevada Gaming Commission.
Clearly this saga is far from over, and it remains to be seen whether or not DiVita will actually take the matter to court.
Don't forget to follow us on Twitter and like us on Facebook.
*Photo courtesy of EpicPoker.com